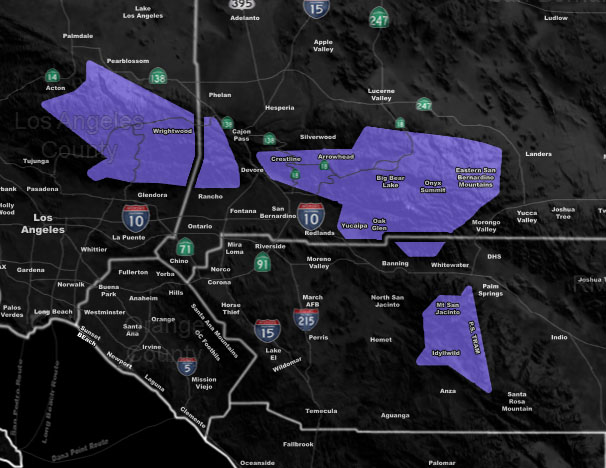 Issued Zones:  Los Angeles, San Bernardino, and Riverside Mountains above 5,000 FT
Site:  Southern California Weather Force has issued a Winter Weather Advisory effective now through Sunday evening …
Date:  5/18/19 at 3:30 pm PT
Forecast: A Pacific System will move through the area on Sunday morning.  This system will bring with it a round of snowfall above 6,000 FT.  Snow models here at Southern California Weather Force, which can be seen on the MAIN webpage in the links below, do show that a couple of inches will be possible in the Big Bear zones, a Dusting in East Big Bear Lake to Wrightwood due to rain-shadowing effects, four to eight inches at the Snow Valley Ski Resort, and over a foot at the top of Mt. Baldy, Mt. San Gorgonio, and Mt. San Jacinto, so expecting the mountains to have a photographic opportunity to them for this time of year. 

Idyllwild may see a couple of inches as well, with more in the northeast valley sections in the upper elevations.  Off and on snow showers will be possible in these areas through the entire day on Sunday even after the 'main-frontal zone swath of precipitation' has passed, which should easily be by 12 pm. 

Thundersnow is possible at times with this event, mainly over the day and night on Sunday with any pop-up convective cells within the advancing cold core and deeper-layer moisture influxing in.  Any cells forming on Sunday afternoon/night will have a snow-level of 5,700 FT with wet non-sticking snow down to 4,700 FT and a mix below that to at least 4200 FT …

EMAIL ALERTS:  Get these to your e-mail by upgrading to a full member.  It pays for itself in just ONE weather event:  Click Here To Learn More
Additional Models:  Visit the main site to see what was updated in terms of rain/snow/flood risk and more – Click Here
Join A Micro-Climate Group On Facebook For These Alerts – Click Here To Find Your Location Served By SCWF Today!
10-mile rule:  These alerts issued on this site means that within your zone and 10 miles from you will see the event forecast for.  You may or may not see the event but it means you are in the zone or 10 miles from where someone will.
Forecaster: KM