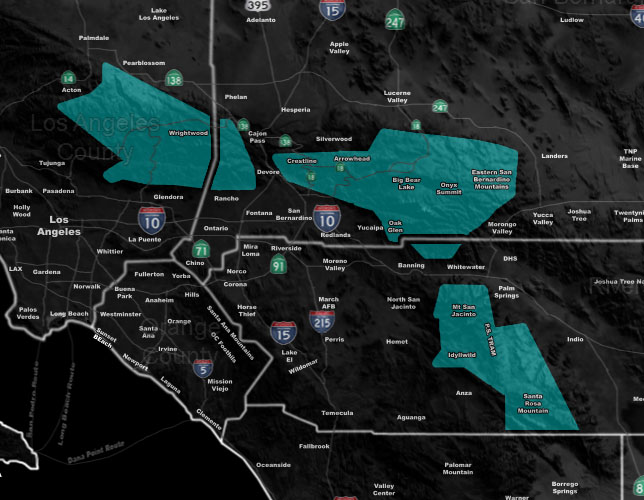 Issued Zones: Los Angeles, San Bernardino, Riverside Mountains above 6,000 FT for sticking snow …
Site: Southern California Weather Force has issued a Thundersnow Watch effective Wednesday at 11am through the evening hours …
Date:  5/21/19 at 2:45pm PT
Forecast: A backdoor cold-front is expected to form by at least noon on Wednesday.  This frontal zone will bring with it snow levels of between 6,500 to 6,800 FT for sticking snow, wet non-sticking at 5,500 FT and a mix to around 5,000 FT.  There will be 1-3″ of snowfall possible in the mountain communities with this at the sticking snow-level and Big Bear Lake sits right on it so I'm not expecting 'too much' there as a result, but the higher elevations at east end of the mountain on Highway 38 at the Summit I am.

Due to the increased instability due to the high May sun angle I do believe that widespread thunderstorm cells will be available tomorrow and thus where they form and/or cross at the snow-level would have snow mixed with lightning … aka Thundersnow … a reason this is a Thundersnow Watch and not a regular Winter Weather Advisory alert.

The Cajon Pass will need a Thunderstorm Watch by morning as I expect Thunderstorms on the pass without snow during this period on Wednesday so stay tuned to official forecasts at Southern California Weather Force for that update, but if going from the pass to Wrightwood and beyond that west through Highway 2 then expect thundersnow to be possible.

EMAIL ALERTS:  Get these to your e-mail by upgrading to a full member.  It pays for itself in just ONE weather event:  Click Here To Learn More
Additional Models:  Visit the main site to see what was updated in terms of rain/snow/flood risk and more – Click Here
Join A Micro-Climate Group On Facebook For These Alerts – Click Here To Find Your Location Served By SCWF Today!
10 mile rule:  These alerts issued on this site means that within your zone and 10 miles from you will see the event forecast for.  You may or may not see the event but it means you are in the zone or 10 miles from where someone will.
Forecaster: KM