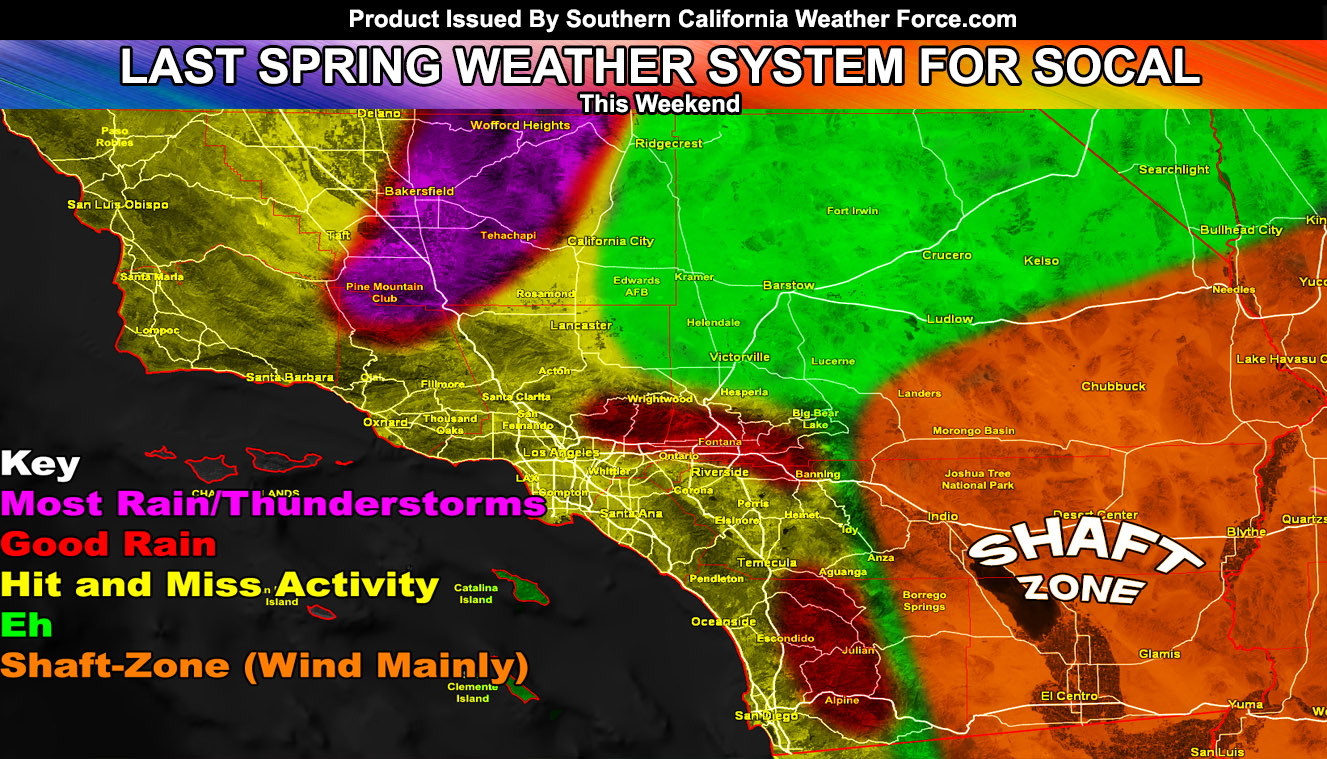 The very last weather system is approaching the California Coast as we speak.  This system will affect Kern County with Thunderstorms on Saturday, followed by a frontal zone moving through the other metro zones through Sunday.  A Severe Weather Statement has been issued for Kern so read on for details …
Been a very nice day across the southland today with only a few showers in the upper mountain areas with some light showers leaking into the Santa Barbara zones in the Short Term Forecast area.  This will change as the last weather system to cross our region this season is expected over the weekend, starting in Kern County on Saturday and then filling in the rest of the metros through Sunday.
I have issued a Severe Weather Statement for a pending alert upgrade in the Kern County areas.  It reads;  An impulse rounding the coast will enter the Kern County region out of the west on Saturday afternoon and evening.  This impulse will carry some upper divergence with it.  Instability profiles look rather impress with the high May sun angle and this will work with upslope activity for the chance of thunderstorm activity from the Central/Western Kern Valley south to the Gorman/PMC areas and east to the entire Tehachapi Mountain Range.  Hail is very likely to be with these storms and also a good amount of lightning strikes.  Given what I see, a thunderstorm or severe thunderstorm watch will be needed so stay tuned.
As for the rest of the area, through Sunday a frontal zone will move through.  This frontal zone is expected to be weak, but deliver some more rainfall, ending the 2018-2019 season after it passes.  Southern California Weather Force models do show a classic pattern where the coast would see less than inland where upslope activity would favor the areas near and on the south and west facing mountain slopes.  The graphic in this article displays such.
As next month… It is looking like we are ending this stormy pattern and we will start to see hotter temperatures.  This was a wrench pattern and my heatwave for end this month was pushed up until we get rid of this pattern and this should happen over the next 10-14 days.  Summer is coming …
Ongoing Ad – Did you come from the SCWF Facebook Page?  Sometimes it is hard to find new posts so I have a solution for you.  Click Here To Join for FREE the e-mail list that will send you the FB post link so you don't miss one post on the main FB page.  Sometimes FB won't show the notification even if you set it so join today!
As always, stay tuned to official forecasts from Southern California Weather Force for updates …
For The Main Weather Facebook Page Click Here and Join.
End Article
---
OPTIONAL:  Southern California Weather Force main page now has models, agendas, the alert map, and other things updated during storm events.  You can bookmark the main site and check back during an event for the latest updates.
Click here to view the main page
EMAIL ALERTS AND ASK THE WEATHER OFFICE A QUESTION:  It pays for itself in one storm system.  A very affordable e-mail alert system that only gives you SCWF weather alerts in YOUR micro-climate area.  Also, you can ask the weather office a question at any time if you get that add-on.
Click here to join
MICRO-CLIMATE ALERT FACEBOOK GROUPS:  Find yours today!
Click here to join
FACEBOOK PAGES TO JOIN!
SOUTHERN CALIFORNIA WEATHER FORCE MAIN:  if it does not say "Liked"  LIKE The Page Below and join thousands of informed weather forecast viewers in our region for more of the updates! noticeable
BEHIND THE SCENES FORECASTS/UPDATE PAGE:  if it does not say "Liked"  LIKE The Page Below and join thousands of informed weather forecast viewers in our region for more of the updates! noticeable
FOR THE CALIFORNIA FAULT STRESS MODEL PAGE: if it does not say "Liked"  LIKE The Page Below and join the official page to the California Fault Stress Model
INSTAGRAM AND TWITTER ACCOUNTS TO JOIN!
Instagram – https://www.instagram.com/socalweatherforce/
Twitter – https://twitter.com/SCweatherforce