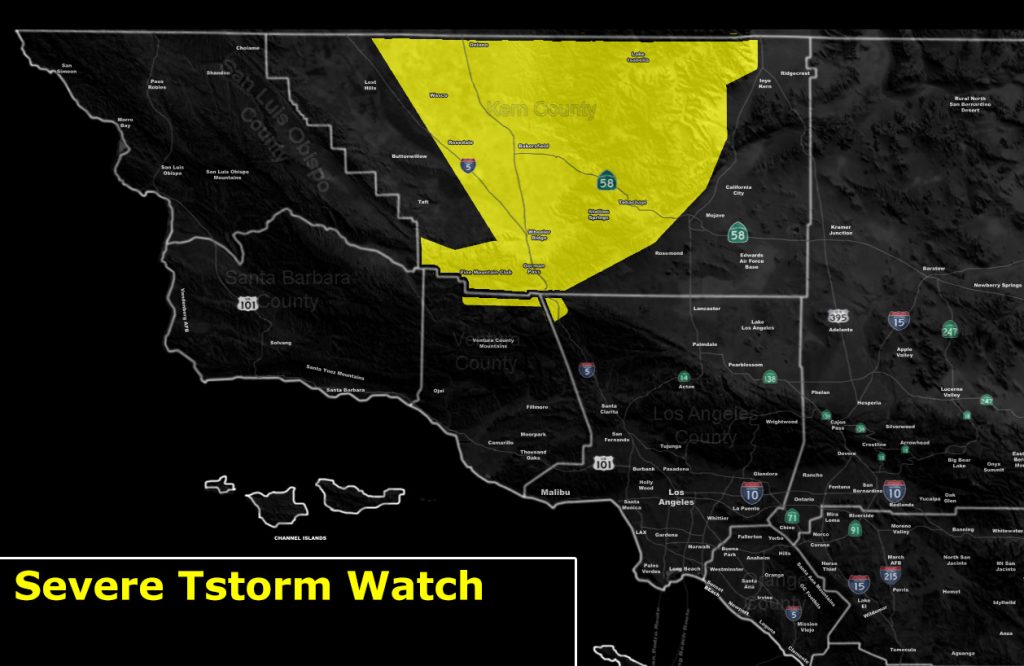 Issued Zones:  Kern County Mountains / Gorman … Kern Valleys (Central/East) …
Site:  Southern California Weather Force has issued a Severe Thunderstorm Watch effective now through the evening …
Date:  5/25/19 at 11:00am PT
Forecast: An impulse that caused severe thunderstorms in Northern California last night will move silently through the region this later morning as it already is.  Instability is already getting up there in the watch area and with the arrival of the marginal upper divergence profiles, do expect thunderstorms to form. 

The upper divergence profile is not too strong, however, the initial lifting against the Kern County Mountains on the west and northern parts, including the upsloping procedure for the Eastern Kern Valleys, including Bakersfield and Arvin, is very strong …  and this will overcome the need for stronger upper divergence. 

Storms popping today may breach the 30,000 FT top level and thus larger hail will be possible along with gusty winds with them. 

Instability profiles coupled with Mid-level LRs do suggest some of you will report large hail.  I will have the radar up so if you are reading these from your micro-climate groups, it'll be up by noon.

EMAIL ALERTS:  Get these to your e-mail by upgrading to a full member.  It pays for itself in just ONE weather event:  Click Here To Learn More
Additional Models:  Visit the main site to see what was updated in terms of rain/snow/flood risk and more – Click Here
Join A Micro-Climate Group On Facebook For These Alerts – Click Here To Find Your Location Served By SCWF Today!
10 mile rule:  These alerts issued on this site means that within your zone and 10 miles from you will see the event forecast for.  You may or may not see the event but it means you are in the zone or 10 miles from where someone will.
Forecaster: KM