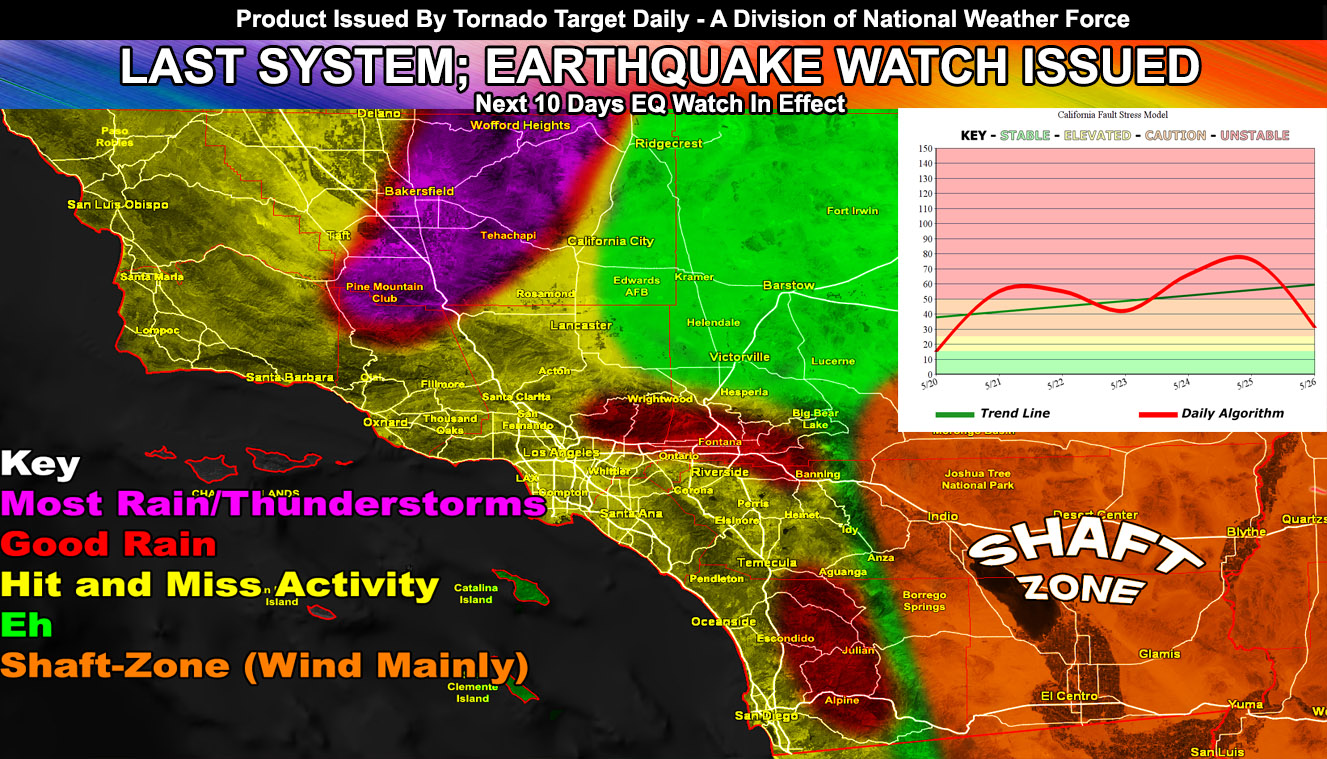 A weak system is moving through with thunderstorms detected in the Kern County Mountains today on schedule and the snow-level hovering at 6,000 FT tonight with a secondary impulse.  The SCWF Earthquake Watch has been re-issued so read on for details…
First I'll go into the Earthquake Watch.  If you have been following the trend-line in the California Fault-Zone Stress Model then you would know that we have been in the unstable area for days now with a strong double peak observed.  The magnitude-8.0 quake in Peru today is actually in the spot of the Pacific Plate to have a full Earthquake Watch for that reason only.  This, coupled with the fault-stress model being in the unstable region with those peaks is suggesting we are close to a 4.0, possibly even 5.0 or larger magnitude quake in the California, Nevada, or Baja Mexico region now till the next 10 day period.  The Earthquake Watch will be in effect through June 6th, where it'll be re-evaluated for extension or cancellation.  These watch windows have a 100% success rate when issued.  This side of the Pacific Plate was rocked really hard so this will provide for a 'bell ringing' effect across our planet as a result.  Worldwide quake activity is going to be on the up through the watch period.
Now for the last of the passing system.  This passing system is the last one of the season.  Meteorological Spring ends on June 1st when Meteorological Summer arrives.  I issued a Severe Thunderstorm Watch for the Kern Valleys yesterday with an extension over the course of a live-broadcast into the Western Valleys.  This verified nicely and thunderstorms moved through the entire watch area, with a good chunk of it issued warnings by me.  There was 1-inch hail recorded and almost 2 inches detected via radar.  I did detect rotation within the system southwest of Rosedale, in the city of Tupman.  There is a chance a brief tornado did touchdown in that area much as the one did in Canoga Park on Wednesday afternoon.  My radar has the location of the rotation and possible touchdown within that live video broadcast I did for the Kern County residents.
For today, the weaker system produced thunderstorms in Southern Kern County from the Gorman Pass / Wheeler Ridge areas to Tehachapi.  This was covered in the graphic from the final article for the weekend, meaning 'best rain/thunderstorm" areas so this was indeed in the forecast so you can stop messaging me asking me why you were not given the warning or forecast on time… you had it in that graphic.
For the Los Angeles, San Bernardino, and Riverside Mountains, you have a short term forecast for snowfall now through Monday morning.  Did decide to wait on this event due to how uncertain the snow amounts would be for the 6,000 FT level mountain communities or where the rain-shadows would be but I do now know.  Quite honestly it looks weak, but for late May it's rather interesting.  We will have a dusting to two inches of snow above the 6,000 FT mark this evening and into tonight with the secondary impulse moving through.  Snow models here at Southern California Weather Force paint a dusting in Wrightwood with more west along Highway 2, a dusting in Big Bear with up to 2-3″ along Highway 8 centering Snow Valley, and a dusting in the Idyllwild zones with over 4-6″ in the rural mountain areas surrounding Mt. San Jacinto and none for the tram.  This is what I came up with and based off the rural dusting zones with isolated zones at 2″, it falls short of my Winter Weather Advisory criteria and thus this wording will do nicely.  Everything should be gone by Monday.
I am expecting a warm-up to nominal temperatures at times as we move along June but there are indications that the month will be a see-saw month where it will get cold and hot off and on so this wouldn't be good on those sensitive to sickness based off the temperature swings.  June could very well have cold times to it along with heatwave level events typical for the month.  Gotta keep an eye on the medium range numbers here at SCWF.
Ongoing Ad – Did you come from the SCWF Facebook Page?  Sometimes it is hard to find new posts so I have a solution for you.  Click Here To Join for FREE the e-mail list that will send you the FB post link so you don't miss one post on the main FB page.  Sometimes FB won't show the notification even if you set it so join today!
As always, stay tuned to official forecasts from Southern California Weather Force for updates …
For The Main Weather Facebook Page Click Here and Join.
End Article
---
OPTIONAL:  Southern California Weather Force main page now has models, agendas, the alert map, and other things updated during storm events.  You can bookmark the main site and check back during an event for the latest updates.
Click here to view the main page
EMAIL ALERTS AND ASK THE WEATHER OFFICE A QUESTION:  It pays for itself in one storm system.  A very affordable e-mail alert system that only gives you SCWF weather alerts in YOUR micro-climate area.  Also, you can ask the weather office a question at any time if you get that add-on.
Click here to join
MICRO-CLIMATE ALERT FACEBOOK GROUPS:  Find yours today!
Click here to join
FACEBOOK PAGES TO JOIN!
SOUTHERN CALIFORNIA WEATHER FORCE MAIN:  if it does not say "Liked"  LIKE The Page Below and join thousands of informed weather forecast viewers in our region for more of the updates! noticeable
BEHIND THE SCENES FORECASTS/UPDATE PAGE:  if it does not say "Liked"  LIKE The Page Below and join thousands of informed weather forecast viewers in our region for more of the updates! noticeable
FOR THE CALIFORNIA FAULT STRESS MODEL PAGE: if it does not say "Liked"  LIKE The Page Below and join the official page to the California Fault Stress Model
INSTAGRAM AND TWITTER ACCOUNTS TO JOIN!
Instagram – https://www.instagram.com/socalweatherforce/
Twitter – https://twitter.com/SCweatherforce