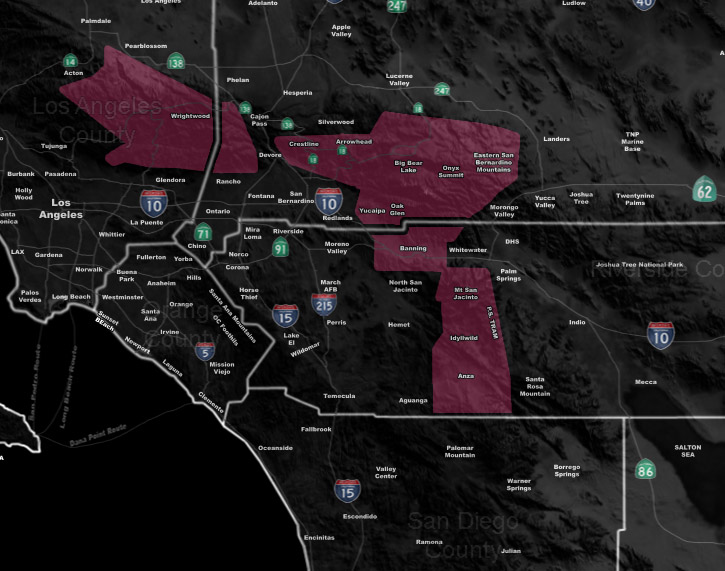 Issued Zones:  Los Angeles, San Bernardino, Riverside Mountains … Yucaipa to Banning Pass …
Site:  Southern California Weather Force has issued a Weather Advisory effective now through this evening …
Date:  5/28/19 at 10:40 am PT
Forecast: As stated in the video the other day, shower and/or thunderstorm risks would be for Tuesday and Wednesday in our forecast region.  This is because some of the mid-level moisture will move over the area today, along with a mid-level impulse for some upper divergence profiles to be elevated. 
This, with building instability, will bring shower and/or thunderstorm activity for the LA, San Bernardino, and Riverside Mountains now through the evening.  These will be diurnal and only during the day. 
The northerly flow is quite fast so these would blow southward toward the Yucaipa/Banning Pass areas.  Mid-level capping involved will weaken them as they move off the mountains, but some activity can move over those adjacent zones.
EMAIL ALERTS:  Get these to your e-mail by upgrading to a full member.  It pays for itself in just ONE weather event:  Click Here To Learn More
Additional Models:  Visit the main site to see what was updated in terms of rain/snow/flood risk and more – Click Here
Join A Micro-Climate Group On Facebook For These Alerts – Click Here To Find Your Location Served By SCWF Today!
10-mile rule:
  These alerts issued on this site means that within your zone and 10 miles from you will see the event forecast for.  You may or may not see the event but it means you are in the zone or 10 miles from where someone will.
Forecaster: KM