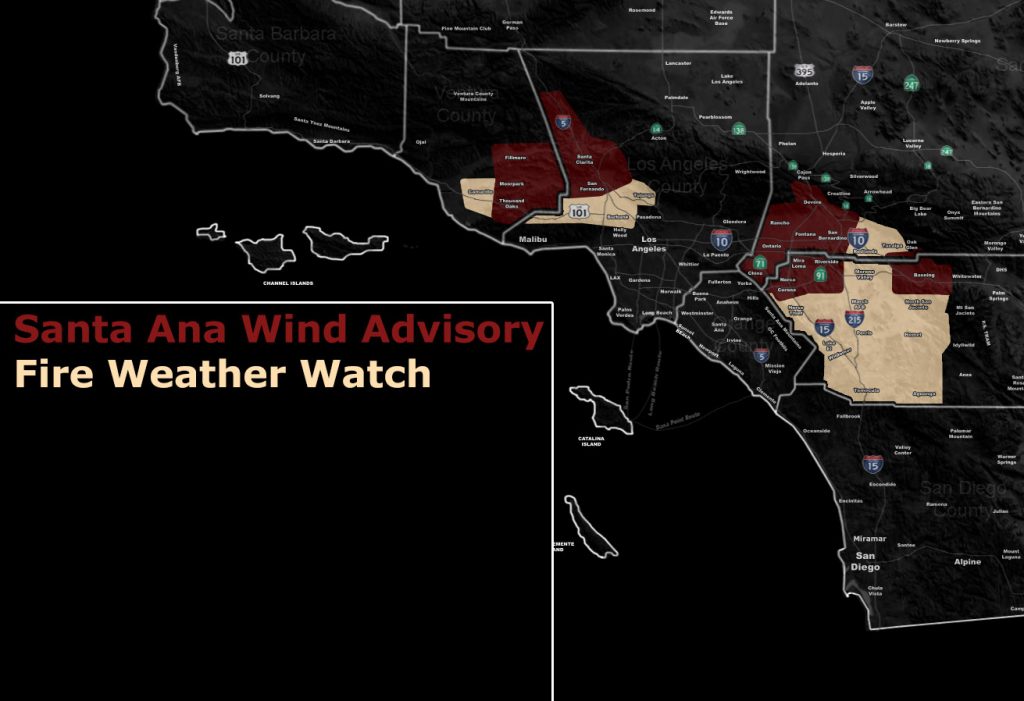 Issued Zones:  SCV/SFV … East/Central VT Valley … The Inland Empire …
Site:  Southern California Weather Force has issued a Fire Weather Watch with an embedded Santa Ana Wind Advisory effective now for Sunday …
Date: 6/8/19 at 12:00pm PT
Forecast: A passing front well to the north will bring in an offshore flow.  This weak offshore flow will bring 30-40 mph wind gusts to the prone zones of the Inland Empire and Santa Clarita Valley zones, including some of the West Hills/Moorpark areas on your Sunday. 

Given this is a weak offshore flow, temperatures will also be on the rise due to subsidence, or sinking air.  Temperatures of 95-100 will be out there, making it feel like Summer for the first time. 

This will be short-lived as Sunday evening the onshore flow kicks in and brings the temperatures down.  This is not yet a true prolonged heatwave event so the beaches will remain cold.

EMAIL ALERTS:  Get these to your e-mail by upgrading to a full member.  It pays for itself in just ONE weather event:  Click Here To Learn More
Additional Models:  Visit the main site to see what was updated in terms of rain/snow/flood risk and more – Click Here
Join A Micro-Climate Group On Facebook For These Alerts – Click Here To Find Your Location Served By SCWF Today!
10 mile rule:  These alerts issued on this site means that within your zone and 10 miles from you will see the event forecast for.  You may or may not see the event but it means you are in the zone or 10 miles from where someone will.
Forecaster: KM