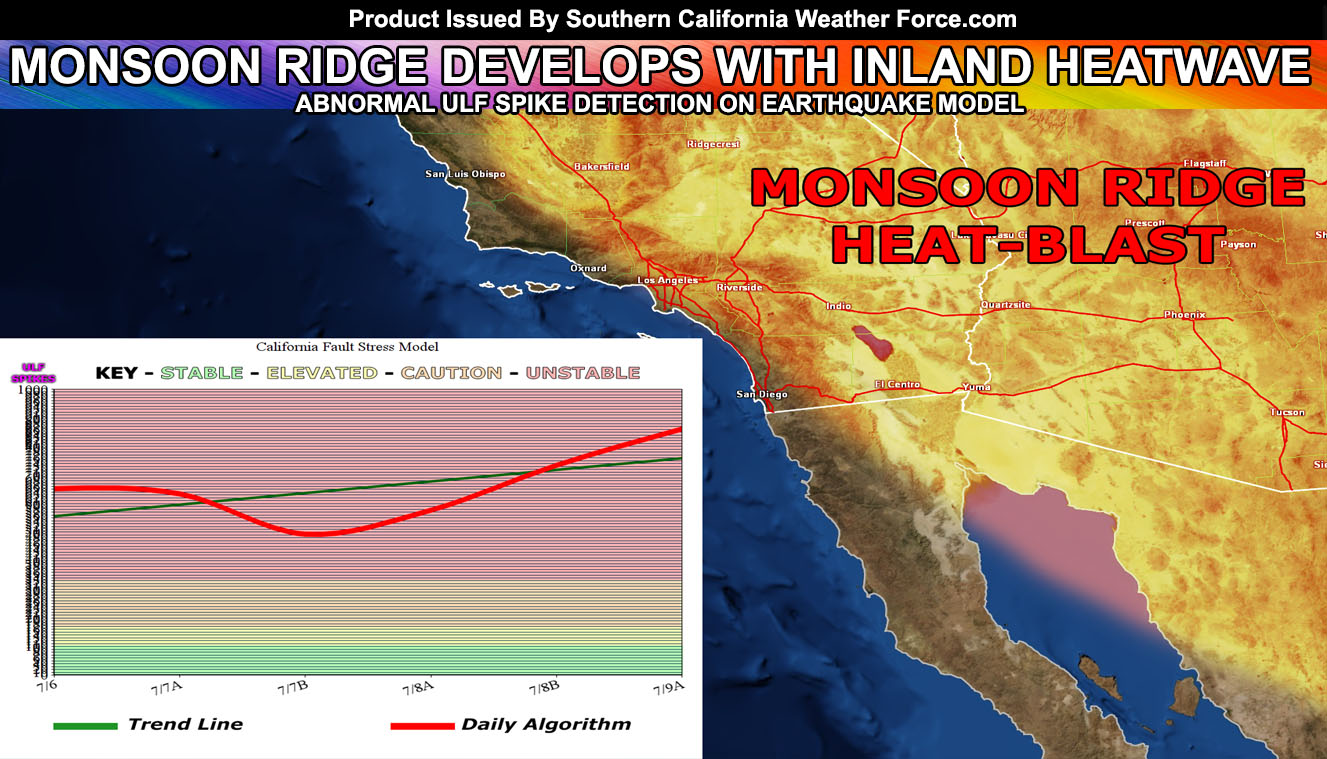 The Monsoon Ridge is about to nudge into the region after Wednesday, upping the temperatures across the area and bringing mountain and desert thunderstorms at times as well through the end week and weekend.  High Heat Warnings and Advisories are issued here at Southern California Weather Force and a spike in the California Fault Stress Model is keeping me alert for additional activity in the region.  Read on for details.
First we'll go into the weather since Southern California Weather Force is primarily a weather forecast office and service.  The monsoon ridge I spoke about in my official July 2019 forecast update (Click Here To Read) is going to move overhead, right on schedule.  The development of the ridge will place the axis over the area after Wednesday.  Very high temperatures will hit the Kern Valley to Eastern Desert zones, including the Colorado River Valley areas so enjoy your weekend at the river.  The following two alerts are in place for this event.  Read for your location.  If your location is not listed, do not expect heat advisory criteria.  The heat is mainly inland with still a bit of an onshore flow for nice temperatures along the coast.  There will also be the risk of shower and thunderstorm activity in the mountain and desert regions with this flow.  This is what I call the first monsoon heat-blast, which happens every year.  When temperatures get this high with a monsoon flow, it signals the development of the four corners ridge of high pressure, which is responsible for the Southwest Monsoon Season.
High Heat Warning Zones – 108-118F – Eastern San Bernardino and Riverside Deserts, including San Diego and Imperial Deserts … Kern Valleys …

Heat Advisory – 95-105 – The Inland Empire … Los Angeles to SCV/SFV and San Gabriel Valley … Entire High Desert from the Victor Valley, Lancaster, Ridgecrest, and Fort Irwin … Inner San Luis Obispo and Santa Barbara County … Eastern Ventura County Basin … Northern Orange County Basin …
We will have a ridge break-down just as the July 2019 forecast stated.  The ridge will struggle to remain intact this month.  After the 20th of July, the ridge does try to develop again so there's our next monsoonal moisture window after a short lull.
Now for the Earthquake update.  We continue to have aftershocks in the Ridgecrest area.  ULF spikes on my instruments are on the rise since yesterday.  Quite honestly this is a bit interesting because we should be winding down these readings, not seeing them rise even a bit.  Over at the California Fault Stress Model Facebook Page I will have the updates as I continue to monitor this situation.  If you missed the video of the most likely zones for the next quake, which could be now or 5 years from now, then Click Here to watch that.
The following images are zones in the highest risk stress area from the Magnitude-7.1 Ridgecrest Earthquake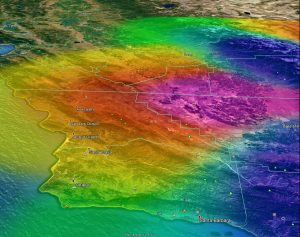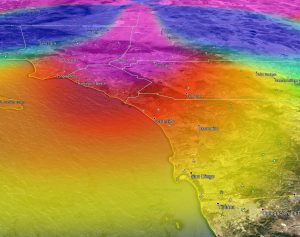 As always, stay tuned to official forecasts from Southern California Weather Force for updates …
For The Main Weather Facebook Page Click Here and Join.
End Article
---
OPTIONAL:  Southern California Weather Force main page now has models, agendas, the alert map, and other things updated during storm events.  You can bookmark the main site and check back during an event for the latest updates.
Click here to view the main page
EMAIL ALERTS AND ASK THE WEATHER OFFICE A QUESTION:  It pays for itself in one storm system.  A very affordable e-mail alert system that only gives you SCWF weather alerts in YOUR micro-climate area.  Also, you can ask the weather office a question at any time if you get that add-on.
Click here to join
MICRO-CLIMATE ALERT FACEBOOK GROUPS:  Find yours today!
Click here to join
FACEBOOK PAGES TO JOIN!
SOUTHERN CALIFORNIA WEATHER FORCE MAIN:  Southern California Weather Force Office Main Page
BEHIND THE SCENES FORECASTS/UPDATE PAGE:  Southern California Weather Force Meteorologist Page
FOR THE CALIFORNIA FAULT STRESS MODEL PAGE: For SCWF official updates to the California Fault Stress Model and more!
"PONDER THIS" SCIENCE ADVENTURE SHOW: A science adventure show developed here at Southern California Weather Force that is a fun ride!
INSTAGRAM AND TWITTER ACCOUNTS TO JOIN!
Instagram – https://www.instagram.com/socalweatherforce/
Twitter – https://twitter.com/SCweatherforce