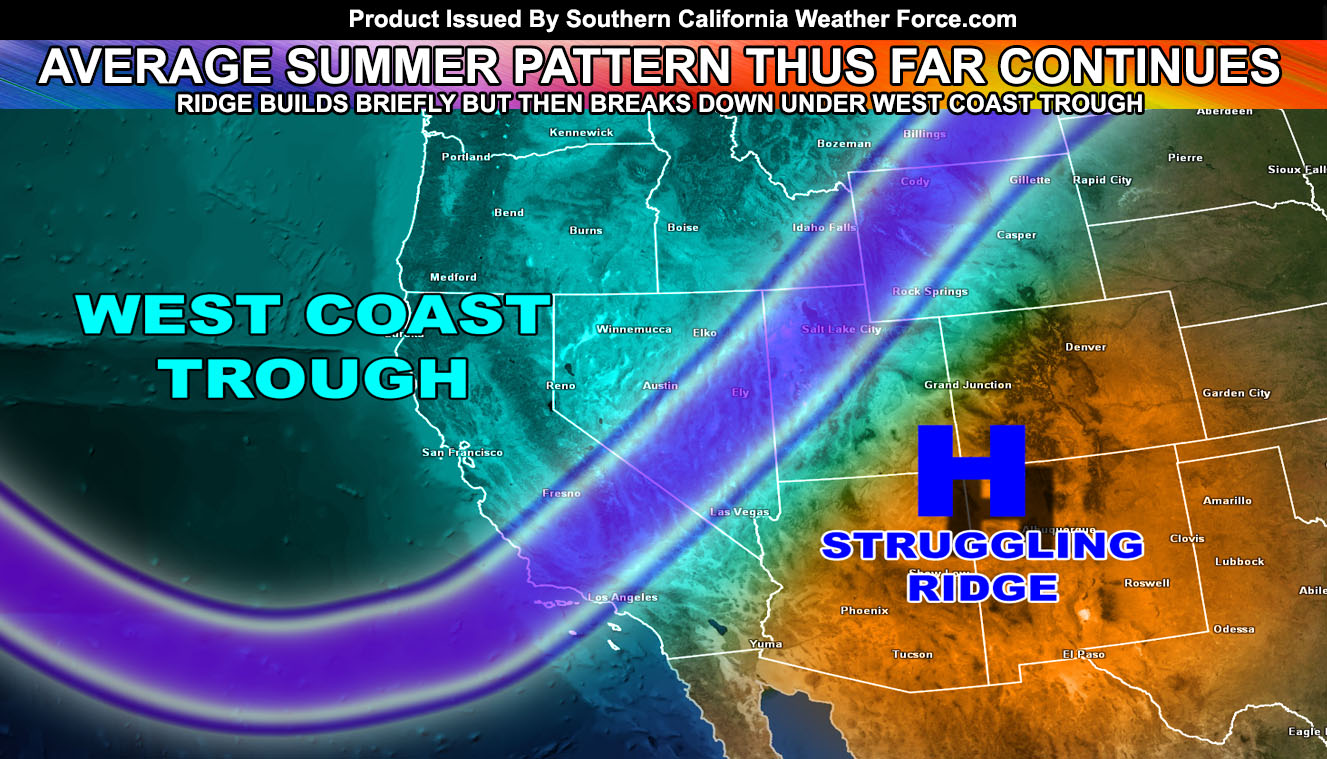 Two double quakes a 6.4 on the 4th of July and a 7.1 the day after along with a 4.9 on the morning of the 12th are part of a sequence that is stressing the Greater Los Angeles area fault zones. The heat is on and this weekend remains to be a pool weekend inland. How long will it last? What is next? Your forecast starts now…
Welcome to Southern California Weather Force, first and foremost lets get the morning quake out of the way. It was a magnitude 4.9 centered near Ridgecrest and likely an aftershock of the magnitude 6.4 on July 4th. The California Fault Stress Model was indicating activity still to remain and still does so even today. As long as the ULF spikes are being detected in these values the chances for more quakes over magnitude 4.0 is there, including other areas not on the Little Lake Fault Zone.
The stress from the morning quake due to the orientation of the fault remains the same. Additional stress has gone west through the Kern and San Luis Obispo areas, including the Parkfield zones and part of the stress shot southward to the Greater Los Angeles areas, including there, Orange County, The Inland Empire, and south into San Diego. The faults included in the higher stress zones are the San Andreas, Chino, Whittier, Newport Inglewood, Elsinore, and San Jacinto. Many in the Inland Empire are scared of the San Andreas. While you should be, the San Jacinto and Elsinore faults can deliver powerful earthquakes as well and many of you are close to those. Wherever you notice hills, the chances are higher there are faults nearby.
As for our weather. Many keep saying shake and bake. Yes, we are doing that but there is no such thing as Earthquake Weather. The reason you think so is because we usually hot and dry to begin with for our climate. The Ridgecrest quakes happened during a normal weather pattern, nothing hot and nothing cold. In Southern California you are just use to climate. I mean look at Seattle, Washington's quake today. This happened when it was in the 60s up there. There is no shake and bake there because their normal weather patterns are not like we have here in Southern California. So, Earthquake Weather does not exist and that should certainly be put to rest.
As stated in my last article, after this heatwave passes we will have a drop in temperatures to below average for July once again. Sometime after July 20th is when we will start to get the next stage of the building monsoon ridge once again for the heat to hit.
Super long range numbers continue to show a trough breaking the monsoon ridge down and this trough is the main reason we have seen cooler than normal temperatures thus far this Summer despite the heatwaves. July should end with average temperatures in the metros and above average in the deserts.
So there you have it, the California Fault Stress Model remains elevated with no real change. The stress from all the quakes is heading into the Greater Los Angeles and surrounding areas, and this heatwave will end after Wednesday of this next week with a cool-down expected so stay tuned to Southern California Weather Force
As always, stay tuned to official forecasts from Southern California Weather Force for updates …
For The Main Weather Facebook Page Click Here and Join.
End Article
---
OPTIONAL:  Southern California Weather Force main page now has models, agendas, the alert map, and other things updated during storm events.  You can bookmark the main site and check back during an event for the latest updates.
Click here to view the main page
EMAIL ALERTS AND ASK THE WEATHER OFFICE A QUESTION:  It pays for itself in one storm system.  A very affordable e-mail alert system that only gives you SCWF weather alerts in YOUR micro-climate area.  Also, you can ask the weather office a question at any time if you get that add-on.
Click here to join
MICRO-CLIMATE ALERT FACEBOOK GROUPS:  Find yours today!
Click here to join
FACEBOOK PAGES TO JOIN!
SOUTHERN CALIFORNIA WEATHER FORCE MAIN:  Southern California Weather Force Office Main Page
BEHIND THE SCENES FORECASTS/UPDATE PAGE:  Southern California Weather Force Meteorologist Page
FOR THE CALIFORNIA FAULT STRESS MODEL PAGE: For SCWF official updates to the California Fault Stress Model and more!
"PONDER THIS" SCIENCE ADVENTURE SHOW: A science adventure show developed here at Southern California Weather Force that is a fun ride!
INSTAGRAM AND TWITTER ACCOUNTS TO JOIN!
Instagram – https://www.instagram.com/socalweatherforce/
Twitter – https://twitter.com/SCweatherforce