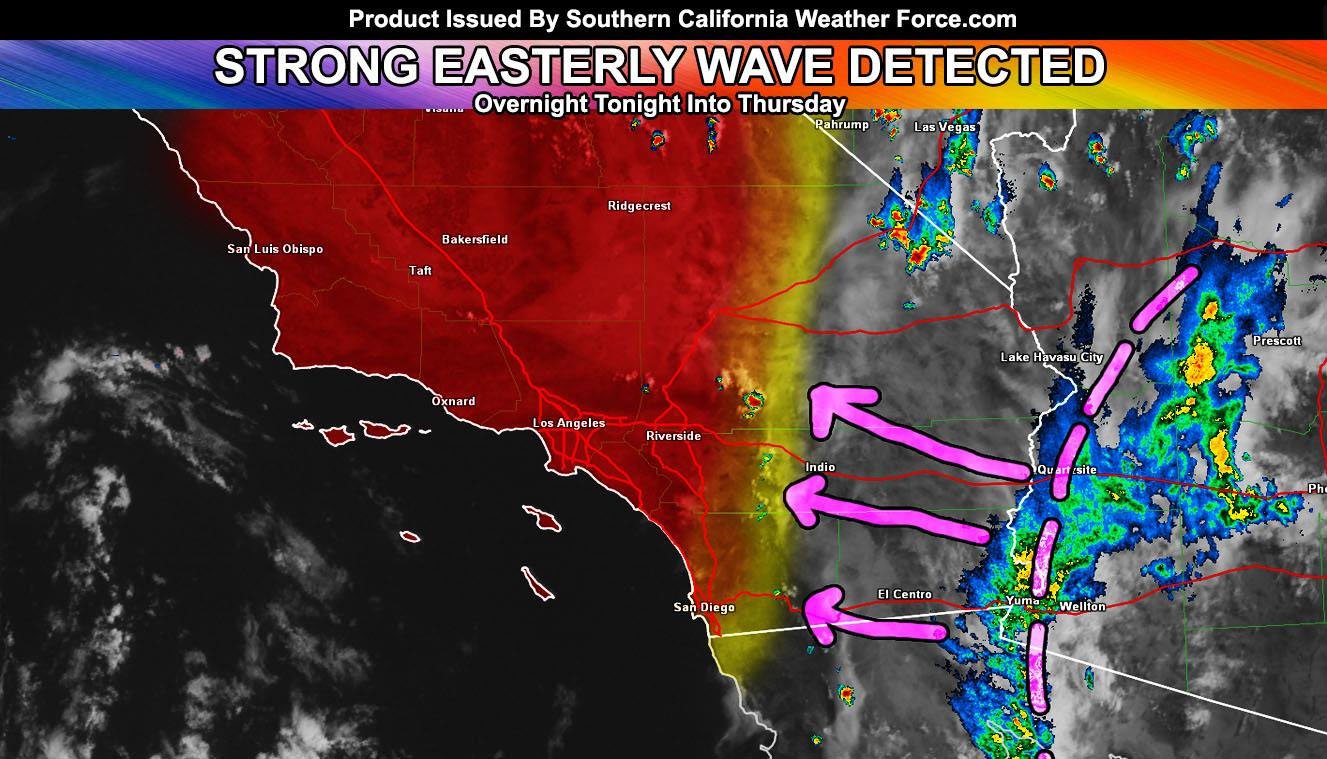 Welcome to Southern California Weather Force. The radar loop of today showed that we had mountain and desert thunderstorms. We had thunderstorms up in the Kern Deserts, Ventura, Kern, Los Angeles, San Bernardino, Riverside, and San Diego County Mountains as well and even pop ups in the Inland Empire surrounding Canyon Lake. Yesterday's video said the flow would be better for those inland storms. Now… what about tonight?
VIDEO FORECAST HERE – https://www.facebook.com/scweatherforce/videos/464536834371866
I posted an update this morning on what I am seeing on satellite and what kind of dynamics will be available for this next event. This is a strong easterly wave and is slowly crossing the Eastern Deserts. This will continue moving westward toward the Coachella Valley and San Diego/Riverside County Mountains tonight. Once the ridge moves slightly southward it'll buckle and create a very strong area of upper divergence in the atmosphere there. This will ignite thunderstorms with it through the Inland Empire just after 1 or 2am for the start, peaking around sunrise and pushing through Orange, Los Angeles, The High Desert, and Kern County on your Thursday.
This will likely make morning news stories calling it a surprise event. It'll be far from a surprise if you are watching this video and following Southern California Weather Force.
My Thunderstorm Watch zone covers a large area of where I expect the 10-mile rule for thunderstorms to be. The boxed area is where the highest probability of widespread activity, which includes all of the Inland Empire and Los Angeles Metros, including the High Desert, Antelope Valley, Santa Clarita Valley, and up through Kern County's mountains, deserts, and metros. The activity will go from heading due west across the Inland Empire, to west-northwest over Los Angeles and Santa Clarita, ride up Interstate 5, and curve north-northwest and eventually north of Bakersfield.
This curve is because we have an approaching trough that'll be responsible for knocking the ridge down and taking the moisture with it. This trough may interact with the monsoon moisture for some pop-ups over Vandenberg Air Force Base and San Luis Obispo, which would be a separate activity on Thursday afternoon and evening, expect the best area of storms to be Along I-40 and I-15 in the San Bernardino County Deserts. If heading to Vegas, be advised that a southwest flow during the monsoon is key for severe thunderstorms to hit the state-line zones, including the Strip itself. I expect Thursday to be very active in Las Vegas.
The ridge migrates over Phoenix, Arizona by the end of the week and shuts the moisture flow off under suppressed skies and sinking air straight on into a nice weekend. The monsoon door opens once again next week around the same time it did this week and we do it all over again, with the flow coming out of Arizona and Northern Mexico for the return of monsoonal moisture by the very end of the month and into the first week of August.
There are indications that the last half of August would have moisture activity into the area from dying hurricanes curving on up.