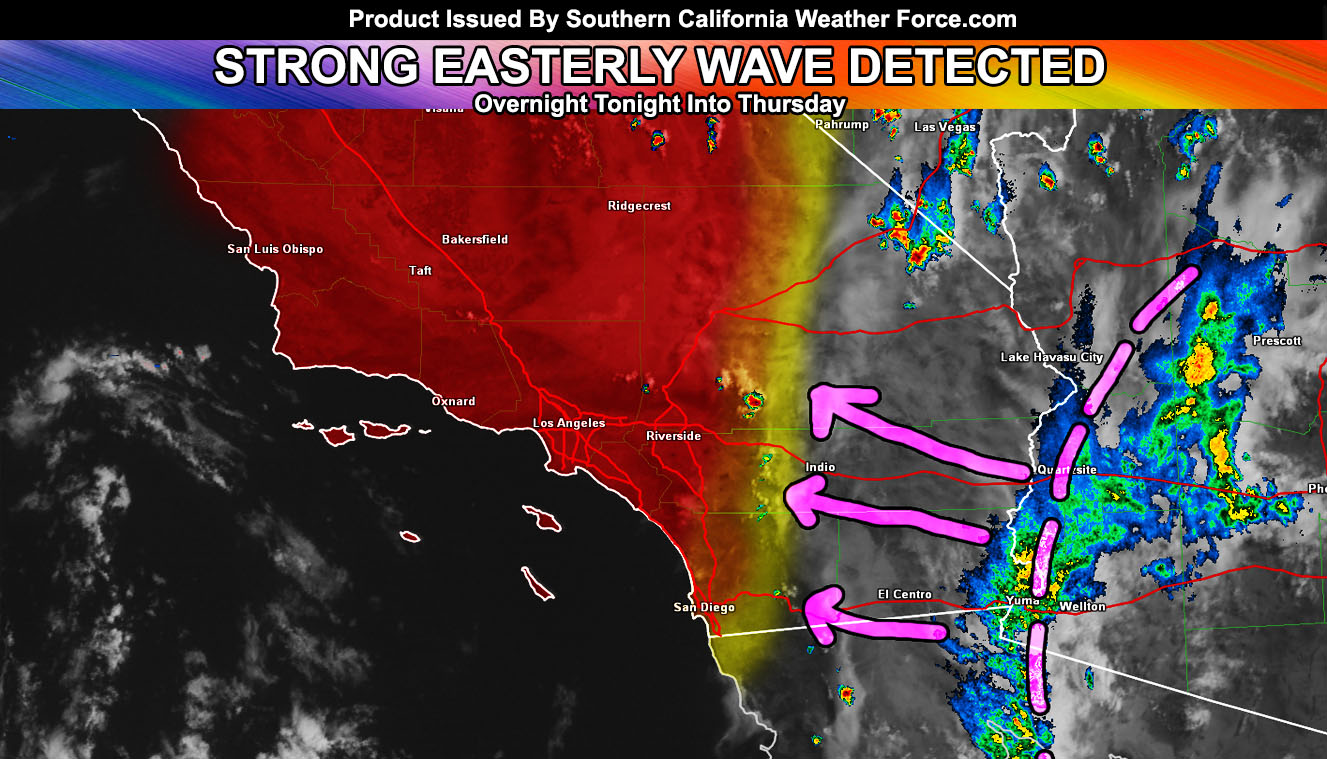 Well.. As the video yesterday stated, there would be an easterly wave developing in Arizona and moving through our region tonight into tomorrow. That is the focus right now. The colors on the image means developing stage (yellow), gaining strength (orange), and impact regions (red)… As you can see… overnight tonight, I do project this easterly wave to start developing around San Diego to the Inland Empire, and in the San Bernardino County Desert areas east of the Victor Valley. As it moves west, it will gain power from an upper level jet and develop even further.
I do forecast that this will be stronger in areas that it should not be compared to others, meaning Los Angeles/OC will be impacted by this for shower/thunderstorm activity and even FURTHER west to Ventura, Kern, Santa Barbara, and San Luis Obispo County. This is the last impulse for this event …
So that is it… this is your forecast that will last through Thursday… and guess what?
I'm the only one that has this.. again … why? How is it that one person in one office can beat millions of dollars worth of taxes from the weather service offices (5 of them for SoCal) and many other news stations … I'll never know why they don't understand this but it is easy as heck … Have a good day …
Yesterday's Video Link Archived – https://www.facebook.com/scweatherforce/videos/2371571499769819
HUGE SELF AD NOTE: Facebook algorithm is like a battery. LIKE the post with whatever emotion and you'll see future posts next time around here. You must do it every post with a simple 2 second LIKE or your page battery will run out. That's the new algorithm, see first does not work much. Interact here… That is why you see your news-feed with posts from people, pages, and groups you interact with most …
LIKE California Fault Stress Model today for further updates in the CA/NV/Baja Regions on fault-stress.
Link – https://www.facebook.com/CaliforniaFaultStressModel/
Oh and all SCWF weather videos from now on will be done via my spaceship on the new hit show Ponder This so join up! I cannot do them in the office because…well…I'm in space right now. I, however, can beam graphics and forecasts back to you from my ship. Right now I am waiting to get to Venus after having gone to Mercury and The Sun. I am SCHEDULING the NEXT video soon so join today …
JOIN TODAY! 1,400 Followers so don't miss out on future episodes!
https://www.facebook.com/ponderthisshow