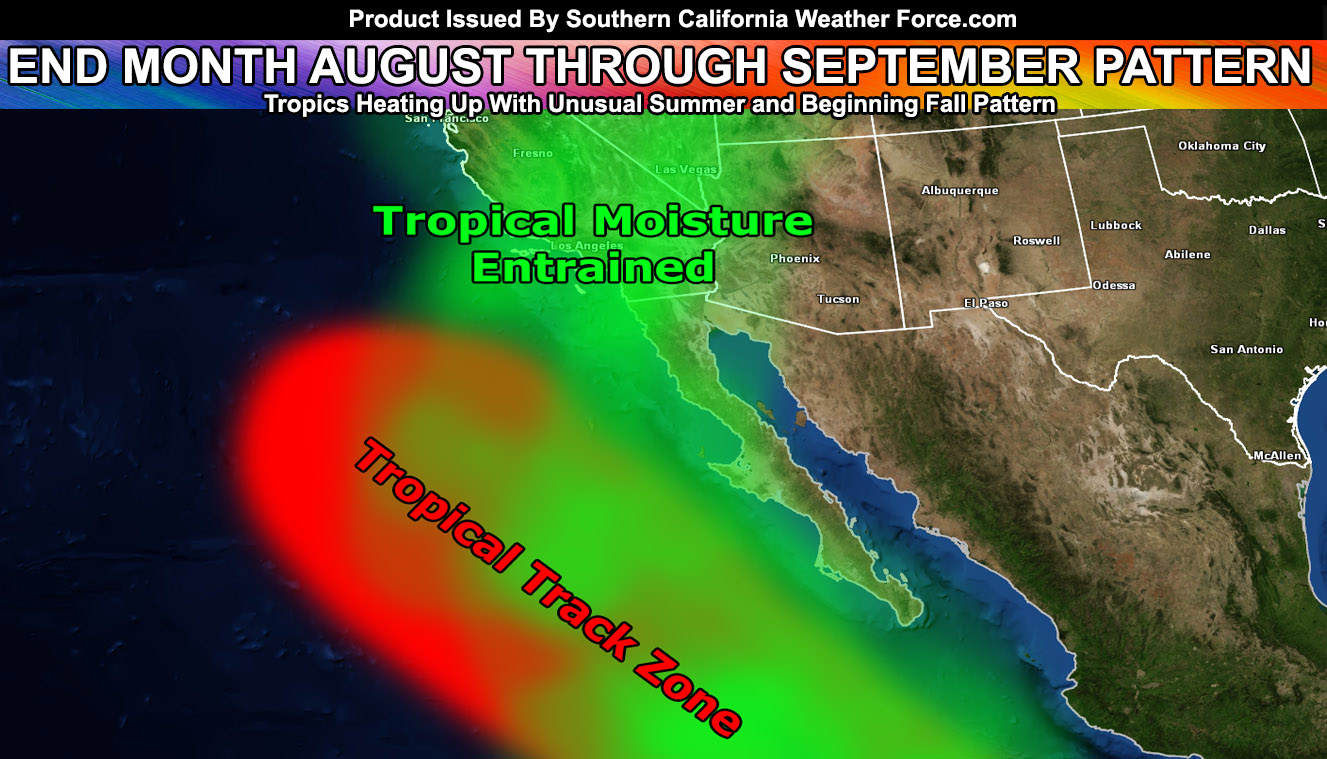 Everything seems to be going pretty well with the previous forecasts for the coming heat this mid-week and a cool-down through the end week into the weekend with the ridge breaking down once again.  By the end of the month, we start to see some changes so read on for details …
Temperatures will be on the rise through this mid-week as a ridge of high pressure builds overhead.  Going with 100 in the Inland areas and as hot as 115-118F in the Low Deserts for the coming couple of days surrounding Wednesday and Thursday.  The ridge will break-down by the end of the week, sending temperatures a good 10-15 degrees down from where they will be on Wednesday and Thursday.
This is called a see-saw pattern.  We usually only see this in the Fall, however with this odd Summer we are having we are seeing this now.  This is because the jet stream is actually stronger than usual across the northern parts of the United States.  This strength is breaking the ridge down when it tries to form.  This is reminding me of starting a car.  You can hear it trying to start (the ridge trying to form) only for it to not turn the engine over (ridge established for weeks).  This is the best analogy I can give on what is going on in the atmosphere this season.
But, this may actual favor our area for above average rainfall in September.  September 1st marks Meteorological Fall.  Astronomical Fall is usually around September 21st and relies on the Sun's position.  Meteorological Fall is more accurate and represents when weather patterns actually change for that season.  Meteorological Fall is September 1st, Winter is December 1st, Spring is March 1st, and Summer is June 1st.  As we close in on September 1st, we hit Meteorological Fall and sometime just before it; on my birthday of August 29th or around there, the atmosphere will start to respond.
Hurricanes forming south of Baja, Mexico would use the troughs that we have been seeing this Summer as a guide to stop moving east to west and actually be sucked up and curve northward towards California.  In doing so, both upper dynamics and moisture from dying hurricanes would up the precipitation chances across the state.  This type of pattern we are seeing this month may transform to what I just talked about and September could get pretty interesting.
So there you have it, a see-saw pattern with heat coming up
As always, stay tuned to official forecasts from Southern California Weather Force for updates …
For The Main Weather Facebook Page Click Here and Join.
Wondering where I have been or missed it? I was attacked for mistaken identity so here is the link – https://www.nbclosangeles.com/news/local/Norco-Man-Police-Sketch-Molester-Mistaken-Identity-548045801.html
Also: If you have signed up for the e-mail alert system with a TON OF ALERTS AND MICRO-CLIMATES TO CHOOSE FROM within the last 3-4 days, you are being added and/or upgraded to your tier today.
If you want to join that system service, follow this link – https://www.facebook.com/scweatherforce/posts/2330907320516710
LIKE California Fault Stress Model today for further updates in the CA/NV/Baja Regions on fault-stress.
Link – https://www.facebook.com/CaliforniaFaultStressModel/
Oh and all SCWF weather videos from now on will be done via my spaceship on the new hit show Ponder This so join up! I cannot do them in the office because…well…I'm in space right now. I, however, can beam graphics and forecasts back to you from my ship. Right now I am waiting to get to Earth after having gone to Venus. I am SCHEDULING the NEXT video when I fully recover so join today …
JOIN TODAY! 2,000 Followers so don't miss out on future episodes!
https://www.facebook.com/ponderthisshow
End Article
---
OPTIONAL:  Southern California Weather Force main page now has models, agendas, the alert map, and other things updated during storm events.  You can bookmark the main site and check back during an event for the latest updates.
Click here to view the main page
EMAIL ALERTS AND ASK THE WEATHER OFFICE A QUESTION:  It pays for itself in one storm system.  A very affordable e-mail alert system that only gives you SCWF weather alerts in YOUR micro-climate area.  Also, you can ask the weather office a question at any time if you get that add-on.
Click here to join
MICRO-CLIMATE ALERT FACEBOOK GROUPS:  Find yours today!
Click here to join
FACEBOOK PAGES TO JOIN!
SOUTHERN CALIFORNIA WEATHER FORCE MAIN:  Southern California Weather Force Office Main Page
BEHIND THE SCENES FORECASTS/UPDATE PAGE:  Southern California Weather Force Meteorologist Page
FOR THE CALIFORNIA FAULT STRESS MODEL PAGE: For SCWF official updates to the California Fault Stress Model and more!
"PONDER THIS" SCIENCE ADVENTURE SHOW: A science adventure show developed here at Southern California Weather Force that is a fun ride!
INSTAGRAM AND TWITTER ACCOUNTS TO JOIN!
Instagram – https://www.instagram.com/socalweatherforce/
Twitter – https://twitter.com/SCweatherforce