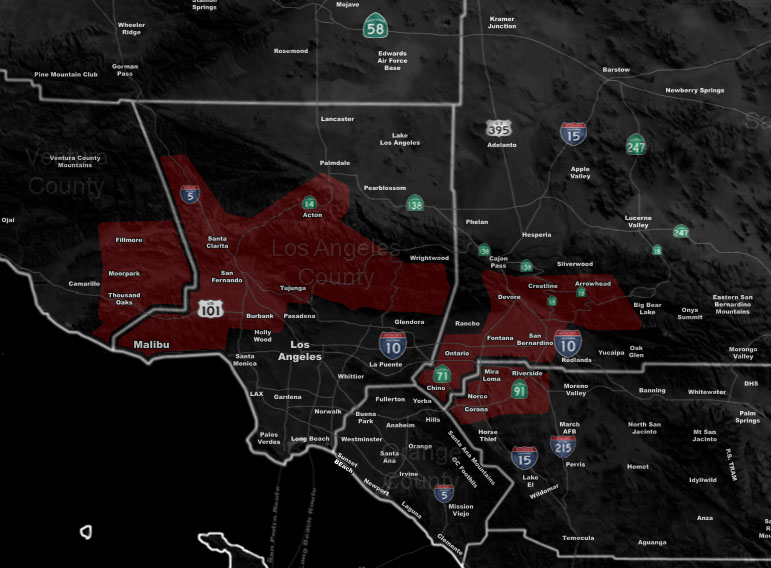 Issued Zones:  SCV/SFV/Eastern Ventura Basin/Coast, Malibu … Los Angeles Southern Mountain Slopes … Cajon Pass … Ontario/Corona/Norco/Mira Loma/Fontana … SBD Mtn RIM …
Site:  Southern California Weather Force has issued a Santa Ana Wind Advisory effective now for Monday night into Tuesday morning …
Date:  9/22/19 at 2:00pm PT
Forecast: An inside slider will miss the metros overnight on Monday and dive into the CA/AZ border areas.  The back-side of this storm system will generate northeast winds and thus gusty 30-45 mph winds will hit the advisory area.  The orientation of this system will bring the strongest winds through the SCV and Eastern Ventura County areas, including Malibu.  No airport delays are expected with this mild event …

Fire hazards will be mild/moderate over the day on Tuesday, however a quick rebound to moist low levels with a returning onshore flow is expected by the evening.

EMAIL ALERTS FOR THESE PRODUCTS!:  Click this link to find out how you can be a full member and get these and NOT wait for Facebook posts! –
https://www.facebook.com/scweatherforce/posts/2330907320516710
Join A Micro-Climate Group On Facebook For These Alerts – Click Here To Find Your Location Served By SCWF Today!
10 mile rule:  These alerts issued on this site means that within your zone and 10 miles from you will see the event forecast for.  You may or may not see the event but it means you are in the zone or 10 miles from where someone will.
Forecaster: KM