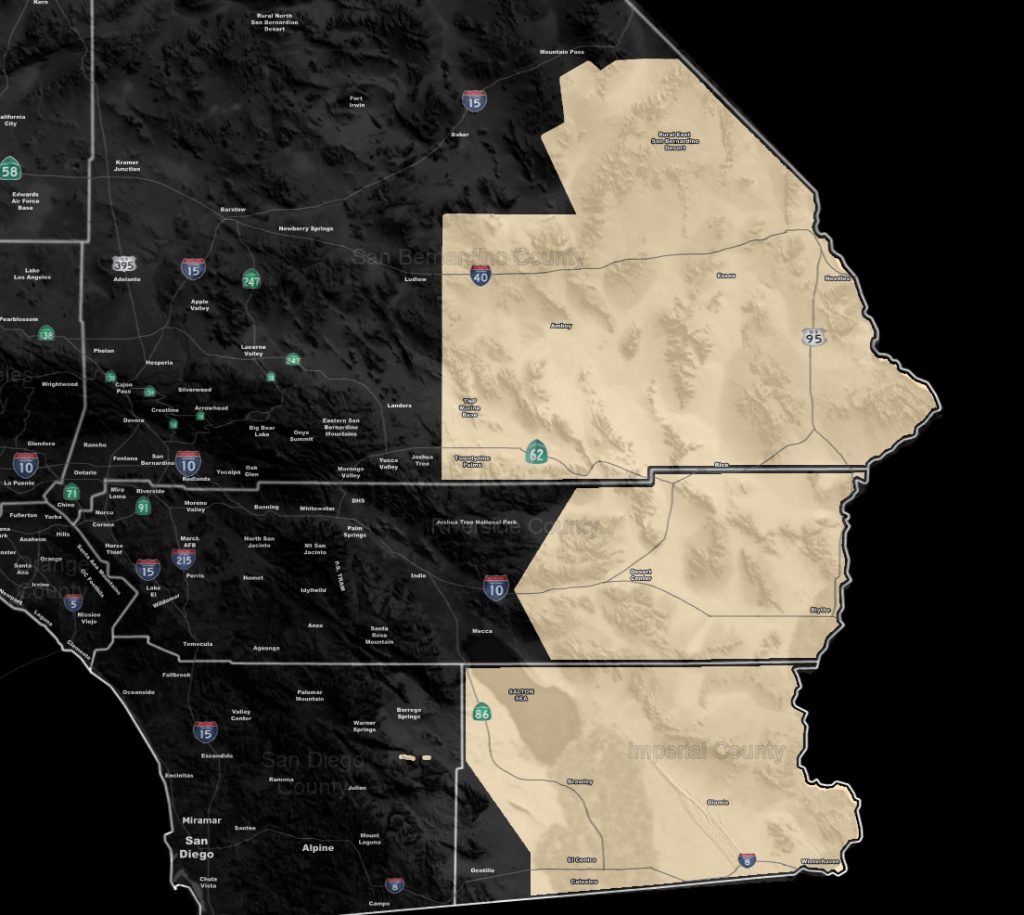 Issued Zones:  Eastern Southern California Deserts, The Colorado River Valley …
Site:  Southern California Weather Force has issued a Special Weather Statement effective now through Tuesday …
Date:  9/22/19 at 4:00pm PT
Forecast: A potent storm system will drop out of due north along the Colorado River Valley, with most of the activity happening in the Special Weather Statement zones on Monday into early Tuesday.  Tonight however, overnight into early Monday morning, a gulf surge from the Gulf of California will bring moisture northward along the Colorado River Valley and bring the chance of pop-up shower/thunderstorm activity then.

Over the day on Monday, especially later, lasting into the night … Expecting the upper divergence (lift) zone of the storm system to maximize and pop thunderstorms off int he statement areas.  Activity can make it as far as the Salton Sea, Eastern Morongo Basin, and Desert Center.

I've outlined the Imperial Valley Metro areas just in-case, however you are on the outskirts of this system so it is a toss-up for you.

Activity will surge westward and cause a severe thunderstorm event for Phoenix Arizona overnight on Monday where the page Arizona Weather Force will cover.

EMAIL ALERTS FOR THESE PRODUCTS!:  Click this link to find out how you can be a full member and get these and NOT wait for Facebook posts! –
https://www.facebook.com/scweatherforce/posts/2330907320516710
Join A Micro-Climate Group On Facebook For These Alerts – Click Here To Find Your Location Served By SCWF Today!
10 mile rule:  These alerts issued on this site means that within your zone and 10 miles from you will see the event forecast for.  You may or may not see the event but it means you are in the zone or 10 miles from where someone will.
Forecaster: KM