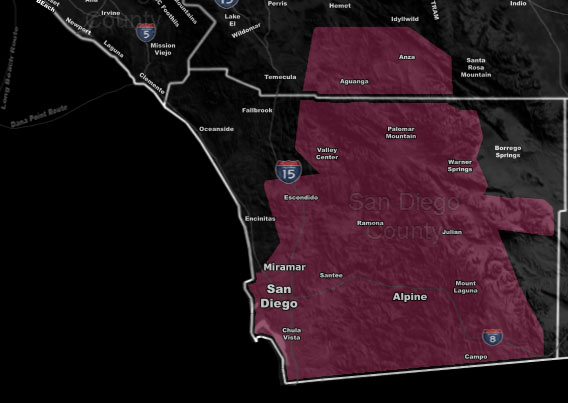 Issued Zones:  San Diego Mountains and Foothills … San Diego Valley Escondido … Downtown San Diego …
Site:  Southern California Weather Force has issued a Weather Advisory effective Wednesday …
Date:  9/24/19 at 4:40pm PT
Forecast: A cutoff low that will be in Arizona will spark Severe Thunderstorms in Imperial County, east of this advisory area.  The general flow is to the west from there and therefore outflow boundaries will hit the RIV/SD Mtn areas and shower/thunderstorm development will happen as a result. 
The flow around the storm system to the east will have a south/southwest motion to it and pretty fast as well.  Storms forming in the San Diego Mountains will have a chance to drift off the foothills on a weakening state and bring a shower or a thunderstorm into the valley/coastal areas of the advisory zone by evening …
Storms will be weaker to develop in the Riverside Mountains with San Diego County having better dynamics …

EMAIL ALERTS FOR THESE PRODUCTS!:  Click this link to find
out how you can be a full member and get these and NOT wait for Facebook
posts! –
https://www.facebook.com/scweatherforce/posts/2330907320516710
Join A Micro-Climate Group On Facebook For These Alerts – Click Here To Find Your Location Served By SCWF Today!
10 mile rule:  These alerts issued on this site means that within your zone and 10 miles from you will see the event forecast for.  You may or may not see the event but it means you are in the zone or 10 miles from where someone will.
Forecaster: KM