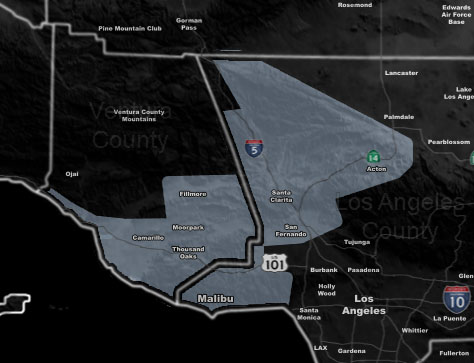 Issued Zones:  Ventura/Coast Valley … Malibu … Santa Clarita Valley / Acton …
Site:  Southern California Weather Force has issued a Smoke Advisory effective now through the weekend …
Date:  10/11/19 at 1:30pm PT
Forecast: Offshore flow will subside by the evening with one last push of some 15-20 mph gusts, however I do not expect the offshore flow to continue on Saturday and thus the Santa Ana Wind Watch would expire by 9pm tonight.  Dry conditions will persist through the weekend, but no gusty winds are expected, so firefighters can get a handle on the fire situation out there. 
This smoke advisory is mainly for the shift in wind I expect at the surface.  The wind will shift from offshore to coming onshore toward the Santa Clarita Valley and Acton areas and unhealthy air quality levels will be likely this weekend from the Saddleridge Fire Complex.

I am also currently watch the medium/long range for another trough of low pressure to approach the area.  This would renew the chance of Santa Ana Winds yet again between October 19th and the 22nd.  Additional updates on that will be scheduled for Monday, 10-14-2019.

Seeing this from the Facebook groups?  Get these in your e-mail today for the discount that will NOT last long – Click here

Join A Micro-Climate Group On Facebook For These Alerts – Click Here To Find Your Location Served By SCWF Today!
10 mile rule:  These alerts issued on this site means that within your zone and 10 miles from you will see the event forecast for.  You may or may not see the event but it means you are in the zone or 10 miles from where someone will.
Forecaster: KM