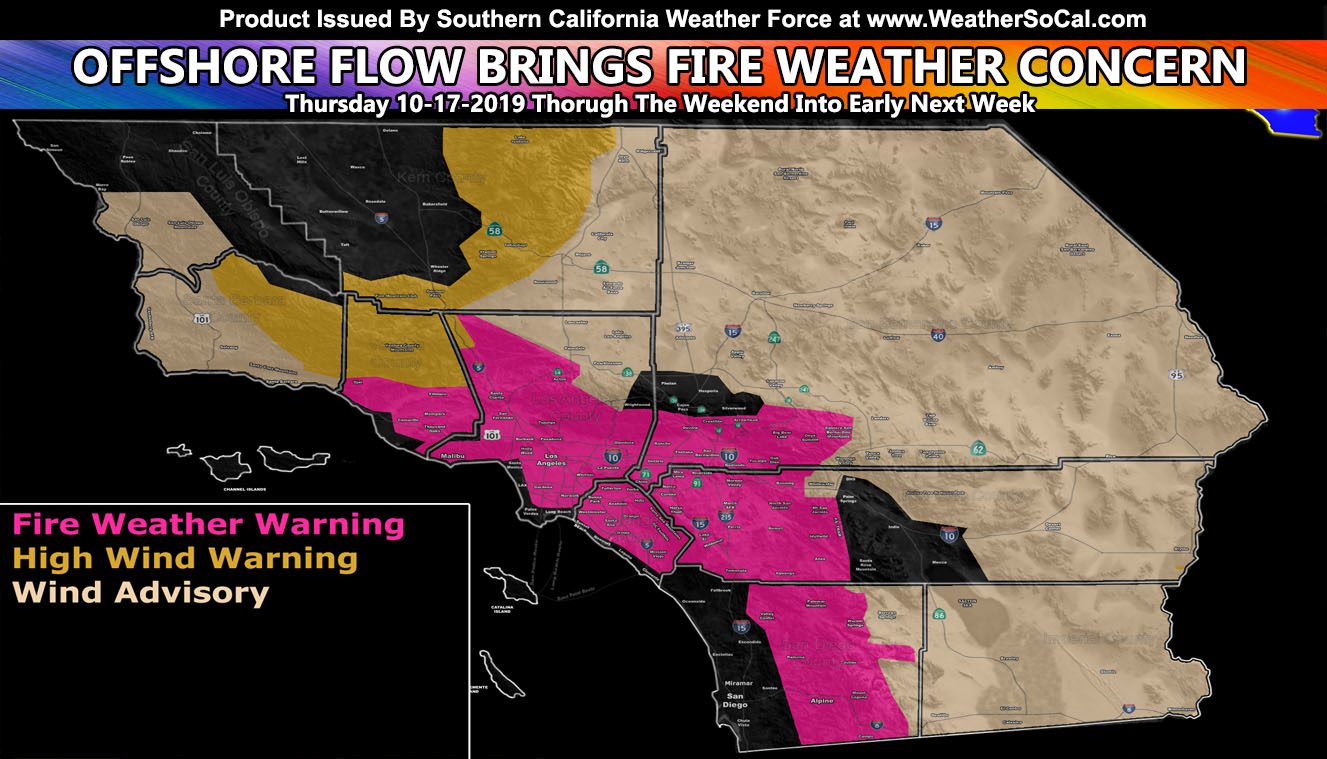 Four alerts have just gone into the micro-climate alert system here at Southern California Weather Force.  One High Wind Warning, Two Wind Advisories, and One Fire Weather Warning, all effective Thursday onwards.  Read on for details …
The Fire Weather Warning is for Basin/Valley zones of VT/LA/OC/IE … San Diego, San Bernardino, Riverside Mountain/Foothill zones …
The fire weather warning is for weak Santa Ana Winds, dry air, and warm temperatures through the effective period above.   Starting on Thursday, a Pacific trough will make a glancing blow to Southern California and bring High Winds to Gorman where my High Wind Warning is.  The winds will weaken in strength as they move into the SCV/SFV later on Thursday into Friday morning with 30 mph gusts likely.
This will not be a Santa Ana Wind Pattern and is a mild variation of the I-5 Corridor Winds you get in those two locations.
By Friday however, the flow turns from NW to SE into the Santa Ana Wind Pattern of NE to SW and this is when the Fire Weather Warning will start as the mild 30 mph Santa Ana Winds combined with the dry air and warm temperatures for the risk to be elevated.
This is not a strong pattern like previous, but because of the combination of wind/moisture/temp, I've decided the Fire Weather Warning is the best option for this.  Those of you in the Los Angeles Basin will not see the winds, however with combined warm temperatures and low humidity you are also included in this as well as anyone in the Inland Empire in the colored zone within the alert map.
Another weak offshore flow will hit over the weekend, keeping dry/warm air in the region through the beginning of this next week.  This is a prolonged weak offshore event.
---
NOTE: TIME IS RUNNING OUT.  IF THIS TROUGH GETS A NAME THEN THE DISCOUNT WILL HAVE ENDED…  If you have renewed your discounted MICRO-CLIMATE E-MAIL ALERT SYSTEM membership for the 2019-2020 season, skip this message.  If you have not, Click Here To Renew.  This will be one of your last e-mailed article/alert from the 2019-2020 season as effective now the season will start when the first named storm system enters the region so don't wait. Click Here To Renew Under The Discount.
---
The High Wind Warning is for Kern County, Ventura, and Santa Barbara County Mountains …
A pacific trough will move into the region on Thursday, maximizing on Thursday night and leaving over the day on Friday.  This trough has a 60-70kt mid-level jet and with cold air advection it will bring 40 to 60 mph wind gusts to the warnings area, including the center of Tehachapi and in the I-5 corridor.
PMC you'll be in this, but in reality I would give you a 30-40 mph gust range advisory level with this one.   Winds calm on Friday but advisory level is possible again in the same area over the coming weekend.
---
The first Wind Advisory is for Santa Barbara County Coast/Valley/Mountains … San Luis Obispo …
A pacific trough that has sparked my High Wind Warning in the Kern County Mountains will bring a northerly flow across the Santa Barbara County to San Luis Obispo areas on Thursday into Friday morning.
The gusts out of the north will range from 30 to 40 mph.  Humidity levels remain below fire weather hazards so I will not issue a Fire Weather Watch/Warning for this area.  The winds will wan on Friday but advisory level is possible (30 mph) for the Vandenberg AFB zones over the weekend.
---
The second Wind Advisory is for All Desert Locations minus some Coachella Valley areas
A pacific trough will move through the area on Thursday and into half of Friday.  This will maximize Thursday evening into the night and generate 30 to 50 mph wind gusts across the region.  The wind gusts are not expected to reach warning level.
Stay tuned to Southern California Weather Force for more information as I crunch my numbers.
As always, stay tuned to official forecasts from Southern California Weather Force for updates …
For The Main Weather Facebook Page Click Here and Join.
End Article
---
OPTIONAL:  Southern California Weather Force main page now has models, agendas, the alert map, and other things updated during storm events.  You can bookmark the main site and check back during an event for the latest updates.
Click here to view the main page
EMAIL ALERTS AND ASK THE WEATHER OFFICE A QUESTION:  It pays for itself in one storm system.  A very affordable e-mail alert system that only gives you SCWF weather alerts in YOUR micro-climate area.  Also, you can ask the weather office a question at any time if you get that add-on.
Click here to join
MICRO-CLIMATE ALERT FACEBOOK GROUPS:  Find yours today!
Click here to join
FACEBOOK PAGES TO JOIN!
SOUTHERN CALIFORNIA WEATHER FORCE MAIN:  Southern California Weather Force Office Main Page
BEHIND THE SCENES FORECASTS/UPDATE PAGE:  Southern California Weather Force Meteorologist Page
FOR THE CALIFORNIA FAULT STRESS MODEL PAGE: For SCWF official updates to the California Fault Stress Model and more!
"PONDER THIS" SCIENCE ADVENTURE SHOW: A science adventure show developed here at Southern California Weather Force that is a fun ride!
INSTAGRAM AND TWITTER ACCOUNTS TO JOIN!
Instagram – https://www.instagram.com/socalweatherforce/
Twitter – https://twitter.com/SCweatherforce