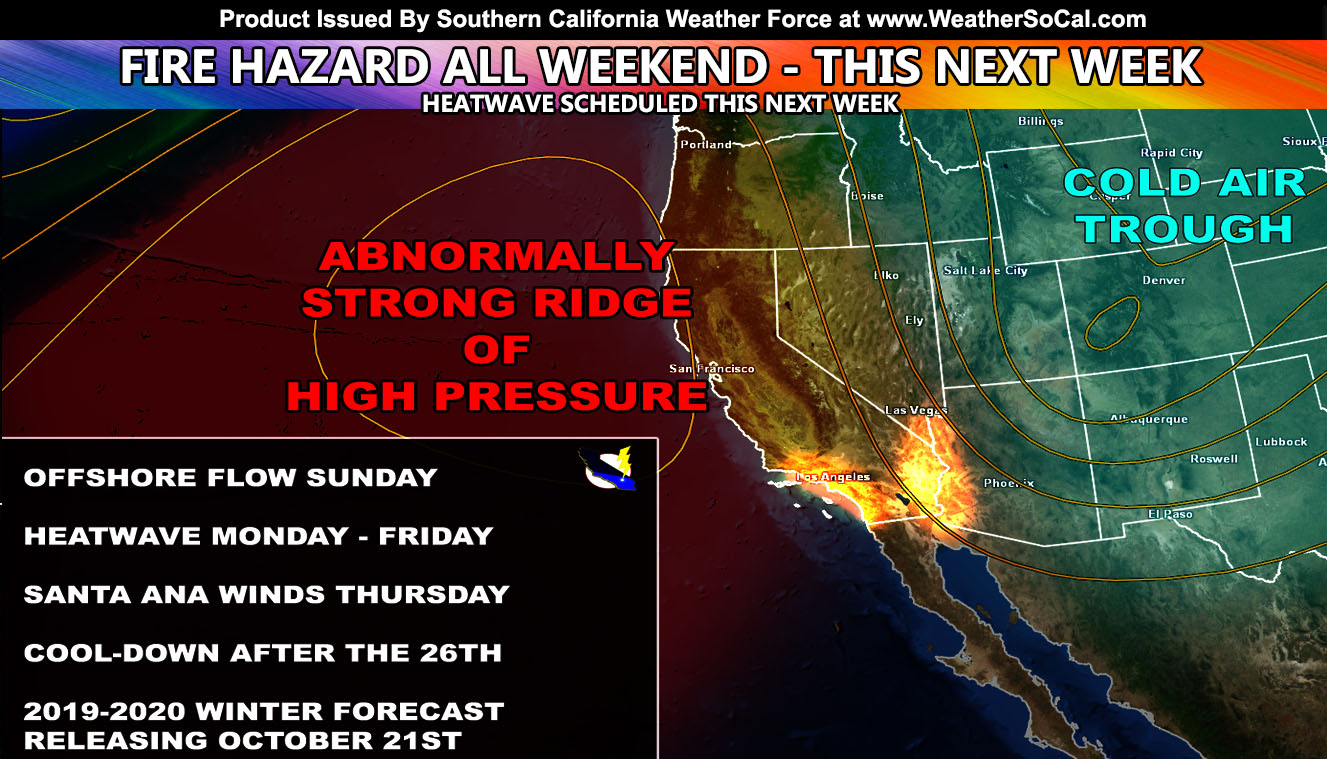 Fire Weather Warning, Metro Heatwave This Next Week, Another Santa Ana Pattern, And Finally The Cool-Down After The 26th so read on for details …
The current Southern California Weather Force weather alert map (WAM) looks on-track as more offshore flow is scheduled through this weekend and again on Thursday.  For a prolonged period of time, fire hazards will be in the area due to the offshore flow with winds, dry air, and warm temperatures.  On Tuesday into Thursday a 595 DM Upper Ridge (that is strong for this time of year) will edge on a ridge-axis overhead.  This ridge axis with sinking air will bring metro valley/basin temperatures into the 90s and even Fullerton flirting with 100F.  This will be way above normal for this time of year and if you still go in the pool then this would be a fun time to do it.
Santa Ana Wind Pattern looks stronger than this weekend's offshore flow for Thursday.  The ridge responsible for the heat will be placed west of Northern California and this is the spot for some level of upper support to develop so I would say Thursday looks to be a sizeable event, but not stronger than a week ago.  The event will also aim at the Colorado River Valley areas where winds actually can be the strongest out of all of Southern California with this coming pattern.
After the 26th we will have a cool-down as the ridge that will bring us the heat prior moves well west of Washington State and this will allow for a large upper level low to move out of Western Canada and into the Western United States.  It will miss us for the most part, however being how strong the trough will be, onshore flow will be strong enough to cool-down the area and even bring the chance of some up-slope showers in the deeper-low level onshore flow and provided moisture.
Your 2019-2020 Winter Forecast will be released around October 21st so don't forget that if you do not receive these via e-mail, check the Facebook Page at http://www.WeatherSoCal.com
MICRO-CLIMATE ALERT FACEBOOK GROUPS:  Find yours today!
Click here to join
NOTE: TIME IS RUNNING OUT.  IF THIS TROUGH GETS A NAME THEN THE DISCOUNT WILL HAVE ENDED…  If you have renewed your discounted MICRO-CLIMATE E-MAIL ALERT SYSTEM membership for the 2019-2020 season, skip this message.  If you have not, Click Here To Renew.  This will be one of your last e-mailed article/alert from the 2019-2020 season as effective now the season will start when the first named storm system enters the region so don't wait. Click Here To Renew Under The Discount.
As always, stay tuned to official forecasts from Southern California Weather Force for updates …
For The Main Weather Facebook Page Click Here and Join.
End Article
---
OPTIONAL:  Southern California Weather Force main page now has models, agendas, the alert map, and other things updated during storm events.  You can bookmark the main site and check back during an event for the latest updates.
Click here to view the main page
EMAIL ALERTS AND ASK THE WEATHER OFFICE A QUESTION:  It pays for itself in one storm system.  A very affordable e-mail alert system that only gives you SCWF weather alerts in YOUR micro-climate area.  Also, you can ask the weather office a question at any time if you get that add-on.
Click here to join
MICRO-CLIMATE ALERT FACEBOOK GROUPS:  Find yours today!
Click here to join
FACEBOOK PAGES TO JOIN!
SOUTHERN CALIFORNIA WEATHER FORCE MAIN:  Southern California Weather Force Office Main Page
BEHIND THE SCENES FORECASTS/UPDATE PAGE:  Southern California Weather Force Meteorologist Page
FOR THE CALIFORNIA FAULT STRESS MODEL PAGE: For SCWF official updates to the California Fault Stress Model and more!
"PONDER THIS" SCIENCE ADVENTURE SHOW: A science adventure show developed here at Southern California Weather Force that is a fun ride!
INSTAGRAM AND TWITTER ACCOUNTS TO JOIN!
Instagram – https://www.instagram.com/socalweatherforce/
Twitter – https://twitter.com/SCweatherforce