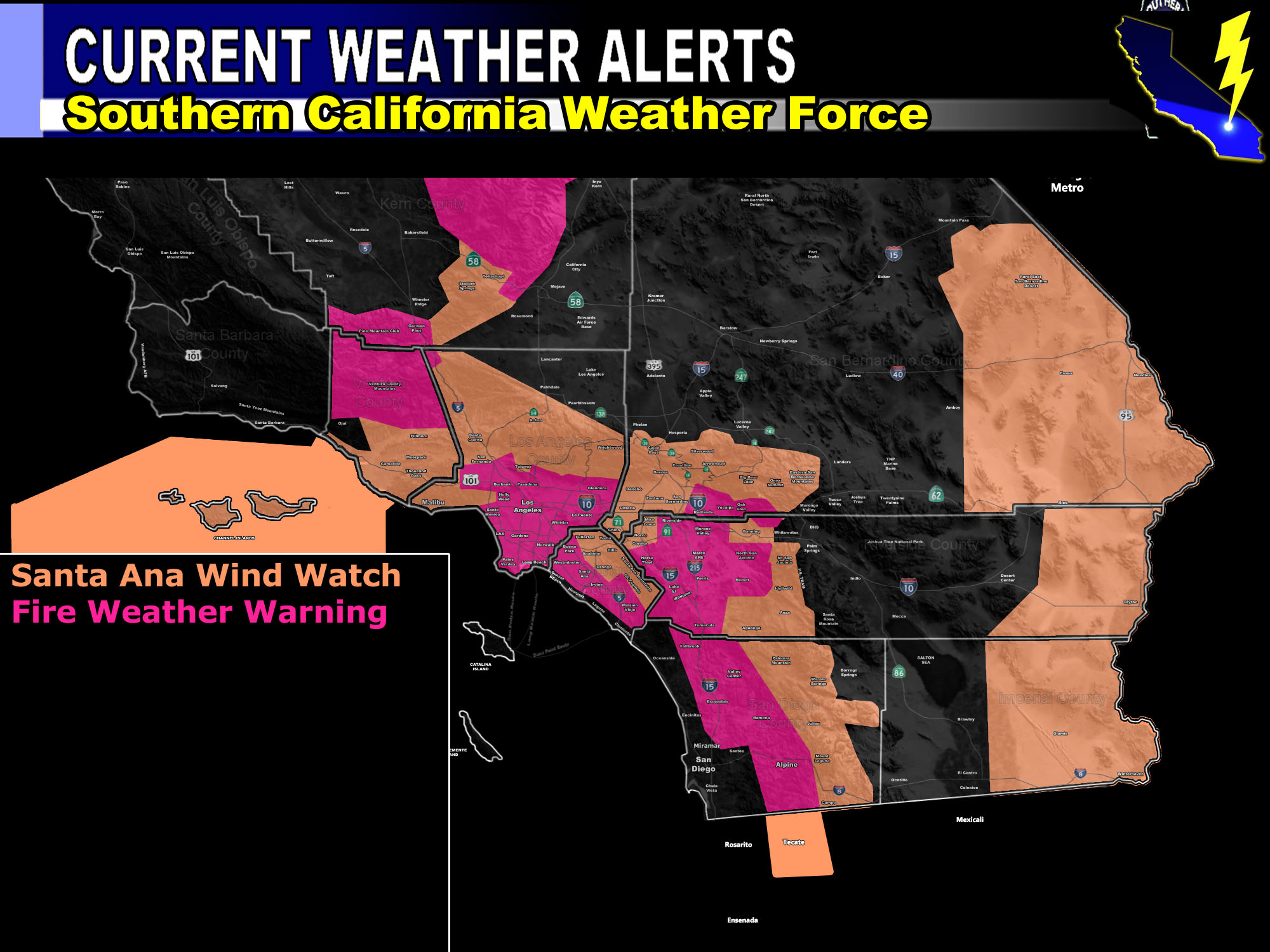 A brief break is expected later today and Saturday with onshore flow returning to the region on into Sunday.  This onshore flow will boost humidity levels and end the fire weather threat.  However, a large trough of low pressure will hit the Rockies on Sunday and this will generate an offshore Santa Ana Wind conditions once again starting Sunday evening and going until Monday afternoon when winds will die down.
This brief period of gusty winds will accompany very dry air and thus the return of fire weather conditions.  The gusts are expected to be nearly the same as the last event.  The only thing that will be different is the temperature of the winds.  These winds have cold air advection so I'm expecting a noticeable different in the cold temperature vs the hot devilish winds we experienced with the last (current ending) event.
After that, Tuesday looks calmer but I am monitoring Wednesday as yet another Santa Ana Wind Pattern.  Wind gusts with this next one however will be 30-45 mph in gusts, with 60+ mph in the Los Angeles County Mountain Southern Slopes.
Areas in the Santa Ana Wind Watch shading in the image associated with this alert will be at risk for power shutdowns.
I did decide that since the humidity levels will be higher on the OC/San DIego Coast that I would not give you a fire weather risk.
In addition to the offshore flow, onshore flow will make for 30+ mph wind gusts on Sunday in all desert areas before switching offshore Sunday evening …
MICRO-CLIMATE ALERT FACEBOOK GROUPS:  Find yours today!
Click here to join
NOTE: TIME IS RUNNING OUT.  IF THIS TROUGH GETS A NAME THEN THE DISCOUNT WILL HAVE ENDED…  If you have renewed your discounted MICRO-CLIMATE E-MAIL ALERT SYSTEM membership for the 2019-2020 season, skip this message.  If you have not, Click Here To Renew.  This will be one of your last e-mailed article/alert from the 2019-2020 season as effective now the season will start when the first named storm system enters the region so don't wait. Click Here To Renew Under The Discount.
As always, stay tuned to official forecasts from Southern California Weather Force for updates …
For The Main Weather Facebook Page Click Here and Join.
End Article
---
OPTIONAL:  Southern California Weather Force main page now has models, agendas, the alert map, and other things updated during storm events.  You can bookmark the main site and check back during an event for the latest updates.
Click here to view the main page
EMAIL ALERTS AND ASK THE WEATHER OFFICE A QUESTION:  It pays for itself in one storm system.  A very affordable e-mail alert system that only gives you SCWF weather alerts in YOUR micro-climate area.  Also, you can ask the weather office a question at any time if you get that add-on.
Click here to join
MICRO-CLIMATE ALERT FACEBOOK GROUPS:  Find yours today!
Click here to join
FACEBOOK PAGES TO JOIN!
SOUTHERN CALIFORNIA WEATHER FORCE MAIN:  Southern California Weather Force Office Main Page
BEHIND THE SCENES FORECASTS/UPDATE PAGE:  Southern California Weather Force Meteorologist Page
FOR THE CALIFORNIA FAULT STRESS MODEL PAGE: For SCWF official updates to the California Fault Stress Model and more!
"PONDER THIS" SCIENCE ADVENTURE SHOW: A science adventure show developed here at Southern California Weather Force that is a fun ride!
INSTAGRAM AND TWITTER ACCOUNTS TO JOIN!
Instagram – https://www.instagram.com/socalweatherforce/
Twitter – https://twitter.com/SCweatherforce