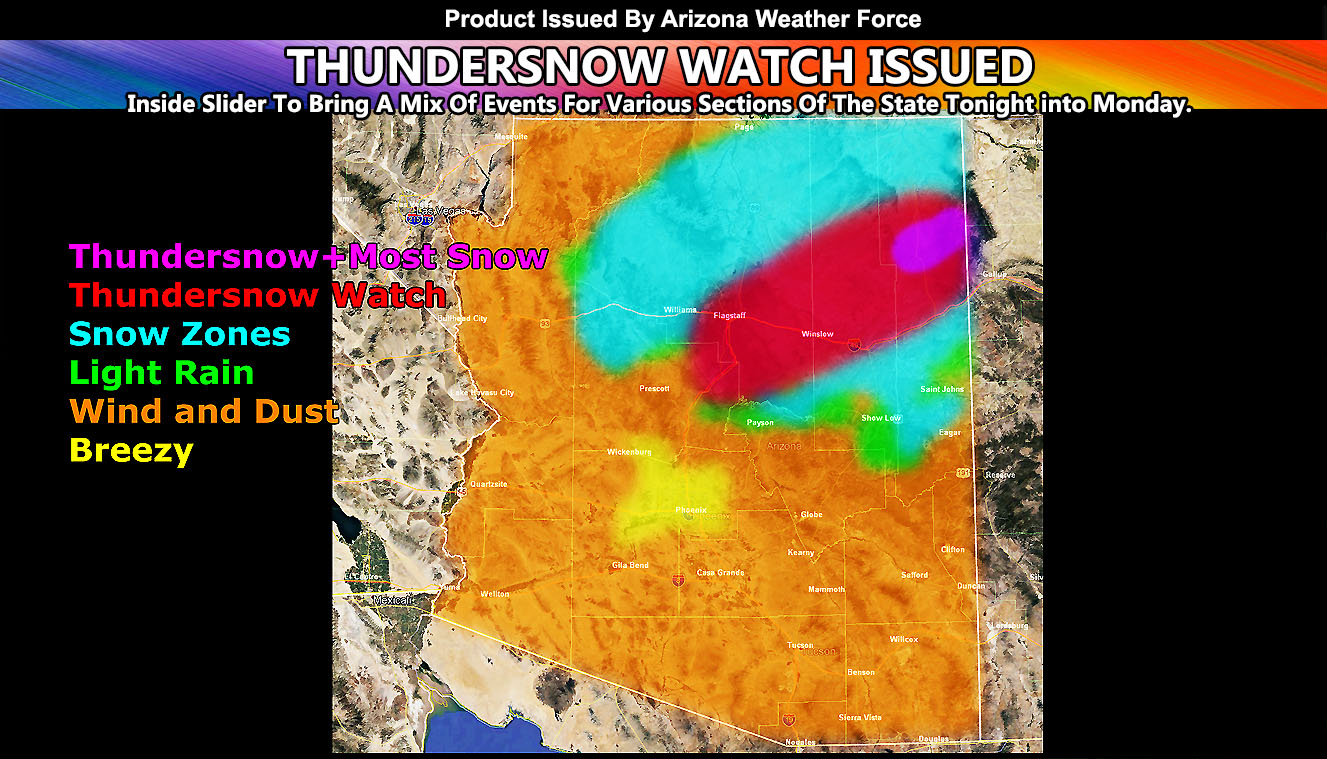 The same system causing the damaging Bay area and Sacramento, California winds and fire hazards will be moving into Arizona this evening and lasting into some of Monday.  These are the fine details in various parts of the state, including thundersnow, snow, wind gusts, and rain zone … remember within this article link, all images are clickable for a larger version of them so read on for details.
An inside slider system with a powerful jet stream will move into Northern Arizona this evening.  As stated in the previous update at Arizona Weather Force, (Click Here For That) this system would bring the first measurable snowfall to Northern Arizona, including parts of the Grand Canyon, Flagstaff, The Mogollon Rim, and the Colorado Plateau starting this evening and going into the night.  Last satellite images does show this system's dynamics and it looks as if it will have a sharp and potent area of upper divergence with it as a vort max moves into Northern Arizona this evening/night.  This, with some instability, will bring the chance of Thundersnow and thus Arizona Weather Force has issued a Thundersnow Watch from Flagstaff northeast to Ganado/Burnside and surrounding areas in that section of the mountains of Northeast Arizona effective this evening through the overnight.
Thundersnow can produce areas of heavier snowfall rates.  Right now am pegging Flagstaff at a dusting to an inch, 1-3″ north and east of it, and in Northeast Arizona in that Ganado/Burnside areas at 3-6″ where the heaviest convergence at the surface and divergence in the upper level materializes.
The southern end of this would bring ONLY chance of light rain to Sedona and Payson with this, but not much.
Wind gusts are already high across Northern Arizona as the system approaches and southerly winds develop.  Most of the wind gusts on my model below is today through this later evening.  Most of the winds in the state, NOT INCLUDING the Colorado River Valley; will die down tonight.  The Colorado River Valley will remain windy through some of Monday.
---
Martin Wind Gust Intensity Scale –
8. Extensive widespread damage.
7. Trees are broken or uprooted, building damage is considerable.
6. SOME Trees are broken or uprooted, building damage is possible.
5. Slight damage occurs to buildings, shingles are blown off of roofs.
HIGH WIND WARNING CRITERIA
4. Twigs and small branches are broken from trees, walking is difficult.
3. Large trees sway, becoming difficult to walk.
POWER SHUTDOWN THRESHOLD WIND ADVISORY CRITERIA
2. Large tree branches move, telephone wires begin to "whistle", umbrellas are difficult to keep under control.
1. Small trees sway.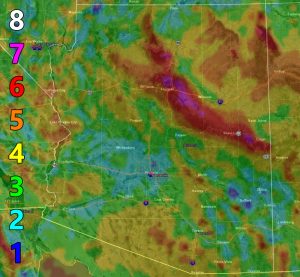 Image is clickable for a larger one
---
Snow Forecast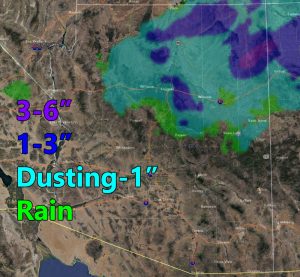 Image is clickable for a larger one
---
NOTE: This is the SCWF Website but it is being used for national updates until a suitable national website can be developed for you. 
Your Facebook Page to join for this update is linked here – https://www.facebook.com/ArizonaWeatherForce
Reading for another state? Find your region I serve here – https://www.facebook.com/nwfweather/photos/a.643550279121473/1544547759021716
---
This was a follow up to this post on October 25th