Issued Zones:  Yucaipa/Redlands … High Desert Metro … Mountain Pass CA/NV Border … Kern and Los Angeles Deserts …
Site:  Southern California Weather Force has issued a Frost Advisory effective tonight until 9am Monday morning.
Date:  10/27/19 at 3:10pm PT
Forecast: A strong inside slider that is bringing the wind to these areas today will bring dry air into the region overnight along with cold air.  This frost advisory is for widespread 38F and lower temperatures expected and some areas will see freezing temperatures with this.  I have a model that shows hard freeze, which is below 26F, Freeze at 32 and below, and Frost between 33 and 38F.  The model is below and it is clickable for you.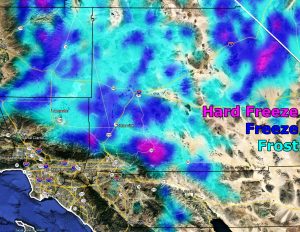 Seeing this from the Facebook groups?  Get these in your e-mail today for the discount that will NOT last long – Click here
Join A Micro-Climate Group On Facebook For These Alerts – Click Here To Find Your Location Served By SCWF Today!
10 mile rule:  These alerts issued on this site means that within your zone and 10 miles from you will see the event forecast for.  You may or may not see the event but it means you are in the zone or 10 miles from where someone will.
Forecaster: KM