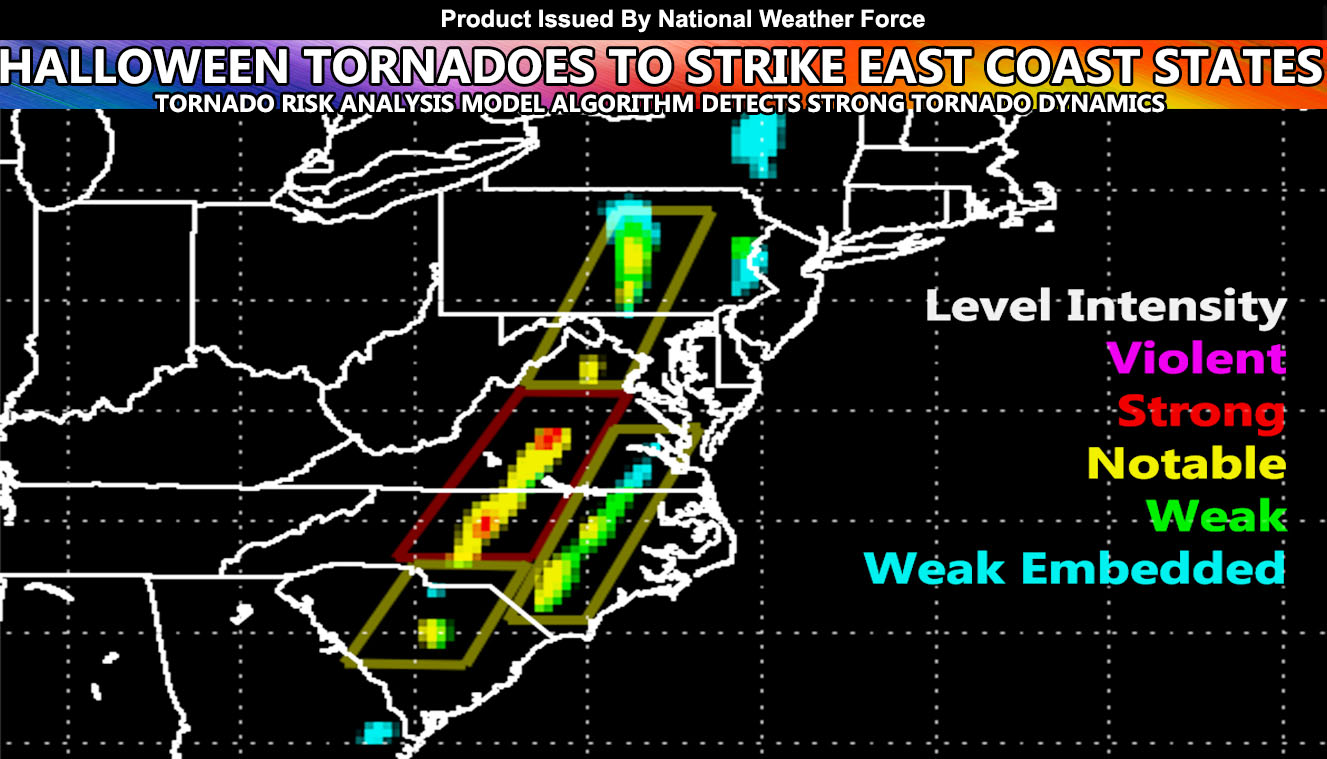 National Weather Force has issued a multitude of Tornado Watches for the East Coast states.  A storm system causing snow in the Midwest and Great Lake State regions will drag a frontal zone across the east coast states this evening and into some of the early night during prime trick or treating hour, making for a dangerous setup for severe weather, including a number of tornadoes detected on my tornado model so read on for details.
This frontal zone will enter the West-Central portions of PA/MD/VA/NC and SC this evening.  Strong inflow as well as strong low level shearing will work with adequate instability to bring supercells to the region.  The targeted region for the strongest tornadoes will be from Central Virginia, south-southwest into Central North Carolina where the Greensboro forecast area is directly targeted.  The red box is my Tornado Watch box for stronger tornadoes.  This frontal zone causing those stronger tornado dynamics to pop-up on my tornado model will also stretch north into Maryland/DC and the Pennsylvania forecast area.  There is some weak embedded chance of a spin-up in East-Central New York State, however too weak to issue any tornado watches for.  The yellow boxes are my tornado watches and they are for notable tornado dynamics.  This stretches south into South Carolina as well.  The very southern end would be a weak spin-up possible in the Southeast Georgia Coast.
The main strong tornado dynamics zone in the VA/NC areas will move eastward through the later evening / night hours and into Southeast VA southward into the Eastern NC zones on a weakening trend.  Storms with it will still be capable of notable tornado dynamics in Eastern NC before moving out well overnight and ending the threat.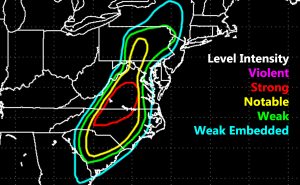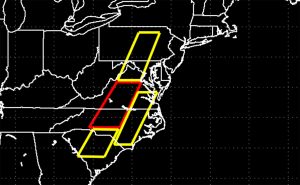 NOTE: This is the SCWF Website but it is being used for national updates until a suitable national website can be developed for you. 
Your Facebook Page to join for this update is linked here –  Find your region I serve – https://www.facebook.com/nwfweather/photos/a.643550279121473/1544547759021716/?type=3&theater