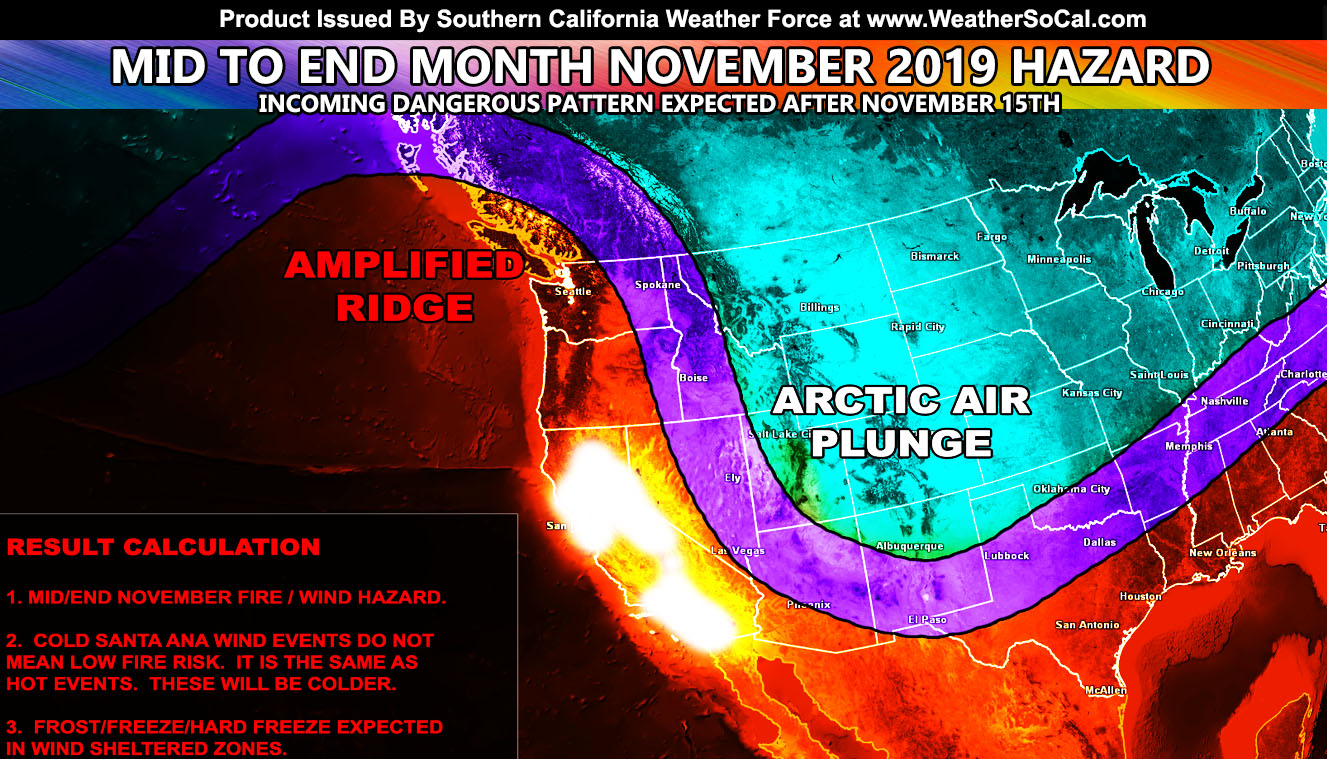 Santa Ana Winds Will Return This Month; SCWF Urging Residents In Fire Prone and Power Shutdown Zones To Prepare Now so read on for details … You have your lead-time – it is up to you with what you want to do with it …
The month of October featured an above average Santa Ana Wind Pattern and November will be no different, except it will happen in the last half.  We are relatively left with a zonal flow at the moment.  Neither us or the Pacific Northwest is fairing well with any appreciable storm events.  This is about to change though as the ridge of High Pressure returns to Western Canada, with an end result in diving storm systems down into the Rockies once again.  As these storms dive into the Rockies out of Canada, arctic air blasts with them will create thermal support, that of which is needed to bring the strong Santa Ana Wind Events to Southern California.
These will be colder wind events but it does not at all mean lower fire risks.  You saw what happened with the Ventura County fires of the last cold wind event.  All we need is a remained dry atmosphere and that will be so … Expecting frost, freeze, and hard freeze criteria to be met in wind sheltered areas with this pattern with cold air advecting in from the Great Basin.
It will be quiet until then.  Then… after November 15th… the pattern unleashes once again and maintains for a good two weeks.  Now this is a very amplified pattern coming up and sometimes the ridge can scoot to the west a bit more, allowing for a storm to enter California so toward the end of the month is definitely when I will be seeking to continue to find my first named storm in our region.
As stated in the 2019-2020 forecast, this season will be a late start … and it looks like we are remaining on the track.  But for now, go prepare…
---
NOTE:  ALL Articles AND Videos posted on Southern California Weather Force main Facebook Page are charity events.  Anyone sharing will be entered into a list and one person will be randomly selected to get cash for causes.  This started on in October 2019 and SCWF has donated $1883.24 to date of this article and counting. … So share away.. the more shares on Facebook, the more help can be done for the community and it costs you nothing just like a lottery ticket.  October 2019's winner was Jessica J Dominguez, and she has claimed the prize.  Are you next?  –  Check the latest amount to win by CLICKING HERE –  Remember… that number is going to climb before the contest closes!
MICRO-CLIMATE ALERT FACEBOOK GROUPS:  Find yours today!
Click here to join
NOTE: TIME IS RUNNING OUT.  IF THIS TROUGH GETS A NAME THEN THE DISCOUNT WILL HAVE ENDED…  If you have renewed your discounted MICRO-CLIMATE E-MAIL ALERT SYSTEM membership for the 2019-2020 season, skip this message.  If you have not, Click Here To Renew.  This will be one of your last e-mailed article/alert from the 2019-2020 season as effective now the season will start when the first named storm system enters the region so don't wait. Click Here To Renew Under The Discount.
As always, stay tuned to official forecasts from Southern California Weather Force for updates …
For The Main Weather Facebook Page Click Here and Join.
End Article
---
OPTIONAL:  Southern California Weather Force main page now has models, agendas, the alert map, and other things updated during storm events.  You can bookmark the main site and check back during an event for the latest updates.
Click here to view the main page
EMAIL ALERTS AND ASK THE WEATHER OFFICE A QUESTION:  It pays for itself in one storm system.  A very affordable e-mail alert system that only gives you SCWF weather alerts in YOUR micro-climate area.  Also, you can ask the weather office a question at any time if you get that add-on.
Click here to join
MICRO-CLIMATE ALERT FACEBOOK GROUPS:  Find yours today!
Click here to join
FACEBOOK PAGES TO JOIN!
SOUTHERN CALIFORNIA WEATHER FORCE MAIN:  Southern California Weather Force Office Main Page
BEHIND THE SCENES FORECASTS/UPDATE PAGE:  Southern California Weather Force Meteorologist Page
FOR THE CALIFORNIA FAULT STRESS MODEL PAGE: For SCWF official updates to the California Fault Stress Model and more!
"PONDER THIS" SCIENCE ADVENTURE SHOW: A science adventure show developed here at Southern California Weather Force that is a fun ride!
INSTAGRAM AND TWITTER ACCOUNTS TO JOIN!
Instagram – https://www.instagram.com/socalweatherforce/
Twitter – https://twitter.com/SCweatherforce