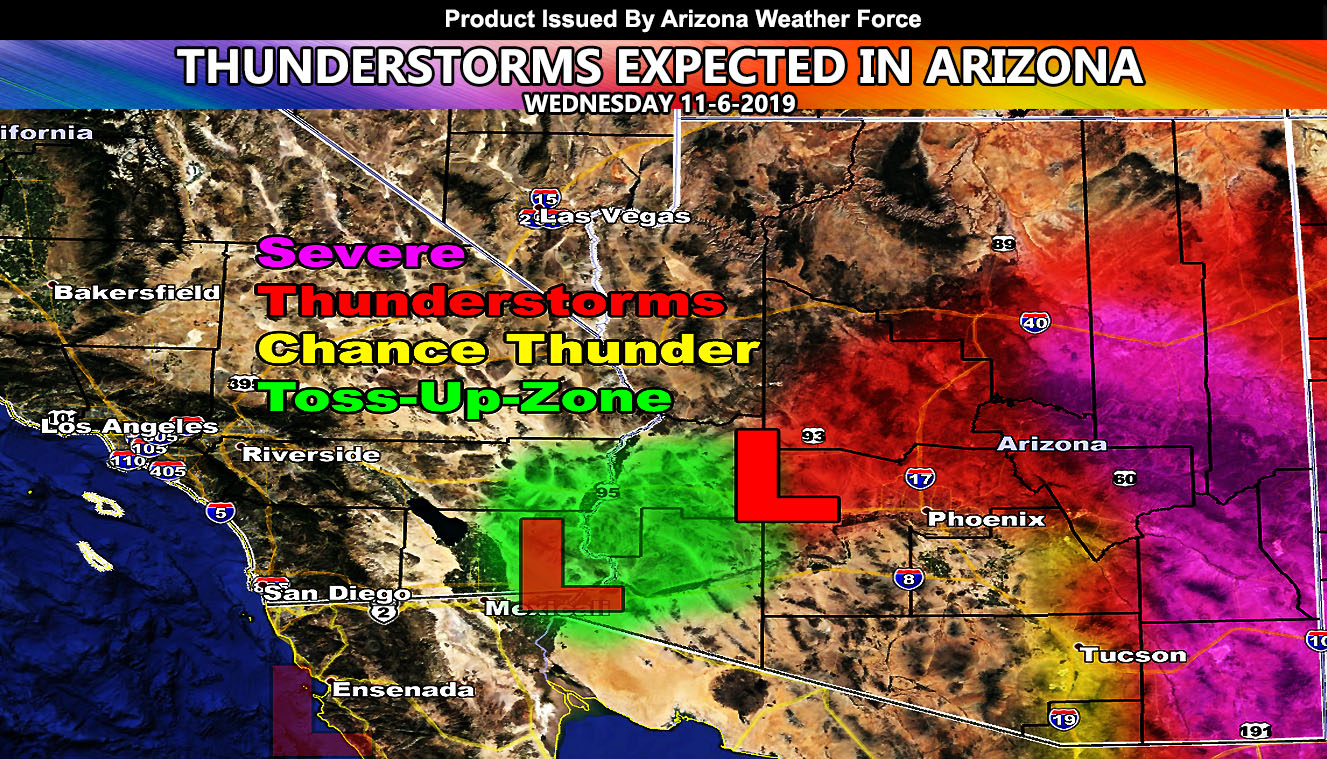 Cutoff Low To Bring Thunderstorms Across Much Arizona On Wednesday; Some Severe Storms Expected so read on for details …
A cutoff low that gave 'surprise' thunderstorms to all meteorologists but Southern California Weather Force (link here) will enter Arizona on Wednesday.
This cutoff system is currently just offshore Ensenada, Mexico and will remain there through this evening.  Tonight it will begin to move to the northeast and over Yuma just before sunrise on Wednesday morning.  There are some ingredients in the low levels in terms of a gulf surge that would bring moisture into the low levels, stretching up to 10,000 FT.  There is no moisture above that so what we will need for convective activity in the Colorado River Valley is surface instability.  I'm not really seeing much of that.  Everything is there from moisture to upper divergence, but without some sort of instability in the area this will be a tough call there.  I mean if we get convergence there then yes very early Wednesday morning you could seeing activity there and thus it is a 'Toss-Up-Zone' meaning 50/50 chance.
The main focus will across the Phoenix, Tucson, and the Flagstaff forecast areas.  As you can see on my map in this article update … the least activity is expected in Tucson with the yellow-shading with a large zone of thunderstorm dynamics extending to the Phoenix/Flagstaff forecast zones.  This does not include Havasu, Kingman, or the Grand Canyon forecast areas.   This is expected over the day on Wednesday with the upper low (L) as moving across the state.  The magenta color is where instability will be maximized, which is east of Tucson and across much of Eastern Arizona.  This zone is for severe thunderstorm chances.  There is low-level instability showing up along I-10 in the magenta zone around the Wilcox, AZ forecast zone.  This would be the area for a brief spin-up (tornado) under the cells as low-level shear is maximized along with the approaching 50kt mid-level southwesterly jet and enough instability at the surface to promote.
As you can see from the Phoenix zone on the map, the arc of activity with no yellow zone below the red-shade over Maricopa County is telling me that there will be a very fine line between no thunderstorms/rain to thunderstorms across the Phoenix Metro zones and quite honestly it looks as if that city is the fine line between nothing and thunder so areas like Gila Bend may actually remain on the no activity side should this maintain.
Some of these cells will contain hail and gusty winds with that isolated tornado risk in Southeast Arizona.
Due to the DRIER LOW LEVELS … I do NOT expect this to be a flood issue …
NOTE: This is the SCWF Website but it is being used for national updates until a suitable national website can be developed for you. 
Your Facebook Page to join for this update is linked here – https://www.facebook.com/ArizonaWeatherForce
Reading for another state? Find your region I serve here – https://www.facebook.com/nwfweather/photos/a.643550279121473/1544547759021716
DO YOU HAVE FACEBOOK?  JOIN THE CONVERSATION AND COMMENT BELOW!