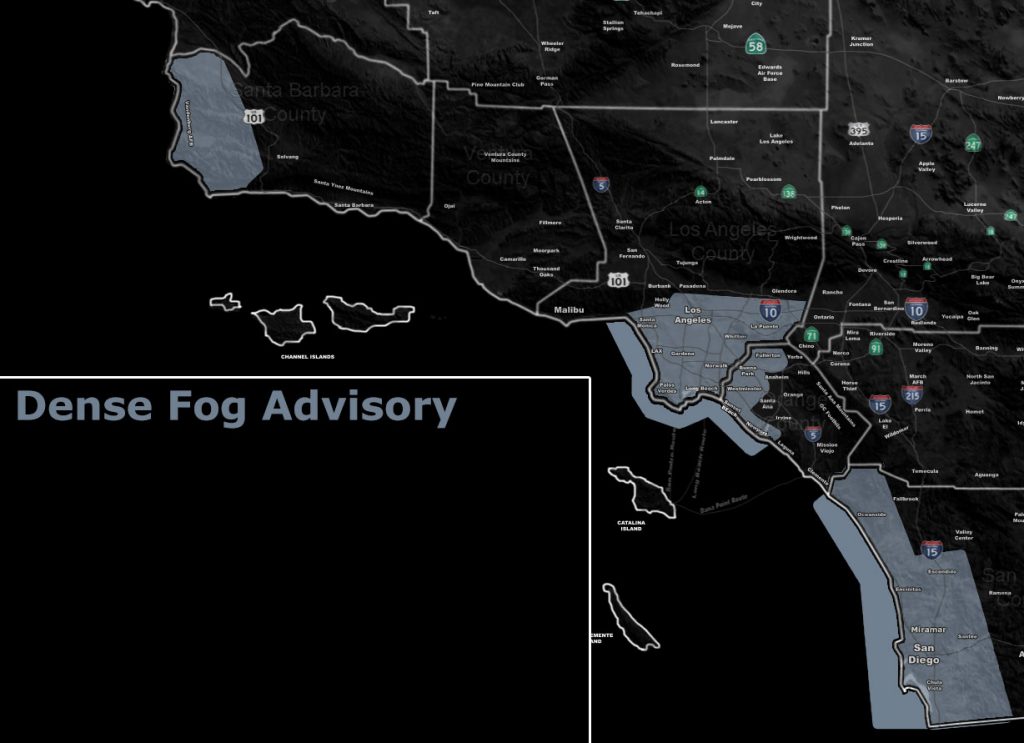 Issued Zones:  Vandenberg AFB Zones … The Los Angeles Basin and Coast … Northwest OC Coast and Basin … San Diego Coastal and Valley zones, not including Fallbrook …
Site:  Southern California Weather Force has issued a Dense Fog Advisory effective now through Thursday at 10am …
Date:  11/5/19 at 4:00pm PT
Forecast: Usually after an offshore pattern we resume with an onshore pattern near the coast and somewhat inland that brings dense fog.  We have been seeing Dense Fog in the Lompoc and LAX/Long Beach areas over the last day or so. 

We will see this again on Wednesday morning, with San Diego coast joining in.  The most dense fog however will be be overnight on Wednesday into Thursday morning in the advisory areas.  These zones will have the most dense fog of the week and thus this was issued for it … use the zone image above for the zones issued in this.

Join A Micro-Climate Group On Facebook For These Alerts – Click Here To Find Your Location Served By SCWF Today!
10 mile rule:  These alerts issued on this site means that within your zone and 10 miles from you will see the event forecast for.  You may or may not see the event but it means you are in the zone or 10 miles from where someone will.
Forecaster: KM