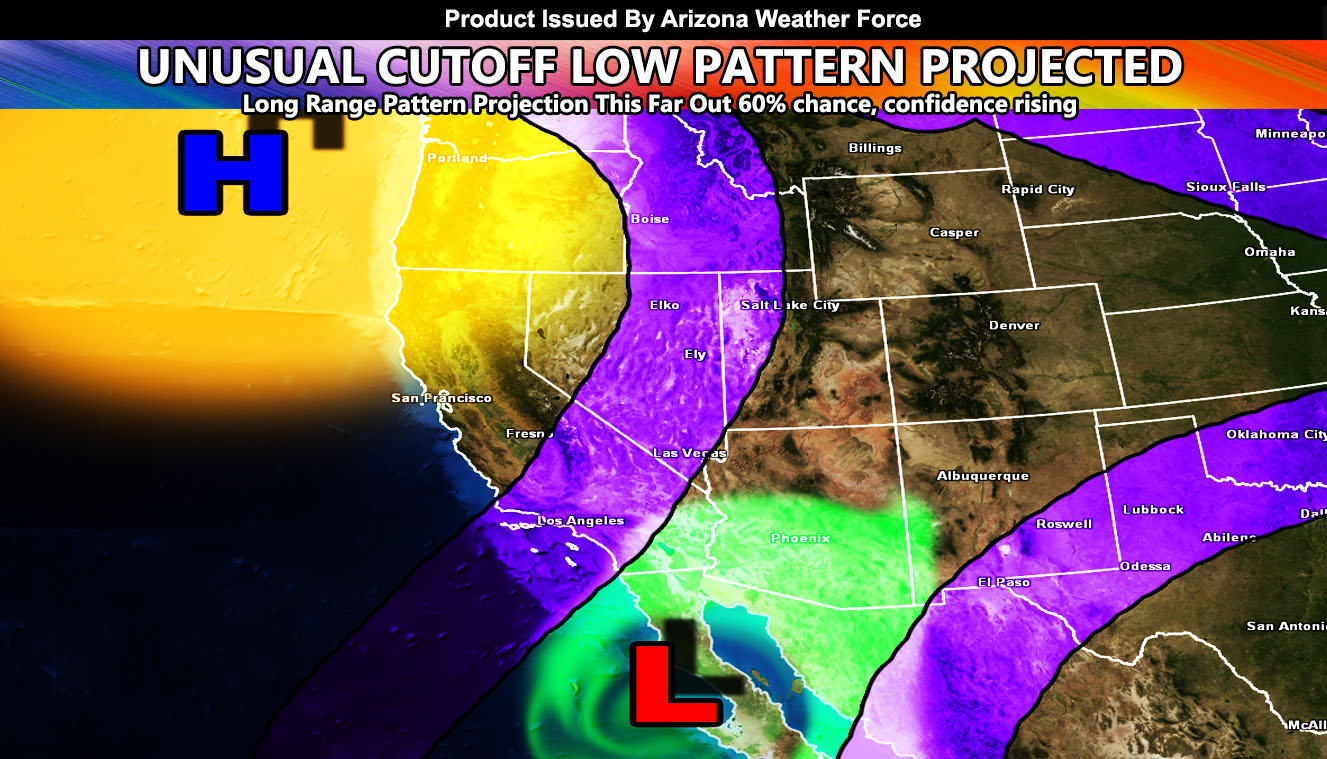 Unusual Cutoff Low Pattern To Bring Precipitation Back To Arizona after November 18th as moisture hitches a ride on a future dying tropical system over Baja; Confidence In Pattern Growing is read on for details …
A highly amplified pattern has been prominent all Autumn across the Western United States.  This has brought cold air shots in the Central and Eastern United States and mostly warm weather to the Western U.S.  This type of pattern is usually one to watch because even one push to the west of the upper ridge would bring a storm system around the eastern periphery and into the Desert Southwest.  Such a pattern does look like it is evolving and it will create a cutoff pattern well south the Southwestern United States.  This pattern will grab deep tropical moisture west of Mexico and pull it up.  This is pretty similar to a tropical system during the Summer or Fall in-which does bring tropical moisture up into the states.  The pattern also favors flooding and severe thunderstorms.
This is a direct bulls-eye on the official 2019-2020 Southern California Weather Force season forecast stating that Arizona's weather pattern favors above average rainfall to your normality than it would for Los Angeles' normality.  The video can be watched by clicking here.
Given this cutoff pattern is going to be fueled by an omega pattern in the Northeastern Pacific, we may see another system dive into the Western USA between November 22nd and the 28th.  Tracks on both systems generate a strong northeast flow for Southern California, however the wrap-around may accompany the moisture so that will need to be watched.
Will update as we near the event time-frame.
NOTE: This is the SCWF Website but it is being used for national updates until a suitable national website can be developed for you. 
Your Facebook Page to join for this update is linked here – https://www.facebook.com/ArizonaWeatherForce
Reading for another state? Find your region I serve here – https://www.facebook.com/nwfweather/photos/a.643550279121473/1544547759021716
DO YOU HAVE FACEBOOK?  JOIN THE CONVERSATION AND COMMENT BELOW!