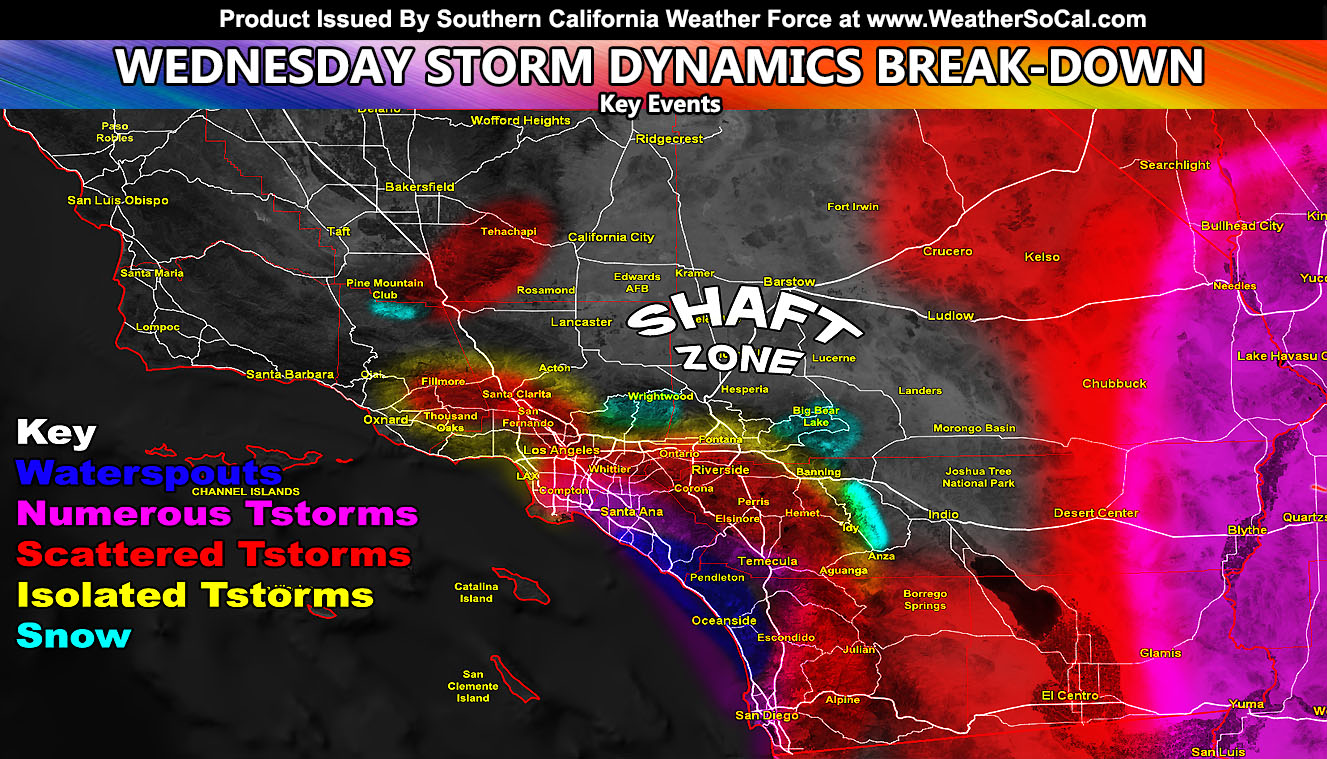 Being I am literally crawling to the office to write this (and this I'm going to go to the ER soon), I will just do focus spots for rain, thunderstorms, and snow so this is all I'll have time for.
As per the update on Facebook last night (Click Here), "Leading edge of frontal zone divergence will go from no clouds to rain and some activity being possible from LA to OC and east to the IE and South to San Diego later Tuesday." 
This is happening now with two separate lines in those areas.  The focus is literally Wednesday so here we go.
Thunderstorms – This is an inside slider system.  It'll position first on Wednesday morning just west of Tehachapi and this sharp upper divergent zone will be enough to pop scattered thunderstorms there and Gorman.  As the low moves southeast toward Los Angeles, over the morning we will continue to see rapidly development of the cloud top layer and convergence over the Los Angeles Basin will bring scattered to numerous cells there, stretching down into the Orange and San Diego County zones.  It does look like a size-able thunderstorm event from where I am sitting in those zones.  Use the map in this article to determine your thunderstorm risk.  Notable mention will be that the low level winds will be rounding Vandenberg and this will probably make Ventura Coast miss most of this event.  This was stated in my update last night and the keyword was 'inner VT' not coastal.   There will waterspout activity for the OC/San Diego Coast with some of the cells as island effect from Catalina Island works in.  Last thunderstorm zone will be I-15 around Baker so traveling to and from Las Vegas must be met with caution.
Flood – The winner will be San Diego where the coast/valley zones will end up with 2 inches of rain.  I have no doubt that the San Diego Airport might make a run for two-inches too.  A bit east and inland with upper lift in the foothills, 3″ is likely.  This is a flooding event.  Due to to inside slider nature of the system, winds rounding point conception will enter our region through Malibu for a half inch of rain in upper LA Valleys, including near the SCV, and the southerly foothills around an inch for the Los Angeles County Mountains and bottom of the Cajon Pass.  Give the southwest flow is present, the catcher's mitt effect will work for the San Bernardino and Yucaipa/Beuamont zones so 2″ of rain so flooding likely there, even in some thunder.  Most IE zones will be under an inch, the exception bring Temecula where those numerous thunderstorm cells will move west to east and drop near 2 inches of rainfall, and Hemet at 1.25″
Snow – Snow level will be around 5,700 FT for sticking snow so this really isn't a major event.  Systems like this favor southerly slopes more than northerly so in reality, Big Bear would see less and so will Wrightwood.  Could easy go 2-4″ with isolated 6″ in upper locations in the SBD Mountains.  Wrightwood however has the rain-shadow effect from Mt. Baldy so a dusting there and 2-4″ just west along Highway 2 through Mt. High.  Nothing for Tehechapi, Anza, or most of Idy either.
That is actually all I have time for.  Very weak and tired.  Have a good one.