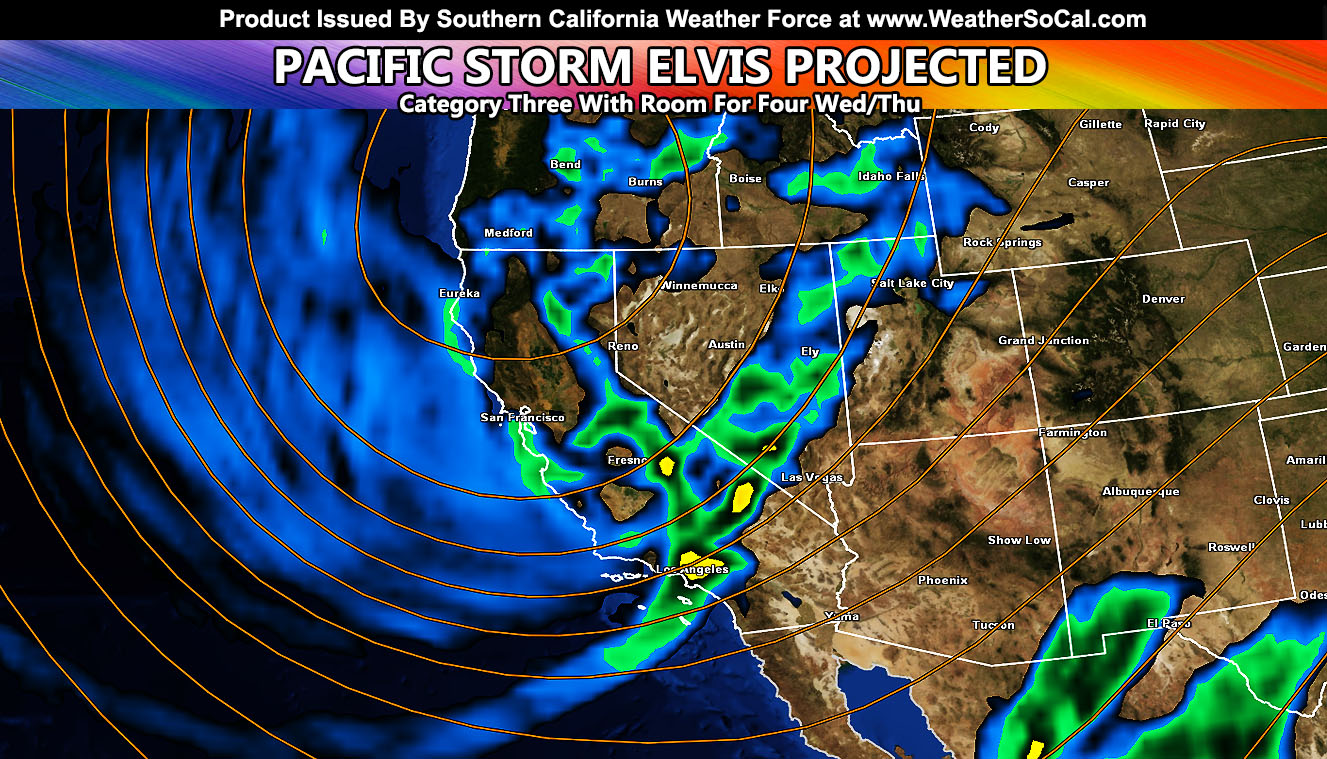 The system is still a bit far away but the general outlook can be painted this far out.  Given this is the very end of the month and we are nearing Meteorological 'Winter' for 'December 1st' I will go ahead and lay claim to this storm pattern as the cold stormy December pattern I said would happen this year and thus once again it is a Martin Storm Pattern period.
Pacific Storm Elvis is the first official name of the Southern California Weather Force 2019-2020 storm season.  I've started him out as a category three for now with room to upgrade to category four as I gather more calculations.  Just 24 hours ago the median calculation value for flood risk was 3.5 and now it is 2.5.  Watching a decline like this over the next day or two will make me adjust some of these values no doubt, but here is what I have so far.
Join Southern California Weather Force main Facebook Page for future updates!
A wide pacific trough will move into the region on Wednesday and this will send a strong cold front through.  This frontal-zone has weak/moderate wind dynamics with it, but has strong forcing with it from the influence of a strong 200mph upper level jet.  The width of the trough means that not much warm air advection will be there so this is an all snow event for the mountain resorts and if it does hit like values are showing now then it will be a pretty big one for this time of year.  Snow levels with this could bring the tail-end of activity down to the 4,000 FT mark so some high desert locations would also have the chance of seeing snow right on into Thanksgiving.
Elsewhere, what will be the main focus will be all the recent burn areas.  Any burn zones across the entire forecast area will be watched.  I no doubt will need Flood Watch alerts by Monday for you so you have your stand-by with this article.
Thunderstorms will also be likely with this system as more than enough mid-level cold air advection is available.
That is about all that can be given in a period this far out.  Likely winter storm watches, flood watches, etc by Monday over my alert system.