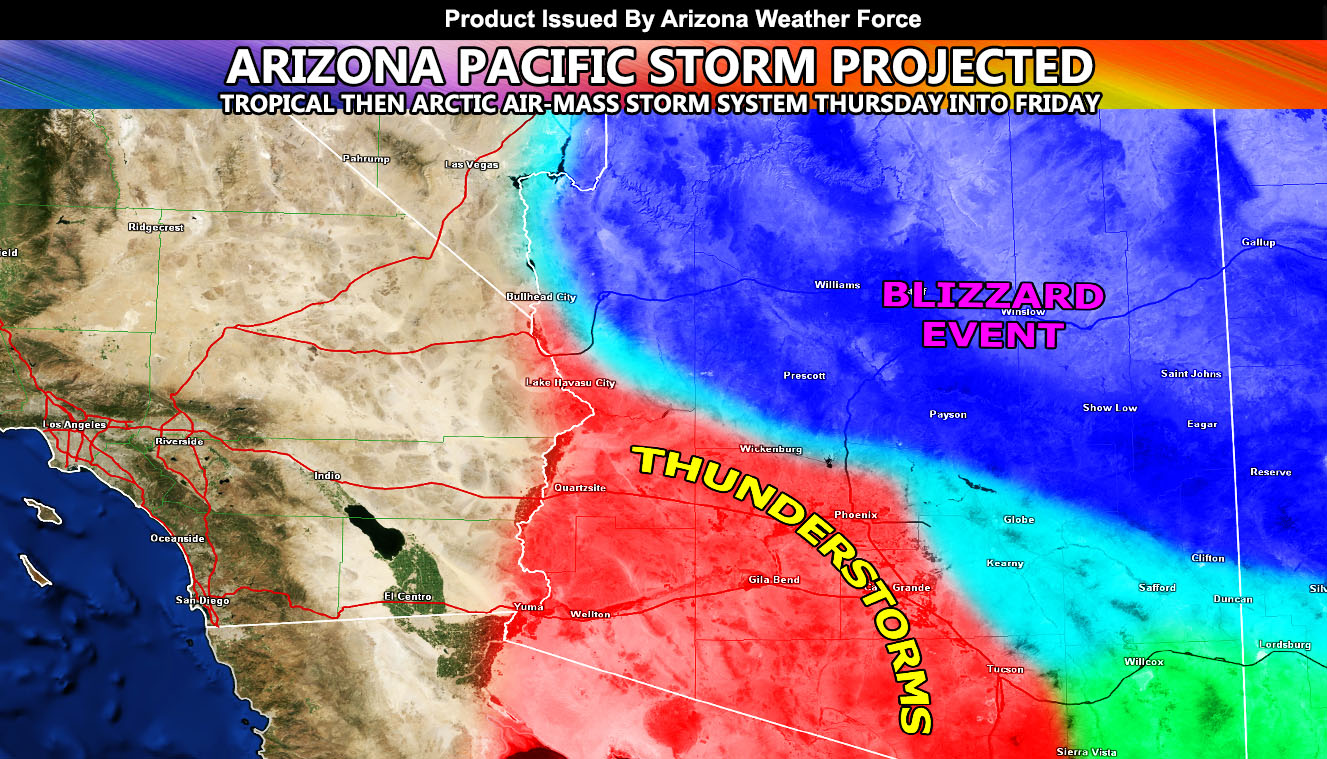 A frontal zone will move through the region today into tonight.  Already winds are gusting in Northern Arizona.  A dusting of snowfall is expected on the Rim as a result during this period.  Nowhere else is expected of anything.  Thursday into Friday however will have a storm move in so read on …
On thing I will state is a troll called AZWF fake news and the page went away for a bit.  Guess what?  I WON …  It's back …
As for Wednesday.  Wednesday looks dry for most of the state as California is receiving the start of the next storm system moving in.  The exception of wet weather being the Southeastern Arizona regions where showers will be likely.
On Thursday however is when the next frontal zone will set up across the Western half of Arizona.  It won't just zip on through due to the storm system's track west of Southern California.  It'll bring in training and thus the risk for showers and even thunderstorms capable of producing a flood risk concern that concerns the Phoenix and Tucson forecast areas.  So no doubt that if you are in those metro areas you will see thunderstorms with this.  Don't expect the same rain amount as the last storm system though.
For the Arizona Rim, expecting warm air advection for the most part on your Thursday.  This warm air will have snow levels of around 7,000 FT so many communities will see all rain with the start and bulk of the moisture with this system.  On Thursday night however the main trough moves eastward and also with that the bulk of the frontal zone dynamics.  Snow levels through then and Friday will fall to 4,000 FT on the Rim.  There will be a good amount of snowfall falling at and above the snow-level yes, but as I stated in the previous sentence, 7,000 FT snow levels on Thursday clearly means that most of the heaviest precipitation will be rainfall below that.  Flagstaff, you will have all snow though and a realistic amount of 2-3 FT expected, which is a significant event up there.  Could get away with 8-14″ of snowfall at the 5,000 FT level of the Rim.
Everything clears after Friday, but the storm window remains open through the first week of December so if anything comes down the pipeline there, I'll post about it.
NOTE: This is the SCWF Website but it is being used for national updates until a suitable national website can be developed for you. 
Your Facebook Page to join for this update is linked here – https://www.facebook.com/ArizonaWeatherForce
Reading for another state? Find your region I serve here – https://www.facebook.com/nwfweather/photos/a.643550279121473/1544547759021716