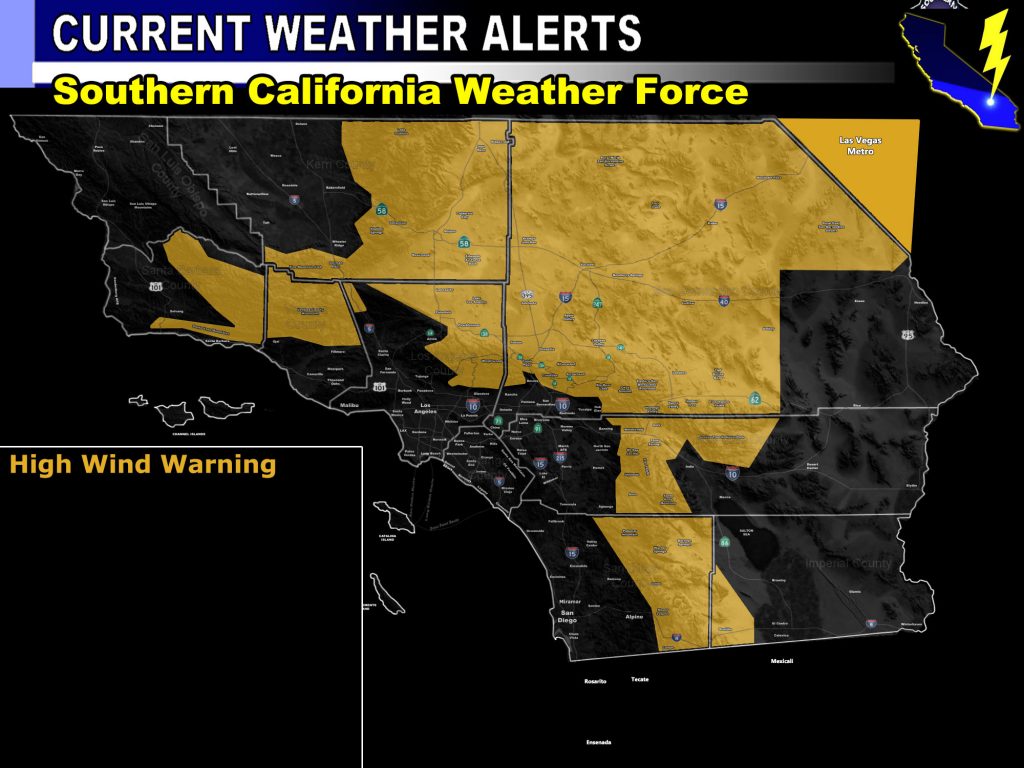 Issued Zones:  VT/SBA Mountains .. Kern Zones … Antelope Valley to High Desert … Morongo Basin … Big Bear Lake to Wrightwood … RIV / SAN DIEGO MOUNTAINS …
Site:  Southern California Weather Force has issued a High Wind Warning effective now until Tuesday …
Date:  11/25/19 at 9:40am PT
Forecast: A dry frontal zone will come through the area today, maximizing this evening and into some of the night, and be out of there region by Tuesday.  This is a strong northwest jet moving in at all levels and thus there will be damaging winds out there along with blowing sand and dust.  Use the graphic below and Martin Wind Gust Scale number for your area in this event.  Be smart, remember white value touching dark blue is not an 8.
Martin Wind Gust Category Scale –
8. Extensive widespread damage.
7. Trees are broken or uprooted, building damage is considerable.
6. SOME Trees are broken or uprooted, building damage is possible.
5. Slight damage occurs to buildings, shingles are blown off of roofs. HIGH WIND WARNING CRITERIA
4. Twigs and small branches are broken from trees, walking is difficult.
3. Large trees sway, becoming difficult to walk. POWER SHUTDOWN THRESHOLD WIND ADVISORY CRITERIA
2. Large tree branches move, telephone wires begin to "whistle", umbrellas are difficult to keep under control.
1. Small trees sway.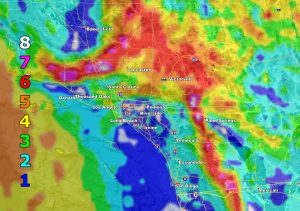 Join A Micro-Climate Group On Facebook For These Alerts – Click Here To Find Your Location Served By SCWF Today!
10 mile rule:  These alerts issued on this site means that within your zone and 10 miles from you will see the event forecast for.  You may or may not see the event but it means you are in the zone or 10 miles from where someone will.
Forecaster: KM