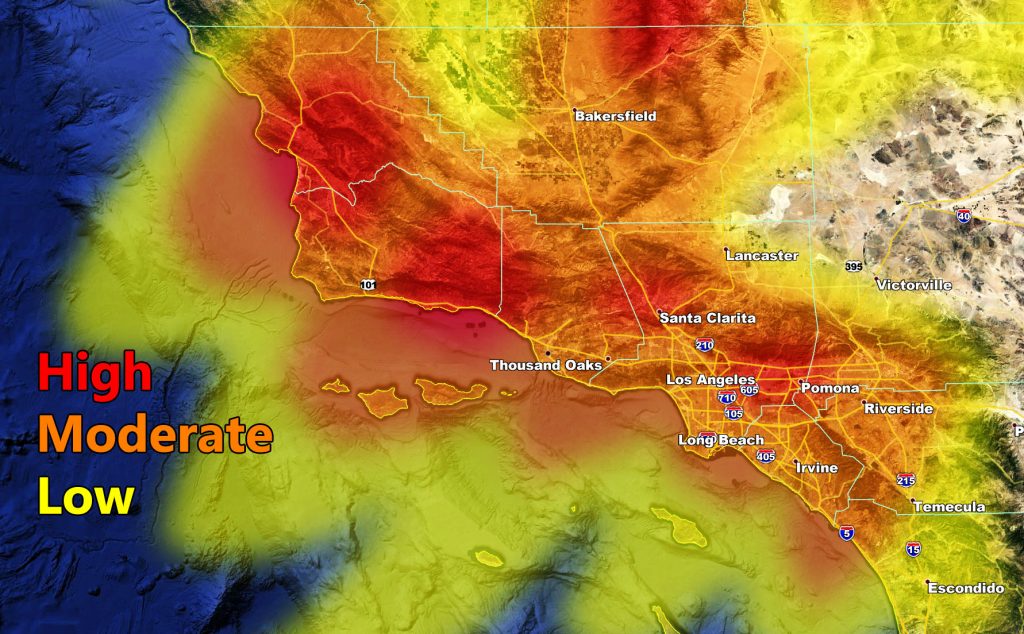 Issued Zones:  San Luis Obispo, Santa Barbara, Kern, Ventura, Los Angeles ….
Site:  Southern California Weather Force has issued a Flood Warning effective NOW for Wednesday …
Date:  11/26/19 at 7:15pm PT
Forecast: A strong frontal zone as noted over San Francisco this evening will move through the SLO / Vandenberg regions by very early Wednesday morning sweeping across Los Angeles very quickly just before later morning to noon.

This frontal zone is potent and while it may only have 0.75 to 1.25″ of rainfall with it initially, the tropical fetch will provide for high rainfall rates in a short period of time.

All burn areas are under the SCWF Flood WARNING and the image in this alert shows the high, moderate, and low impact zones.  Take NOTE that all burn areas in this will be affected.  Thunderstorms are very possible on Wednesday for north and west of Los Angeles, and the rest of VT/LA/SCV/SFV by Thursday …

Join A Micro-Climate Group On Facebook For These Alerts – Click Here To Find Your Location Served By SCWF Today!
10 mile rule:  These alerts issued on this site means that within your zone and 10 miles from you will see the event forecast for.  You may or may not see the event but it means you are in the zone or 10 miles from where someone will.
Forecaster: KM