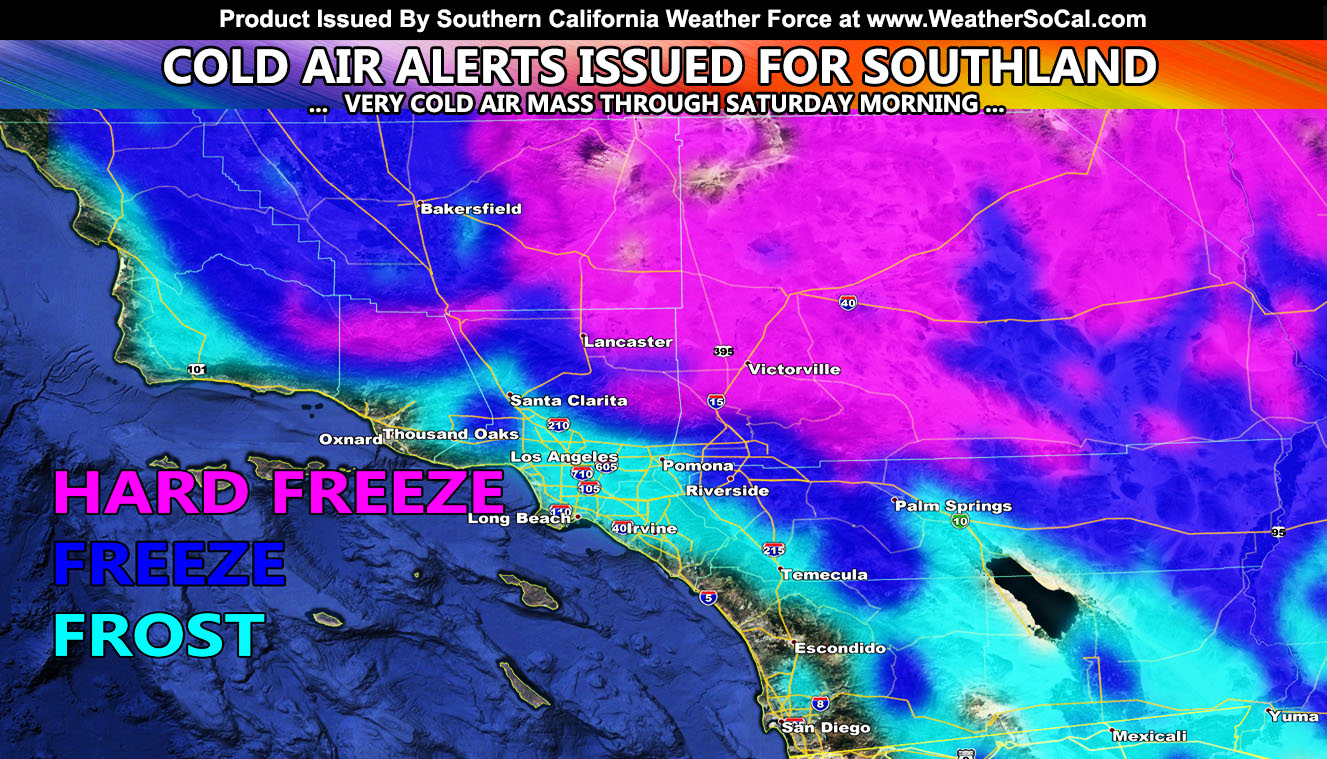 As the drier air moves in … we will drop the temperatures very quickly across the region.  Some areas even in the LA Basin/Coast will be at Frost Advisory criteria.  Take steps now to protect tender plants from the cold. If in a Hard Freeze Zone, to prevent freezing and possible bursting of outdoor water pipes they should be wrapped, drained, or allowed to drip slowly. Those that have in-ground sprinkler systems should drain them and cover above-ground pipes to protect them from freezing.
The images below will be all four-corners of Southern California zoomed in.  The colors match the initial image for you and they are click-able.
Join Southern California Weather Force main Facebook Page for future updates!
NOTE:  ALL Articles AND Videos posted on Southern California Weather Force main Facebook Page are charity events.  Anyone sharing will be entered into a list and one person will be randomly selected to get cash for causes.  This started on in October 2019 and SCWF has donated $1883.24 to date of this article and counting. … So share away.. the more shares on Facebook, the more help can be done for the community and it costs you nothing just like a lottery ticket.  October 2019's winner was Jessica J Dominguez, and she has claimed the prize.  Are you next?  –  Check the latest amount to win by CLICKING HERE –  Remember… that number is going to climb before the contest closes!
MICRO-CLIMATE ALERT FACEBOOK GROUPS:  Find yours today!
Click here to join
As always, stay tuned to official forecasts from Southern California Weather Force for updates …
For The Main Weather Facebook Page Click Here and Join.
End Article
FACEBOOK PAGES TO JOIN!
SOUTHERN CALIFORNIA WEATHER FORCE MAIN:  Southern California Weather Force Office Main Page
BEHIND THE SCENES FORECASTS/UPDATE PAGE:  Southern California Weather Force Meteorologist Page
FOR THE CALIFORNIA FAULT STRESS MODEL PAGE: For SCWF official updates to the California Fault Stress Model and more!
"PONDER THIS" SCIENCE ADVENTURE SHOW: A science adventure show developed here at Southern California Weather Force that is a fun ride!
INSTAGRAM AND TWITTER ACCOUNTS TO JOIN!
Instagram – https://www.instagram.com/socalweatherforce/
Twitter – https://twitter.com/SCweatherforce