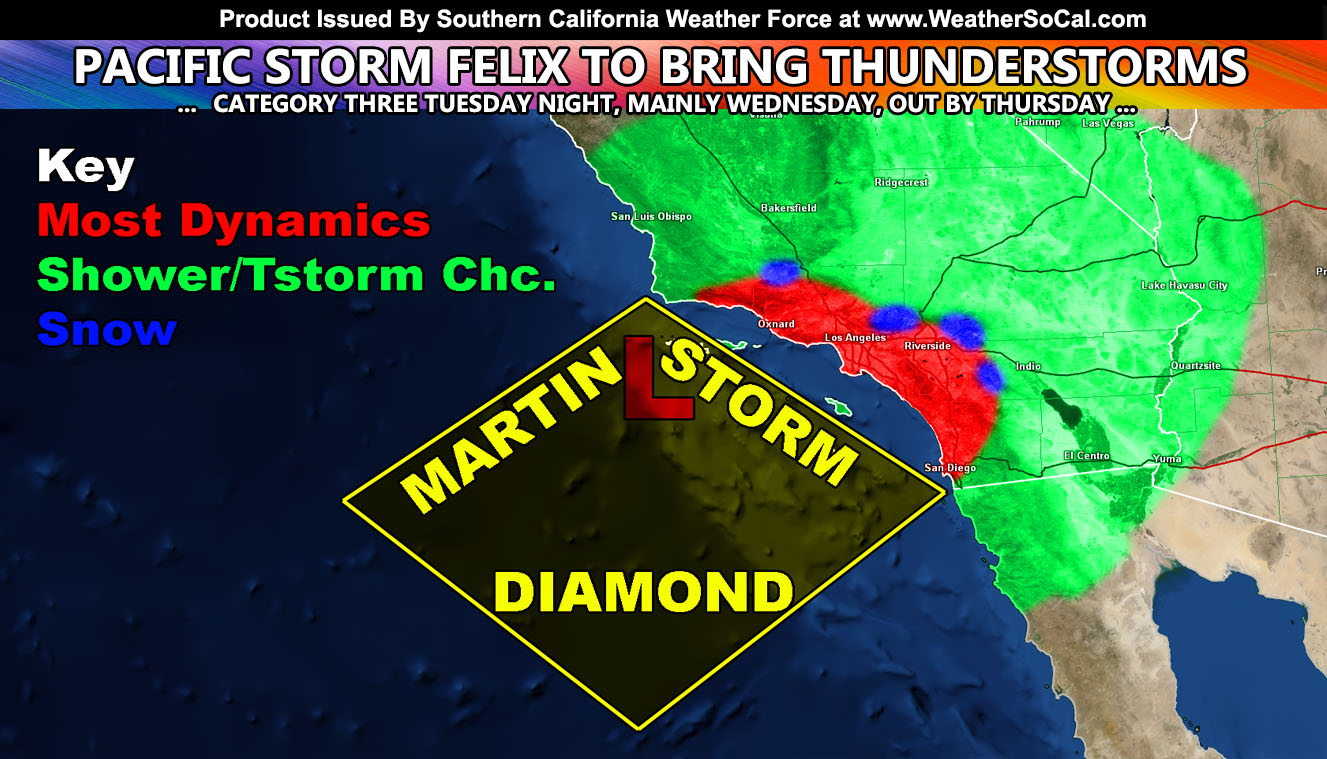 Pacific Storm Felix has officially been named here at Southern California Weather Force and for the heart of the dynamics he will begin at a category three Martin Storm Diamond system with flooding in spots, some mountain snow, numerous thunderstorms, and in some areas gusty wind conditions mainly on your Wednesday so read on for details …
Join Southern California Weather Force main Facebook Page for future updates!
This same system is west of California as we speak and ushering in rain and mountain snow for Central/Northern California.  As it glides down southwest of Southern California by Tuesday evening/night, the increase in southerly flow with upper divergence will start of the shower activity across the region.  The snow-levels are expected to remain high with the onset, dropping by Wednesday.  I issued the Winter Weather Advisory product for the following areas; Kern, Ventura, Los Angeles, San Bernardino, Riverside Mountains …reading Pacific Storm Felix (Category Three) will move into the region on Tuesday night starting snow-levels over 7,000 FT, but quickly dropping through Wednesday morning and over the day.  Some of the instability parameters with the storm do have convective potential so thundersnow is possible in the advisory areas.   Given the passage of the system on Wednesday, giving the Wrightwood to Big Bear Lake forecast areas a 2-6″ of snowfall with locally higher amounts on the west-side of BBL.  Idy I'll put you at a dusting to 2″ and PMC/Frazier at 6-9″ and a dusting at Gorman only with 1-3″ for GVL to a dusting-2″ in  Running Springs and the same for Oak Glen.
As for Wednesday the upper level low's center in the Martin Storm Diamond will bring the thunderstorm risk to the southland.  Because there is a lot of instability with it, we could see lightning strikes just about in any of our zones.  So a category three out of six would be for moderate to sometimes high rainfall rates, numerous thunderstorms, and gusty winds at times.  The SCWF Flood Risk Model is pegging the metros in a moderate flood risk with some areas in the OC/IE/San Diego areas having higher rainfall rates in a short period of time at a high flood risk on Wednesday.  Given this, by tomorrow (Tuesday) a Flood Watch will need to go into effect here at Southern California Weather Force's micro-climate weather alert system.
This is a fast moving system and everything will move out by later Wednesday evening.  Watching another system over the weekend, but one system at a time.
Micro-climate alerts will go out as my calculations come in on Pacific Storm Felix.
NOTE:  ALL Articles AND Videos posted on Southern California Weather Force main Facebook Page are charity events.  Anyone sharing will be entered into a list and one person will be randomly selected to get cash for causes.  This started on in October 2019 and SCWF has donated $1883.24 to date of this article and counting. … So share away.. the more shares on Facebook, the more help can be done for the community and it costs you nothing just like a lottery ticket.  October 2019's winner was Jessica J Dominguez, and she has claimed the prize.  Are you next?  –  Check the latest amount to win by CLICKING HERE –  Remember… that number is going to climb before the contest closes!
MICRO-CLIMATE ALERT FACEBOOK GROUPS:  Find yours today!
Click here to join
As always, stay tuned to official forecasts from Southern California Weather Force for updates …
For The Main Weather Facebook Page Click Here and Join.
End Article
FACEBOOK PAGES TO JOIN!
SOUTHERN CALIFORNIA WEATHER FORCE MAIN:  Southern California Weather Force Office Main Page
BEHIND THE SCENES FORECASTS/UPDATE PAGE:  Southern California Weather Force Meteorologist Page
FOR THE CALIFORNIA FAULT STRESS MODEL PAGE: For SCWF official updates to the California Fault Stress Model and more!
"PONDER THIS" SCIENCE ADVENTURE SHOW: A science adventure show developed here at Southern California Weather Force that is a fun ride!
INSTAGRAM AND TWITTER ACCOUNTS TO JOIN!
Instagram – https://www.instagram.com/socalweatherforce/
Twitter – https://twitter.com/SCweatherforce