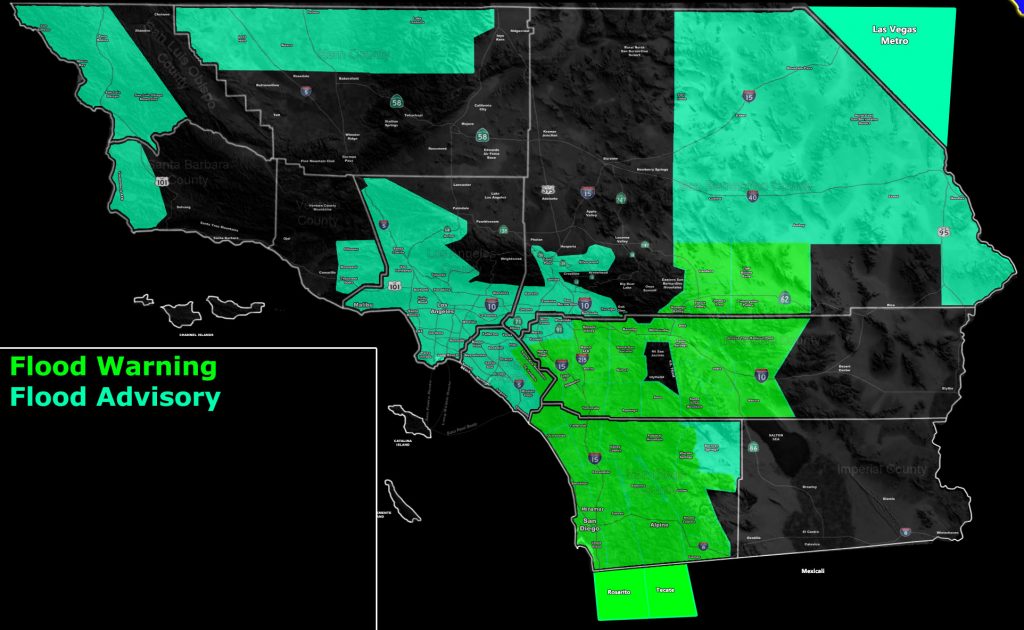 Issued Zones:  Western SLO/SBA Coast … Northern Kern Valleys and Lake Isabella … Northeast SBD Deserts including Las Vegas … Eastern VT County … LA County, not including Deserts … OC to IE … Cajon Pass … San Diego County … Coachella Valley to Morongo Basin …
Site:  Southern California Weather Force has issued a Flood Alert effective Wednesday …
Date:  12/3/19 at 11:15am PT
Forecast: Pacific Storm Felix is due into Southern California lightly overnight tonight and gaining steam Wednesday morning through the early evening hours when it will disperse.  The tropical moisture fetch from this system will target all areas of the region, however the Flood Warning alert is for most of San Diego County, north to the Santa Ana Mountains and into some of the Inland Empire zones, east to the Coachella Valley and Morongo Basin areas. 

This is where the core of the higher rainfall rates for flooding will happen and if you want to see the maps for that, check on below.  Some areas in the warning will have 2-3″ of rainfall on my model.  As for other areas, just check the maps below for your area on the maps.

THUNDERSTORMS ARE POSSIBLE ALONG WITH GUSTY WINDS …

How to get these alerts with a premium subscription? (100 percent delivery time)
Click Here For Options

Join A Micro-Climate Group On Facebook For These Alerts? (50 percent delivery time)
Click Here To Find Your Location Served By SCWF Today!

10 mile rule:  These alerts issued on this site means that within your zone and 10 miles from you will see the event forecast for.  You may or may not see the event but it means you are in the zone or 10 miles from where someone will.
Forecaster: KM