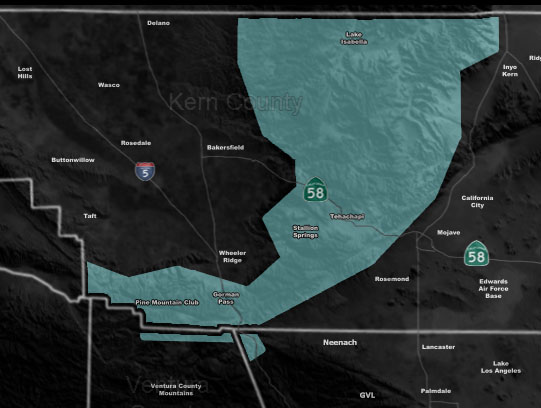 Issued Zones:  Kern County Mountains, including the Gorman / Tehachapi Pass zones at and above 4,000 FT …
Site:  Southern California Weather Force has issued a Winter Weather Watch effective Thursday …
Date Issued:  12/7/21 at 3:35pm local
Forecast: A Pacific front will move through the region on Thursday into Thursday evening/night.  This frontal zone will generate snowfall starting Thursday morning across the watch area.  This will be accompanied by strong winds, thus the early issued Wind Watch (Click Here) will be replaced by this Winter Weather Watch.  While the Los Angeles areas have a much higher snow-level due to southerly flow, the Kern Mountains tend to be blocked by Mt. Pinos and the Santa Barbara Mountains.  The result is a northwest flow that is much colder than anywhere in the region, bringing the snow-level down.
The snow-level will be 4,000 FT with this on Thursday.  Expected 4,000 FT amounts to be 2-4″ and above 6,000 FT being 6+" and yes I do mean to put the plus sign because its possible above 6,000 FT will have a lot more in spots.  This should effect the Gorman and Tehahcapi Pass zones as well so make plans to go around if possible. 

This event starts Thursday morning and ends overnight on Thursday with residual snow/mix in the area…
SCWF snowfall models will be updated on Wednesday with the final alert.
A Winter Weather Watch from Southern California Weather Force means that conditions are favorable for winter weather to impact the area, including travels at and above the snow-level.  This is the second alert to the final, issued 36-48 hours before an event is expected.  The final alert, issued 24-18 hours before the event is expected finalizes the forecast and brings the models out for public viewing.  That would be the Winter Weather Advisory or Winter Storm Warning.  It will be decided on Wednesday. 

---
How to get these alerts with a premium subscription via e-mail by micro-climate zone AND/OR Get the GPS models for this event on your device enabled? (100 percent delivery time)
Click Here To Join The Season Tier
Join The Main Southern California Weather Force Facebook Group (50 percent delivery time) – You can join the main SCWF page as well through that group.
Click Here To Join The Page Today

---
---
10 mile rule:  These alerts issued on this site means that within your zone and 10 miles from you will see the event forecast for.  You may or may not see the event but it means you are in the zone or 10 miles from where someone will.
Southern California Weather Force is a custom weather alert service that began in September 1999 off and is regarded as the most accurate weather service in the region, offering custom alerts, maps, and models to help save life and property.  The work done here is never 100% accurate, but it comes pretty close.  Southern California Weather Force runs on zones, so if an event happens in a zone that is 10 miles from the border of your zone, the forecast is still valid to activate your zone's alert system.  A company quote to the public is that of "The Joker" and tells other agencies in weather this all the time… "This world deserves a better class of meteorologist… and I'm gonna give it to them"… out-forecasting even the National Weather Service with lead-time and precision, which makes this service a focus of ridicule and envy in the weather community due to having such accuracy. Alerts issued here are issued custom from this office and this office alone. You may not even hear it elsewhere, but if one is issued near or in your area, listen up because "if you do not wish to die in weather, follow, it'll save your life one day."
Raiden Storm
Master Meteorologist – is a consulting meteorologist for over 50 different companies, including energy, agriculture, aviation, marine, leisure, and many more areas. He has certs from Mississippi State for broadcast met and Penn State forecasting certs MET 101, 241, 341 and 361 as a meteorologist, but before then was completely self taught, barely learning a thing from the schools that he did not already know.
Both short and long-range is very important to know in those jobs so you can bet on accuracy here. He is versed in fields like Western USA, Tornadoes, Floods, Hurricanes, High Winds, Fire Behavior, Snow and Blizzards, Short Range, Long Range, Seasonal, and Life-Threatening decisions with over 20 years experience, out-forecasting all weather services available today with lead-time and precision, which makes him a focus of ridicule and envy.
NOTE: Alerts are posted on here, be it a tornado watch, etc, and these alerts are issued from this office and nowhere else. At times, which is often, you will see an alert forecast posted on here that you do not see elsewhere. That is fine, the track record of the main office is very high so maintain to follow an event when posted.