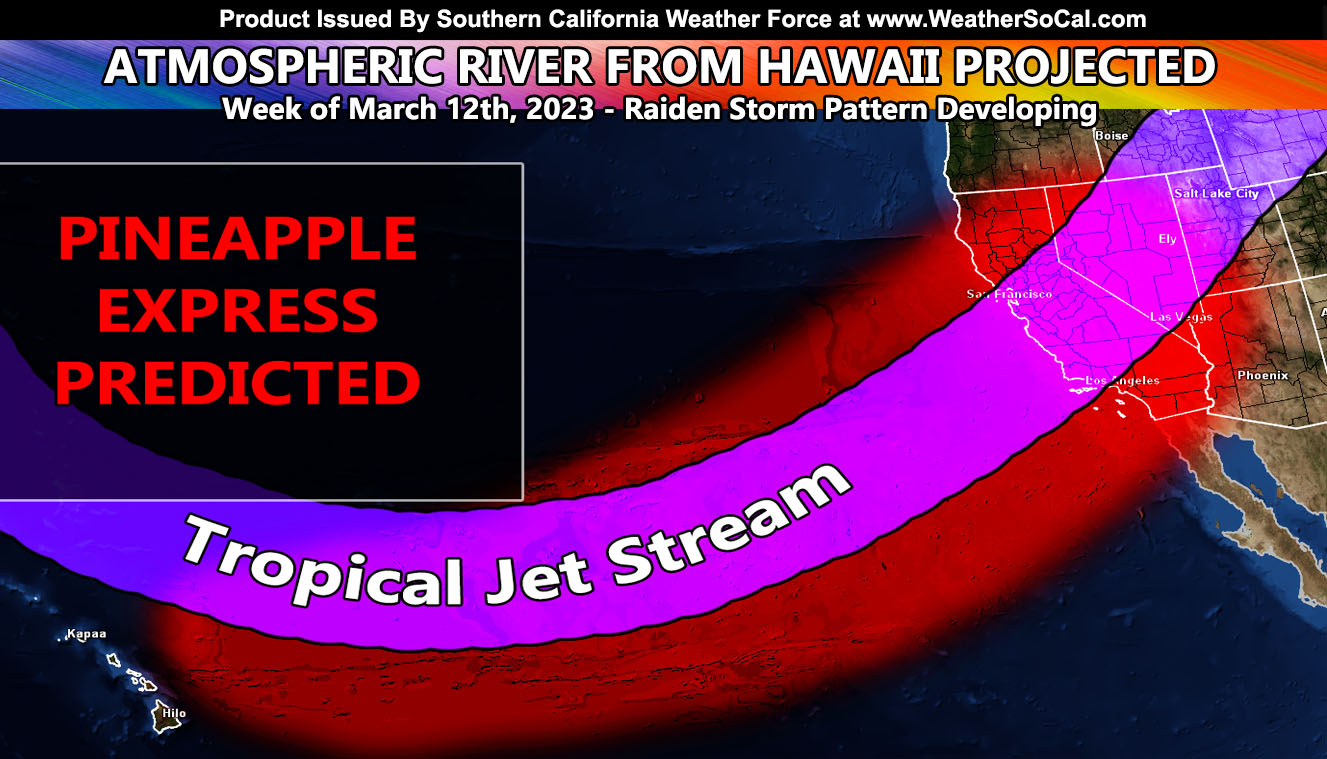 The national page I run, National Weather Force, has just gone into Long Range Weather Warning Mode with the next round of storms starting around March 10th for them and going for over a week thereafter.  Several days ago, I put out a warning for Southern California for mid-March storm systems that would be tropical in nature.  This is your update so for details read on …
---
The previous update (Click here) stated that this month we will see a dangerous scenario unfold across California.  Now, those of us in Southern California will have to wait a few more days after the start of Central and Northern California's warning.  Click here to read that.
Central and Northern California will see it starting March 10th as a warmer system moves in, bringing the snow-level up and therefore the snow that is already on the ground will melt and flood the rivers and creeks, causing yet another flooding scenario for the valleys to the west of the Sierra Nevada Mountain Range.
We will get sideswiped by the first system, meaning areas west of Los Angeles would see more precipitation than areas south and east.  This pattern will shift however to Southern California during the week of March 12th, delivering multiple back-to-back storm systems into the forecast area.
These storms will not be the colder type along the front like the ones of previous.  These will originate from Hawaii, therefore will carry higher snow-levels.  Any snowfall still there when these hit will be gone and the flooding will happen in the valleys south and west of the mountains.  It will depend on how much snow there is to melt, given the storms arrive up north sooner than down here, they will feel the full force of the snowmelt from the Sierras.
But us down here in Southern California will have tropical moisture along with higher precipitation rates to warrant a flood situation during that week.
So, with that being said, I am maintaining the Raiden Storm Pattern of March 2023 to still happen and it will feel like it will take forever to get here simply because I go long range in my forecasts.
A Raiden Storm Pattern is a pattern that is seen by this office before any other source, be it a person or an app and as published to the source that predicted the pattern in the long range.
---
Join the Facebook Page for Further Updates If You Have Not Yet!
SOUTHERN CALIFORNIA WEATHER FORCE MAIN:
SPRING 2023 MEMBERSHIP TIER OPEN – WANT THESE DELIVERED WITH ALL THOSE PERKS INCLUDING BEING ON THE MICRO-CLIMATE ALERT SYSTEM AND MODELS DURING EVENTS BECAUSE NOT EVERY ALERT IS POSTED ON SOCIAL MEDIA FROM THIS WEATHER OFFICE – JOIN TODAY BY CLICKING HERE – Southern California Weather Force Subscriber System – Southern California Weather Force
Join The Main Southern California Weather Force Facebook Group (50 percent delivery time) – You can join the main SCWF page as well through that group.
Click Here To Join The Page Today