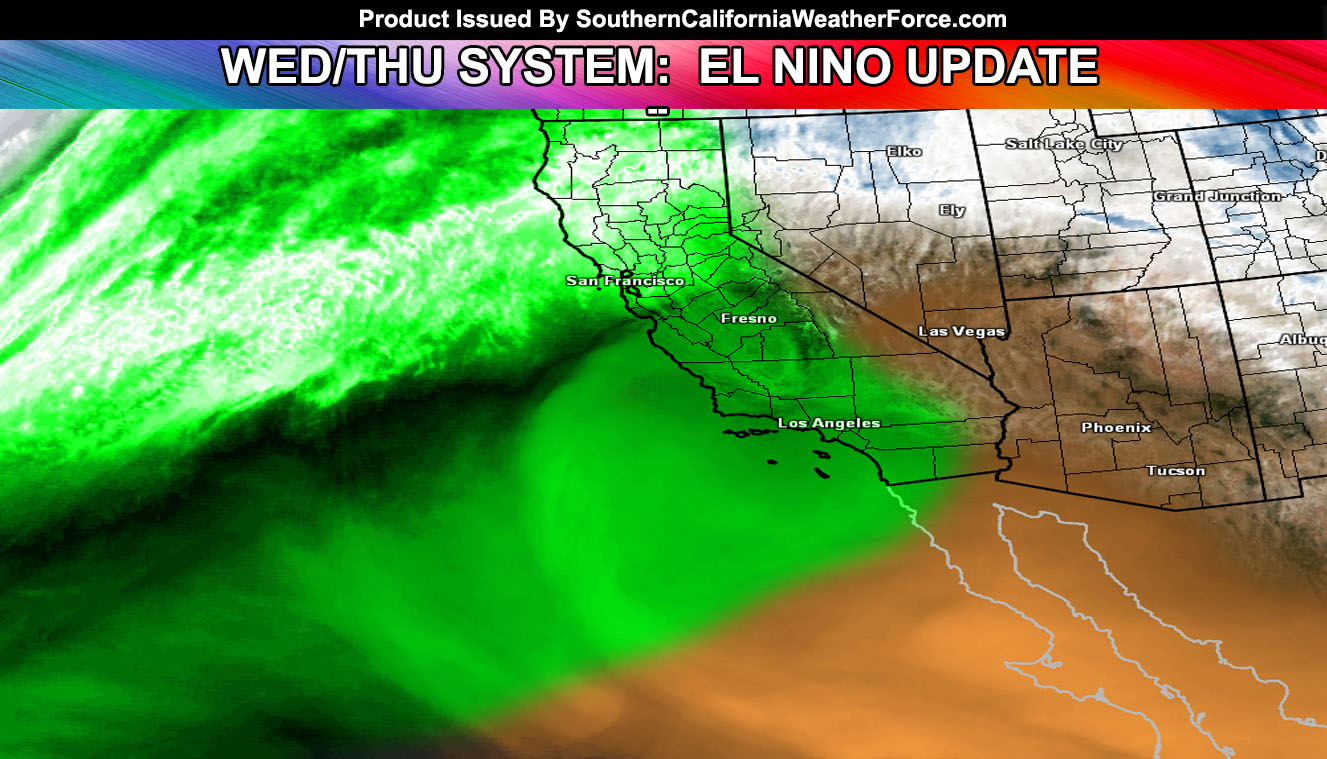 A chance of showers with gusty winds later Wednesday into Thursday with a weakening system into the forecast area is expected.  El Nino Values have dropped a bit, still not enough to warrant the jet stream to aim us yet … but March 2016 is looking great, according to the models here.
A weakening storm system is expected into the region later Wednesday, Wednesday night, and into some of the first part of Thursday.  This system across Southern California is a tail-end charlie system, classic definition where the storm system hits west of LA/OC County into areas like VT/SBA/SLO/KERN County.  The member section probability map shows exactly that with the higher percents west of the Inland Empire/San Diego area and this does include the coming system.
Snow levels are high, over 9,000 FT … no snow products will be issued.
The system does have some appreciable low level wind dynamics and thus along the front near the coast, in the mountains, and in the desert regions … will have gusty winds with it with 30 mph or higher expected.
After this, we cool-down to normal temperatures for this time of year … but go right back up for the heatwave conditions yet again by Monday and Tuesday of this next week, which is February 22ns and 23rd, 2016.  This is not a normal February but if you have been following this service all season then it should not surprise you either.
Within the article back in November (Click Here) it stated that in February we would have ridging.  This ridging would bring above average temperatures.  So far so good in that super long range forecast and at the end of January 2016 our projections had below normal precipitation for the month of February for our region.
Now, looking into March 2016 that flip-flops and as El Nino weakens we'll go right into well above normal precipitation with multiple strong storm systems into the region yet again.  Confidence is high for what is known to us as a March Miracle and in the past … March has been known to provide rainfall to Southern California.
My theory in El Nino being 'too strong' seemed to be taken by others who didn't think I would find out.  I've made sure to point them in the SCWF direction for credit and will continue monitoring sites not mentioning where it came from.  The work I do is not to be taken for granted and I take it very seriously.  If you see sites not crediting my work, send me the links via a contact form.
But as El Nino weakens, a powerful and extended rainy season into Spring 2016 will follow … that is STILL in my forecast.  Meteorological Spring starts on March 1st.