[vc_row][vc_column][vc_column_text]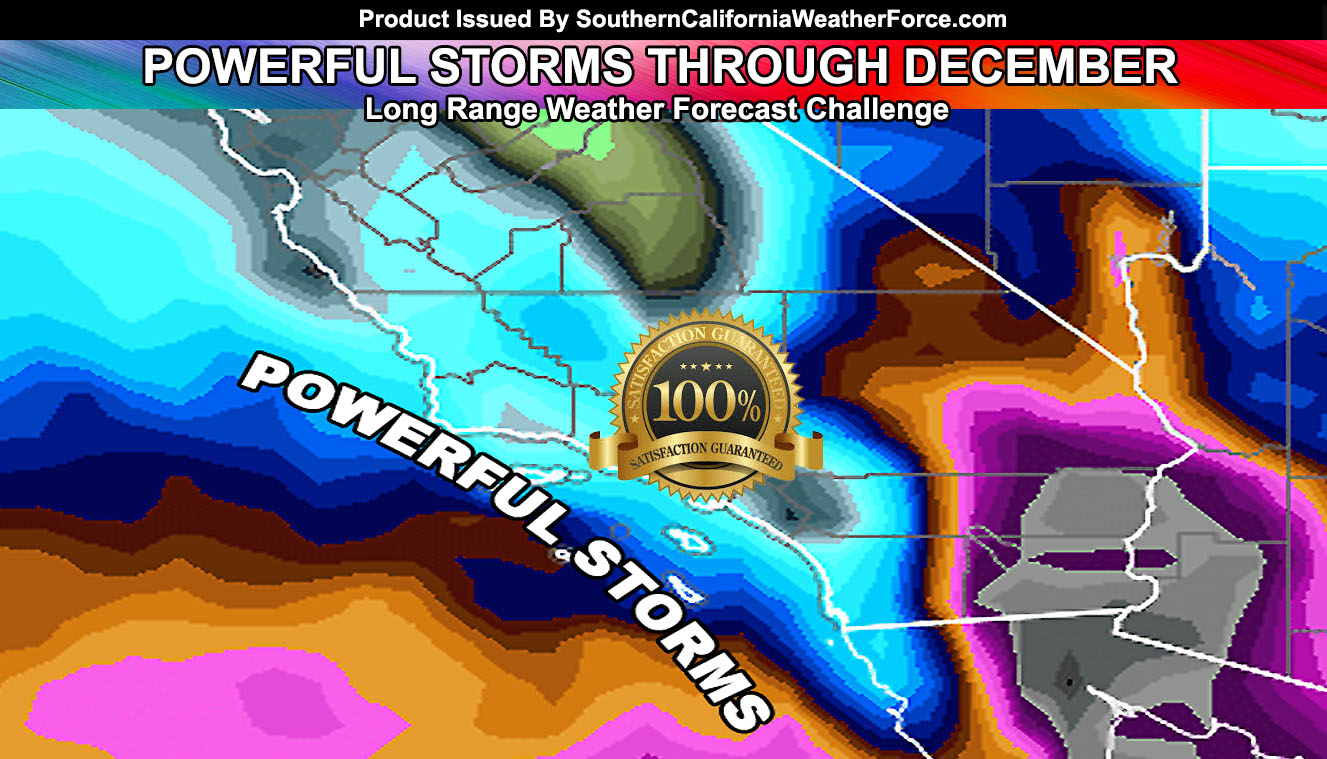 I am going to attempt a record breaking attempt at forecasting both rain and snowfall zones in Southern California from now through December 31st, 2016, the end of this year.  I am confident in this forecast so much that I have placed a 'satisfaction guaranteed seal' on it.  Read on for details that is full of information …
As you know on November 8th I predicted that after November 20th we would see the next storm system.  On Sunday we will have the first named system, Amelia.  The system will have the first cold front moving from Vandenberg/SLO all the way across most of the region, including the desert areas.
Click Here To View That Article
That was considered a 12 day out forecast so it would be a long range forecast.  Now it is time to give you the details through December on what the atmosphere will do and believe me it is opposite of last year.
We have lost the El Nino raging jet and we are seeing major swings in the atmosphere across the United States from trough to ridge.  A ridge makes drier/warmer weather and a trough makes colder/wetter weather.   Depending what side we will be on actually will determine the type of storms we will have, but I do believe confidence in my forecast has reached the highest point that I can see what pattern we will have.
Through the end of this month after Sunday's Pacific Storm Amelia we will have a ridge and then that breaks again and then more west-northwest flow storms right out of the Pacific.  Because these are digging southward it means it would grab more moisture and upper dynamics to produce more rainfall through December, more than what we have seen in November thus far, even after Pacific Storm Amelia is done with us.
So let us get to some numbers from now through December.  These numbers are based on the pattern I believe will happen, which will be a slew of dynamic storm systems, including some colder ones with low elevation snowfall …
Rainfall Forecast Through December 31st, 2016
Mission Viejo – 3″ to 6.5″
Corona – 3″ to 6″
Anaheim – 3″ to 5″
Los Angeles – 3″ to 4.5″
Santa Barbara – 3″ to 4.5″
San Luis Obispo – 3″ to 3.5″
San Diego – 2.5″ to 3.0″
Bakersfield – 2″ to 3.5″
Hemet – 2.5″ to 3.5″
Ventura – 3″ to 4″
Vandenberg AFB – 3″
Avalon, Catalina – 2″
Lancaster – 2″
Palm Springs – 1″ to 1.5″
Edwards Air Force Base – 1.5″
Barstow – 1″
Needles 0.5″ to 1.0″
Twentynine Palms – 1″
El Centro – Trace to 0.7″
Blythe – Trace to 0.6″
Clearly looking at these numbers it tells me the type of storms that it'll be.  In seeing the values are highest in Mission Viejo than San Diego is telling me that the southwest facing slopes of the Santa Ana Mountains will favor that area … likely resulting in mudslides.  Furthermore, the lesser value in San Diego and more value in Los Angeles is telling me these are strong south wind storm systems, thus may produce severe weather such as thunderstorms, damaging winds, even a risk of tornadoes … and yes we do have them.  These are not inside slider numbers …
I'll post the images of my model below for you to see –
This image shows a static grid point view of my model with one algorithm.  It clearly shows a deluge we haven't seen since 2010 in the area so this is welcoming.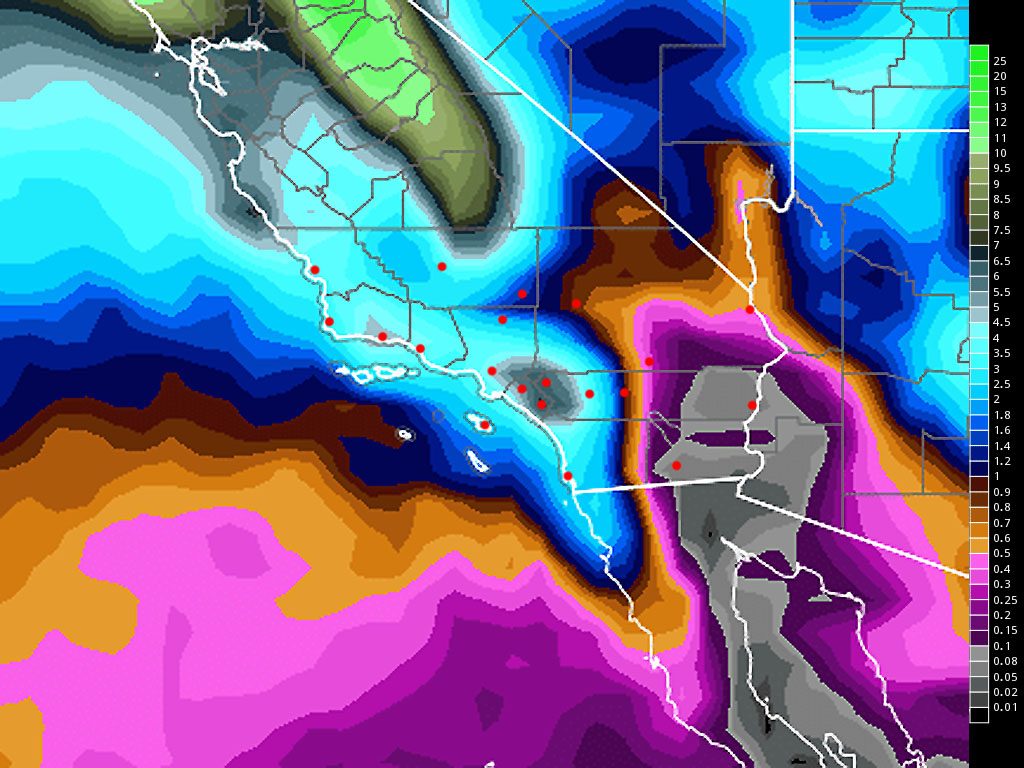 ---
This image is a combination of over 30 different algorithm tweaks.  It still shows a lot of rain in the metro areas, even some in the desert zones.  This is usually preferred because it has 30 different tweaks to the main algorithm for an outcome.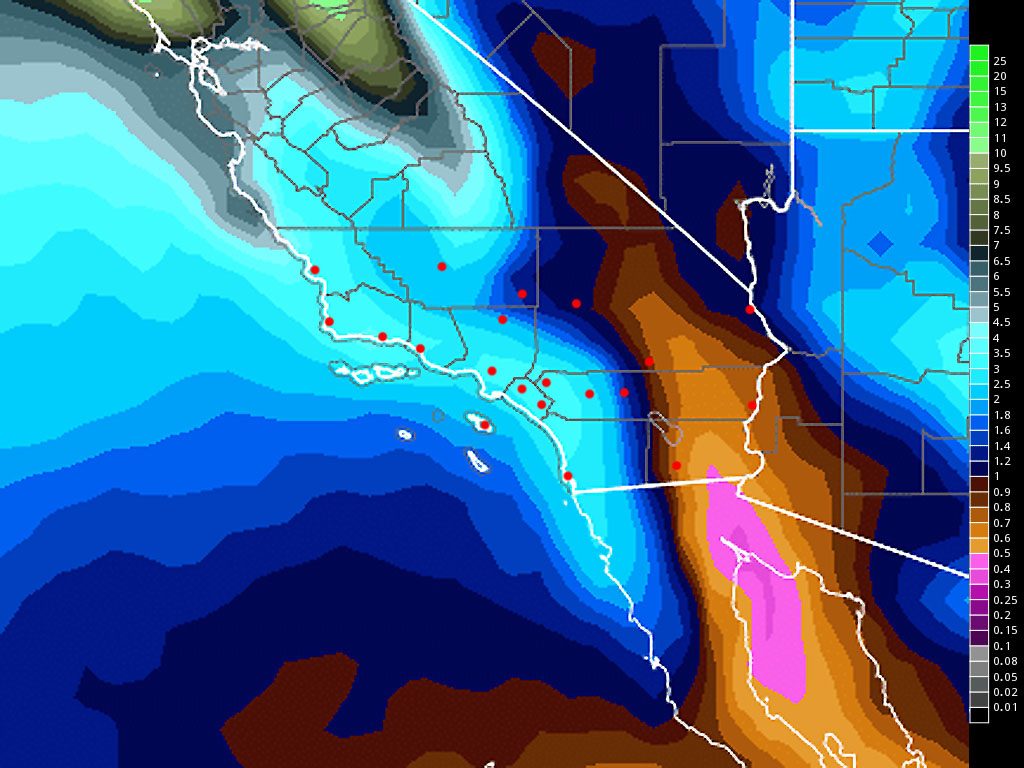 ---
This image is an interesting one.  By tweaking the storm flow and blocking it is giving me a value for low elevation snowfall in Southern California, including enough to white-out the High Desert areas in December …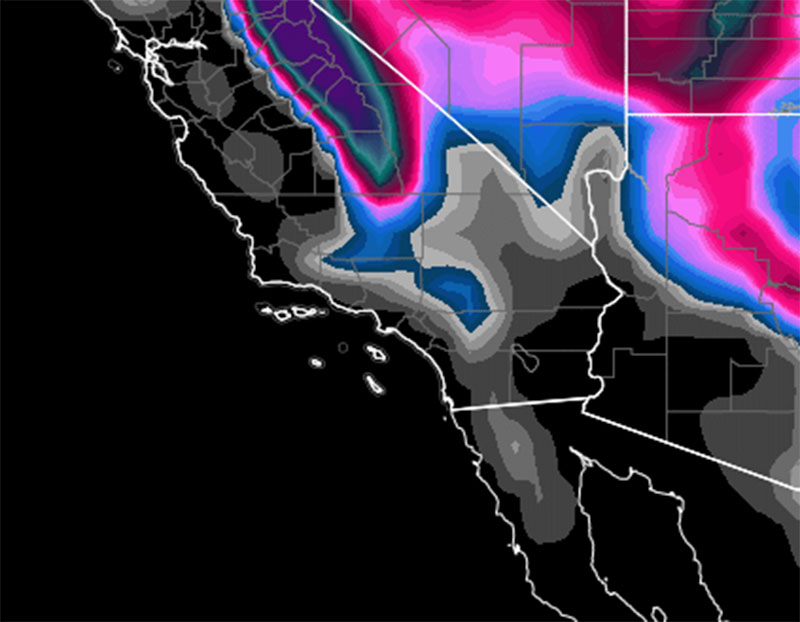 Stay tuned to Southern California Weather Force.com for more …[/vc_column_text][/vc_column][/vc_row][vc_row][vc_column][vc_facebook type="button_count"][/vc_column][/vc_row]