[vc_row][vc_column][vc_column_text]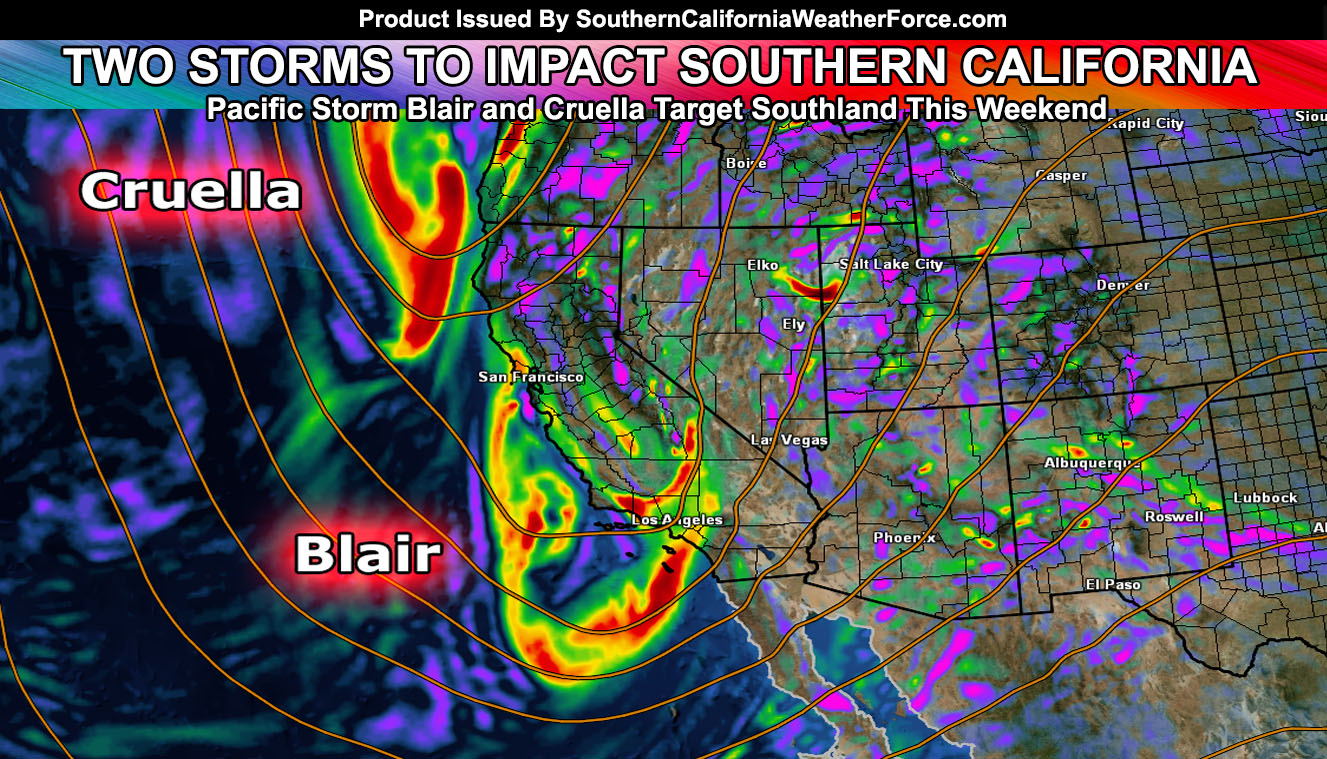 In an interesting but rare pattern, a longwave trough has setup and two separate storm systems will be embedded in it, impacting Southern California over the weekend.  Pacific Storm Blair and Cruella both have been officially named.  I've issued a Flood Watch and the Winter Storm Watch products are pending release.
The Flood Watch criteria model here at Southern California Weather Force is pegging a large area of the metro forecast area in the criteria.
Heavy rainfall will start morning or noon on Saturday for SLO/SBA County and shove eastward overnight into the VT/LA/OC/SD/IE forecast areas.  Rainfall rates will be high in three hour periods so this will be an event for flooding, similar to what we saw with the last storm on the rescues.
A secondary storm is right behind the first one for Sunday morning … with all storms clearing by the evening Sunday with only residual showers against the foothills and passes … and maybe some desert areas.
The snow level will be at resort level for most of the system.  The system isn't a tropical type system now has a very far south reaching low level jet and this would bring the snow level just above 6,000 FT and nothing higher for the system.  Seems like the snow level will remain there for a bit then crash as the weekend goes along down to 5,000 FT in the LA/SBD/RIV/SD Mountains and 4,000 FT for the Kern Mountains.
This would put the Gorman Pass in snowfall on Sunday .. .along with key cities in the Tehachapi forecast areas.   Heavy snow at snow level and above is likely and thus in addition to the Flood Watch I issued … Winter Storm Watches will need to go out.
The system has strong frontal zone wind potential so along the front with each storm will be gusty winds … and thus gusty winds in the mountains will give way to blowing snowfall as well.  Not a travel time!
Thunderstorms are likely with the system given the type of storms these two area.  They harbor cold air aloft and punch through the area very quickly one after the other, both only 9 hours apart!
The system will give all the metro areas rainfall .. even some desert zones … but the most rainfall will be reserved for the Flood Watch area with less rain on the LA/OC Coasts … possibly less in the Morro Bay areas as well …
NOTE:  Cruella COULD get pulled away by Pacific Storm Blair so I'll continue to watch it … Confidence in Blair is higher for impact than Cruella …
Monitoring will continue of these two storm systems and another article is scheduled for Friday.[/vc_column_text][/vc_column][/vc_row][vc_row][vc_column][vc_facebook type="button_count"][/vc_column][/vc_row]