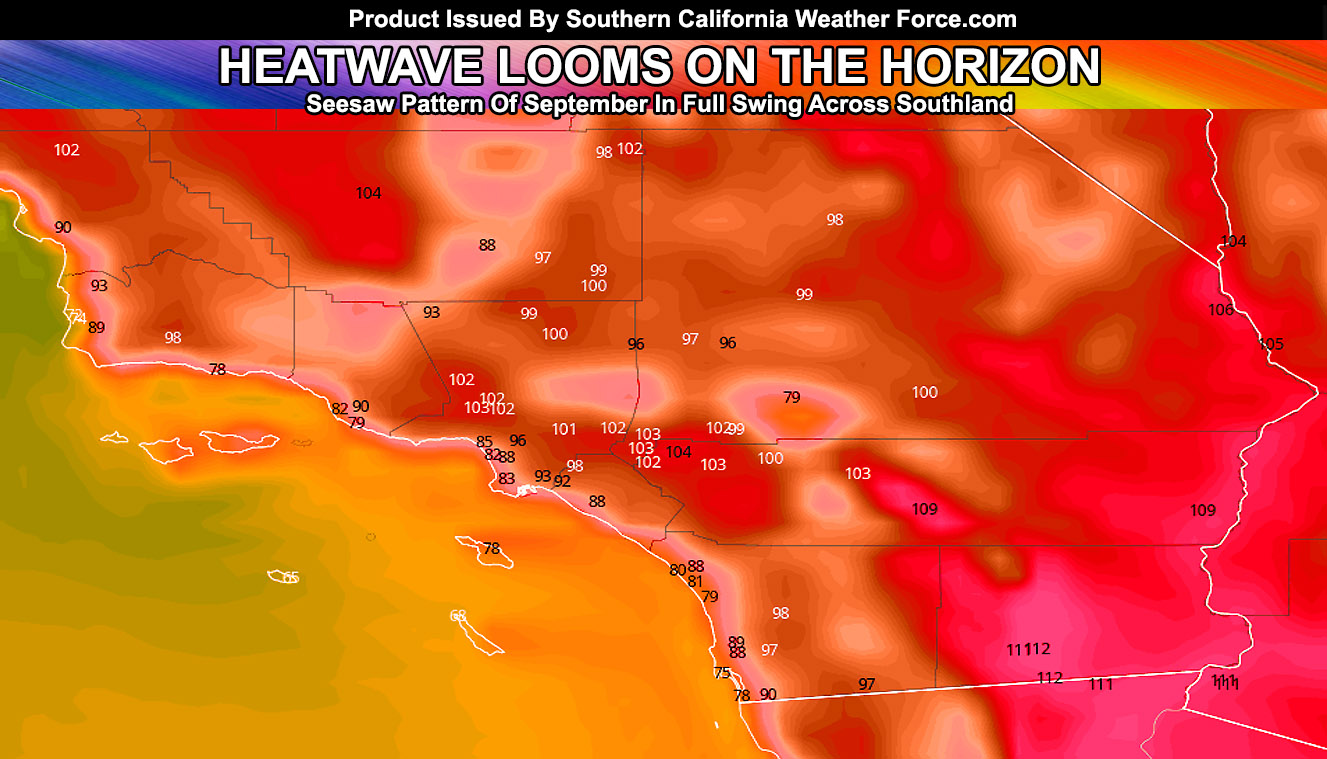 This morning I issued a Wind Advisory for some mountain and desert regions.  This wind advisory is due to the trough moving into the forecast region that will knock temperatures down for several days starting on Sunday.  But do not think that the heat is done with yet.  This is September and September in Southern California has what is known as a seesaw pattern.  The seesaw pattern is a pattern of cold and hot periods.  The cold is due to the troughs moving through the region, most of them dry.  The heat is due to the ridges forming overhead after and behind these troughs.  This is an up and down pattern of temperatures this month.
NOTE:  If you have renewed your discount membership for the 2019-2010 season, skip this message.  If you have not, Click Here To Renew.  This will be one of your last e-mailed article/alert from the 2018-2019 season as effective now the season will start on September 1st every year. Click Here To Renew Under The Discount.
Before I resume Southern California… On Saturday with the trough moving into Washington State, Idaha, and Salt Lake City, Utah … will have a risk of heavy rain/thunderstorms, even across Seattle …
The Wind Advisory I issued is for the following areas for this Saturday evening into Sunday; Kern/LA Desert … Barstow/Lucerne/Baker/29 Palms Marine Base … JTNP/Whitewater/Coachella Valley … Eastern slopes of the RIV/San Diego Mountains … All of Imperial County … Western SLO County … Santa Barbara County … Kern Valley … San Diego Deserts … and it states;
The first trough moving into California of the Fall 2019 Season will be a dry one and thus because of this it'll bring cooler air with it.  As Saturday evening and overnight hits, wind gusts in the advisory zones will be from 30-40 mph with some isolated 50 mph gusts expected on the eastern slopes of the mountain regions.
This same trough is responsible for effectively ending the monsoon season.  However, just because monsoon season is ending does not mean our shower/thunderstorm risk will end this month.
As stated in many previous updates, I said that this season's troughs will suck up tropical moisture from the south this season, therefore the risk still remains.  We already saw my forecast come true this last week with the thunderstorms across the region, even as far west as Bakersfield.
So… this is a taste of the fall troughs and a return on Saturday evening/night for the nominal mtn/desert winds.  Winds will also hit the Vandenberg/SLO and Santa Barbara zones then due to a northwest flow behind the trough.
After Thursday of this next week we will have a ridge form over the region.  The temperatures as a result will surge through the triple-digit mark Friday into the Weekend.
The only way we will see more tropical moisture into our region for precipitation is if a Hurricane forms south of here where Juliette did.  That hurricane was responsible for the storm activity the last week.  We have the troughs… we just need the hurricanes.
So there is the update that will last awhile.
As always, stay tuned to official forecasts from Southern California Weather Force for updates …
For The Main Weather Facebook Page Click Here and Join.
End Article
---
OPTIONAL:  Southern California Weather Force main page now has models, agendas, the alert map, and other things updated during storm events.  You can bookmark the main site and check back during an event for the latest updates.
Click here to view the main page
EMAIL ALERTS AND ASK THE WEATHER OFFICE A QUESTION:  It pays for itself in one storm system.  A very affordable e-mail alert system that only gives you SCWF weather alerts in YOUR micro-climate area.  Also, you can ask the weather office a question at any time if you get that add-on.
Click here to join
MICRO-CLIMATE ALERT FACEBOOK GROUPS:  Find yours today!
Click here to join
FACEBOOK PAGES TO JOIN!
SOUTHERN CALIFORNIA WEATHER FORCE MAIN:  Southern California Weather Force Office Main Page
BEHIND THE SCENES FORECASTS/UPDATE PAGE:  Southern California Weather Force Meteorologist Page
FOR THE CALIFORNIA FAULT STRESS MODEL PAGE: For SCWF official updates to the California Fault Stress Model and more!
"PONDER THIS" SCIENCE ADVENTURE SHOW: A science adventure show developed here at Southern California Weather Force that is a fun ride!
INSTAGRAM AND TWITTER ACCOUNTS TO JOIN!
Instagram – https://www.instagram.com/socalweatherforce/
Twitter – https://twitter.com/SCweatherforce