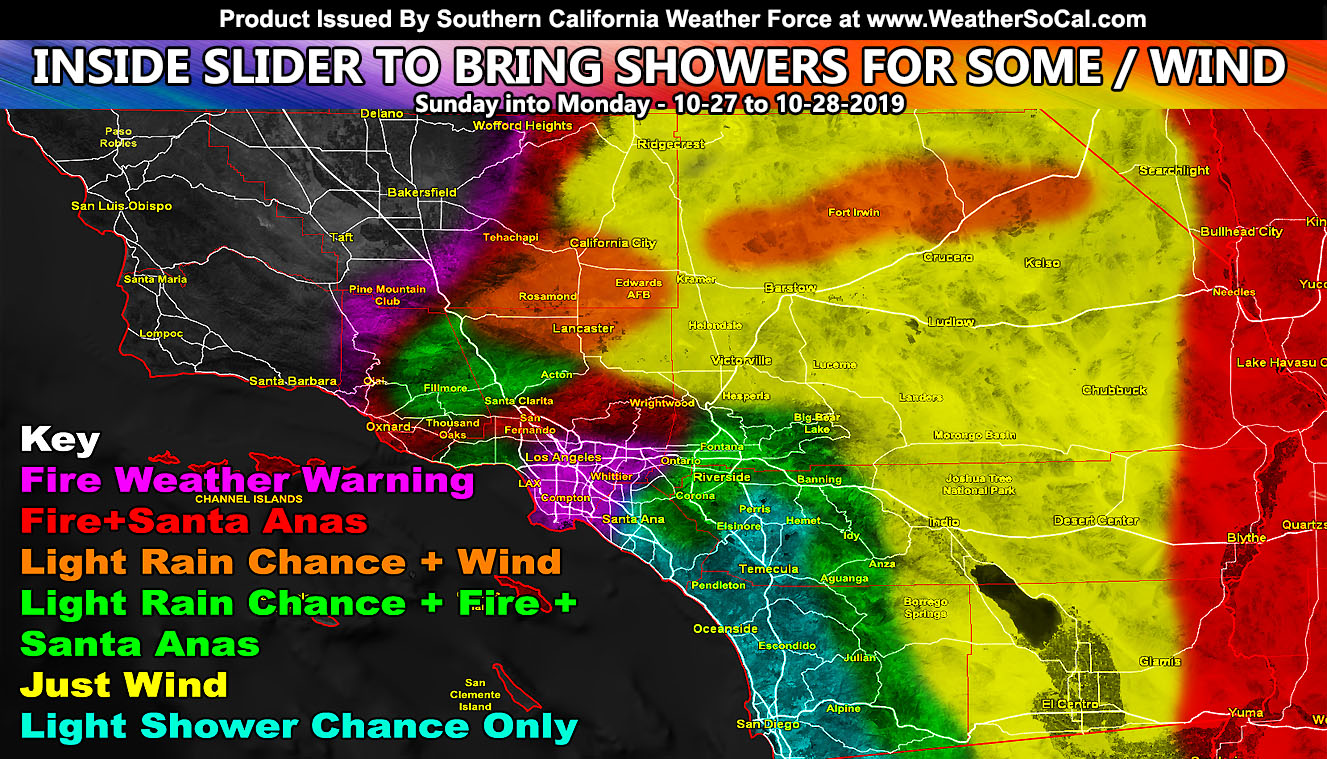 In what is known as famous here Southern California Weather Force, the micro-climate ability to show a variety of weather zones in one map that differs depending where you are is available on this update.  The Martin Wind Gust Intensity Scale model color scheme has been updated to be easier to read rather than the different shades of greens/gold/yellows and what not from before.  The intensity chart values images are within the article link so hit that for details as we have clouds with light showers giving way to a wind event through some of Monday so read on for details.
The Northern half of California is about to get hit by a damaging wind storm, especially in the Sacramento areas where my High Wind Warning is in place.  That article to read can be seen by clicking here. 
On Sunday, increased onshore flow will bring clouds to the coast/inland areas as early as the morning hours.  These will deepen over the afternoon and evening hours before the wind turns offshore. This onshore flow will bring wind advisory level gusts to the high and low desert areas over the day on Sunday.  The wind advisory (click here) is in place.
The onshore flow and offshore flow combined will create convergence boundaries starting in the Southern Kern Deserts, making it's way through Gorman, to the Western half of the Antelope Valley, and some of the Ventura Basin areas, including the Santa Clarita Valley.  The increased onshore flow will provide upslope showers for some of the Orange County zones, east to the Inland Empire, and south to San Diego County and their respective mountain/foothill areas.  I wouldn't be a bit surprised to hear of measurable rainfall for San Bernardino, Yucaipa, and Banning in this type of a pattern.
As the convergence zone moves southward overnight, wind gusts will increase across the area in a reverse flow, otherwise known as your Santa Ana Wind Event.  You may use the images below along with my scale included to known what your area will get.  Rosarito and Ensenada you are not in this event nor did I issue any alerts.
Monitoring a return of the winds by Wednesday so stay tuned.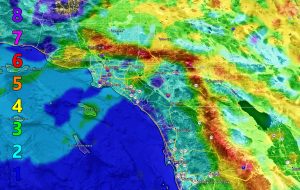 This image can be clicked to make larger
Martin Wind Gust Intensity Scale –
8. Extensive widespread damage.
7. Trees are broken or uprooted, building damage is considerable.
6. SOME Trees are broken or uprooted, building damage is possible.
5. Slight damage occurs to buildings, shingles are blown off of roofs. HIGH WIND WARNING CRITERIA
4. Twigs and small branches are broken from trees, walking is difficult.
3. Large trees sway, becoming difficult to walk. POWER SHUTDOWN THRESHOLD WIND ADVISORY CRITERIA
2. Large tree branches move, telephone wires begin to "whistle", umbrellas are difficult to keep under control.
1. Small trees sway.
MICRO-CLIMATE ALERT FACEBOOK GROUPS:  Find yours today!
Click here to join
NOTE: TIME IS RUNNING OUT.  IF THIS TROUGH GETS A NAME THEN THE DISCOUNT WILL HAVE ENDED…  If you have renewed your discounted MICRO-CLIMATE E-MAIL ALERT SYSTEM membership for the 2019-2020 season, skip this message.  If you have not, Click Here To Renew.  This will be one of your last e-mailed article/alert from the 2019-2020 season as effective now the season will start when the first named storm system enters the region so don't wait. Click Here To Renew Under The Discount.
As always, stay tuned to official forecasts from Southern California Weather Force for updates …
For The Main Weather Facebook Page Click Here and Join.
End Article
---
OPTIONAL:  Southern California Weather Force main page now has models, agendas, the alert map, and other things updated during storm events.  You can bookmark the main site and check back during an event for the latest updates.
Click here to view the main page
EMAIL ALERTS AND ASK THE WEATHER OFFICE A QUESTION:  It pays for itself in one storm system.  A very affordable e-mail alert system that only gives you SCWF weather alerts in YOUR micro-climate area.  Also, you can ask the weather office a question at any time if you get that add-on.
Click here to join
MICRO-CLIMATE ALERT FACEBOOK GROUPS:  Find yours today!
Click here to join
FACEBOOK PAGES TO JOIN!
SOUTHERN CALIFORNIA WEATHER FORCE MAIN:  Southern California Weather Force Office Main Page
BEHIND THE SCENES FORECASTS/UPDATE PAGE:  Southern California Weather Force Meteorologist Page
FOR THE CALIFORNIA FAULT STRESS MODEL PAGE: For SCWF official updates to the California Fault Stress Model and more!
"PONDER THIS" SCIENCE ADVENTURE SHOW: A science adventure show developed here at Southern California Weather Force that is a fun ride!
INSTAGRAM AND TWITTER ACCOUNTS TO JOIN!
Instagram – https://www.instagram.com/socalweatherforce/
Twitter – https://twitter.com/SCweatherforce