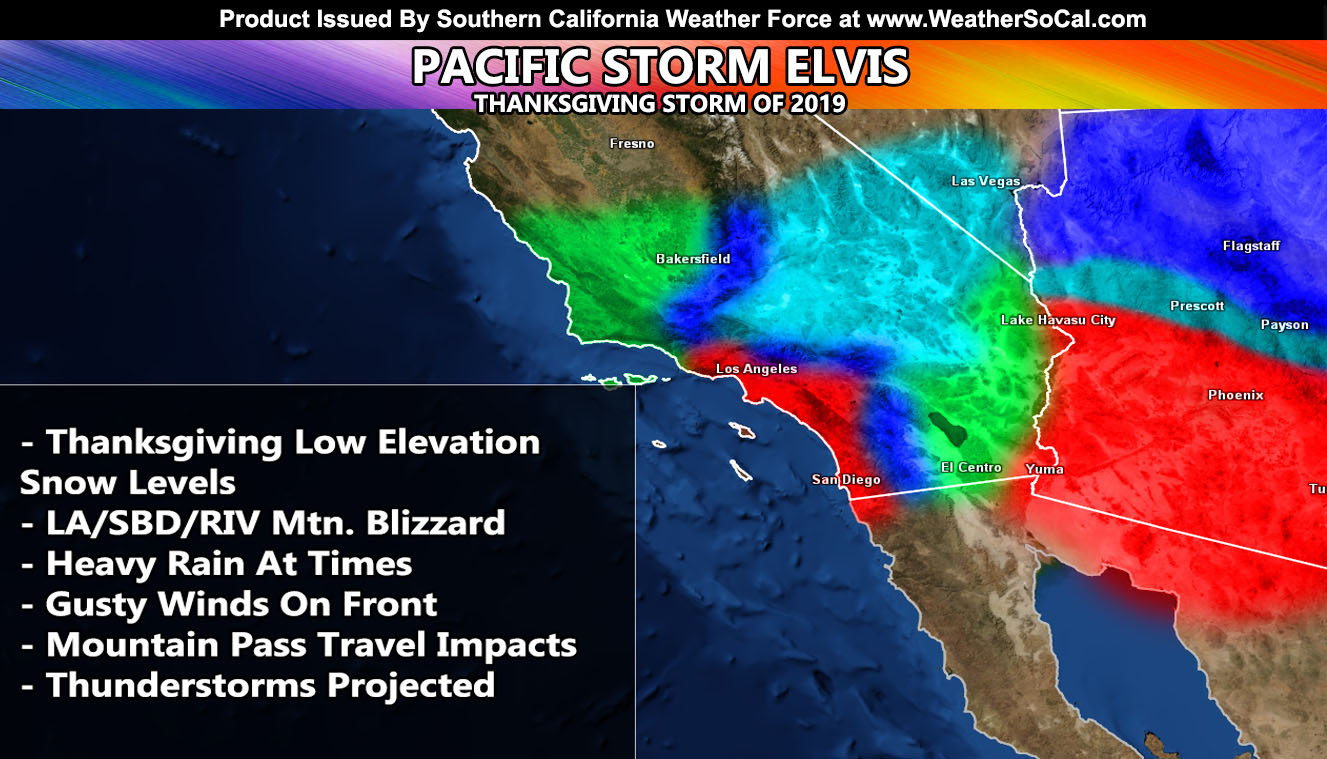 Pacific Storm Elvis is still in the Pacific Ocean and the sweeping front is due to arrive on Wednesday, with impulses lasting through Thursday.  There will be a mixed-bag of events from this category three out of six moderate storm system so read on for details.
First and foremost, the wind in the High Desert today.  This was taken care of this morning by my micro-climate alert system for members.  Do not buy it right now because the IOS/Android release of this simple alert system will be out within the next few days.  With that being said, the alert system alert can be viewed here for the winds that hit (click here). –
Join Southern California Weather Force main Facebook Page for future updates!
As for the Pacific Storm Elvis time-frame.  Expecting a sweeping front from Elvis to move through on Wednesday, starting in the morning west of Los Angeles and moving through the region.  My latest flood risk model shows predominately a moderate risk so San Luis Obispo, Santa Barbara, Ventura, Los Angeles, Orange County areas, including east to the Western Inland Empire areas and not including the Central, South, or East I.E. locations.  This is for Wednesday's front and flood advisories would only be needed as that result.
On Wednesday morning the snow-level with the main front across Kern will be around the 4,500 FT mark for sticking snow.  Of course near the 4,000 FT elevation zone I expect some as well, but only a dusting with that front on Wednesday.  The front will sweep the Los Angeles / San Bernardino, Riverside Mountains with a snow-level of around 6,000 FT and above and this will bring a quick round of snowfall there as well, starting what is now officially a BLIZZARD WATCH in those mountains.  Higher accumulations would wait a day due to snow ratios.  Overall I can see a good 8-16″ of snow being possible for both Wrightwood and Big Bear Wednesday into Thursday with this pattern.
As Wednesday night and Thursday moves along, near or below freeze temperatures with the cold-air damming effect will provide the cold-air needed for the Kern Desert zones for an over-running warm-front to move through over the day on Thursday.  This has prompted my Winter Storm Watch over the micro-climate alert system there and we could easily see a couple inches in some prone harder hit areas of that zone.  The snow-level will generally be just around 3,000 FT or so.  While elsewhere in the High Desert we could see flakes, full accumulations aren't expected in the high desert metro areas.
Gorman Pass to Tehachapi:  2″ Wednesday – Thursday
Cajon Pass: A dusting on Thursday, nothing on Wednesday.
Given what I see on my values for the passes, CHP escorts seem appropriate and I would not close either pass down, not even Gorman.
Thursday's front also has deeper-moisture connections so the precipitation will make it into the Low Deserts where most of it will not on Wednesday and those of you in the RIV / SD Mountains will also finally see the snowfall from this system.
Instability profiles are weak on Wednesday across the metros so thunderstorms are unlikely.  We will build those profiles on Thursday for that impulse and introduce the chance of thunderstorms/hail then.  That usually is worked on in detail 12 hrs before an event.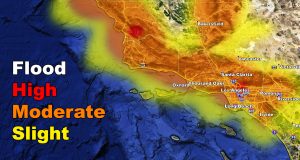 We aren't done, first week of December still has values for the storm window remaining open so that is the next focus after Pacific Storm Elvis.
The micro-climate alerts with more details in those zones will go out over the alert system soon.
NOTE:  ALL Articles AND Videos posted on Southern California Weather Force main Facebook Page are charity events.  Anyone sharing will be entered into a list and one person will be randomly selected to get cash for causes.  This started on in October 2019 and SCWF has donated $1883.24 to date of this article and counting. … So share away.. the more shares on Facebook, the more help can be done for the community and it costs you nothing just like a lottery ticket.  October 2019's winner was Jessica J Dominguez, and she has claimed the prize.  Are you next?  –  Check the latest amount to win by CLICKING HERE –  Remember… that number is going to climb before the contest closes!
MICRO-CLIMATE ALERT FACEBOOK GROUPS:  Find yours today!
Click here to join
As always, stay tuned to official forecasts from Southern California Weather Force for updates …
For The Main Weather Facebook Page Click Here and Join.
End Article
FACEBOOK PAGES TO JOIN!
SOUTHERN CALIFORNIA WEATHER FORCE MAIN:  Southern California Weather Force Office Main Page
BEHIND THE SCENES FORECASTS/UPDATE PAGE:  Southern California Weather Force Meteorologist Page
FOR THE CALIFORNIA FAULT STRESS MODEL PAGE: For SCWF official updates to the California Fault Stress Model and more!
"PONDER THIS" SCIENCE ADVENTURE SHOW: A science adventure show developed here at Southern California Weather Force that is a fun ride!
INSTAGRAM AND TWITTER ACCOUNTS TO JOIN!
Instagram – https://www.instagram.com/socalweatherforce/
Twitter – https://twitter.com/SCweatherforce