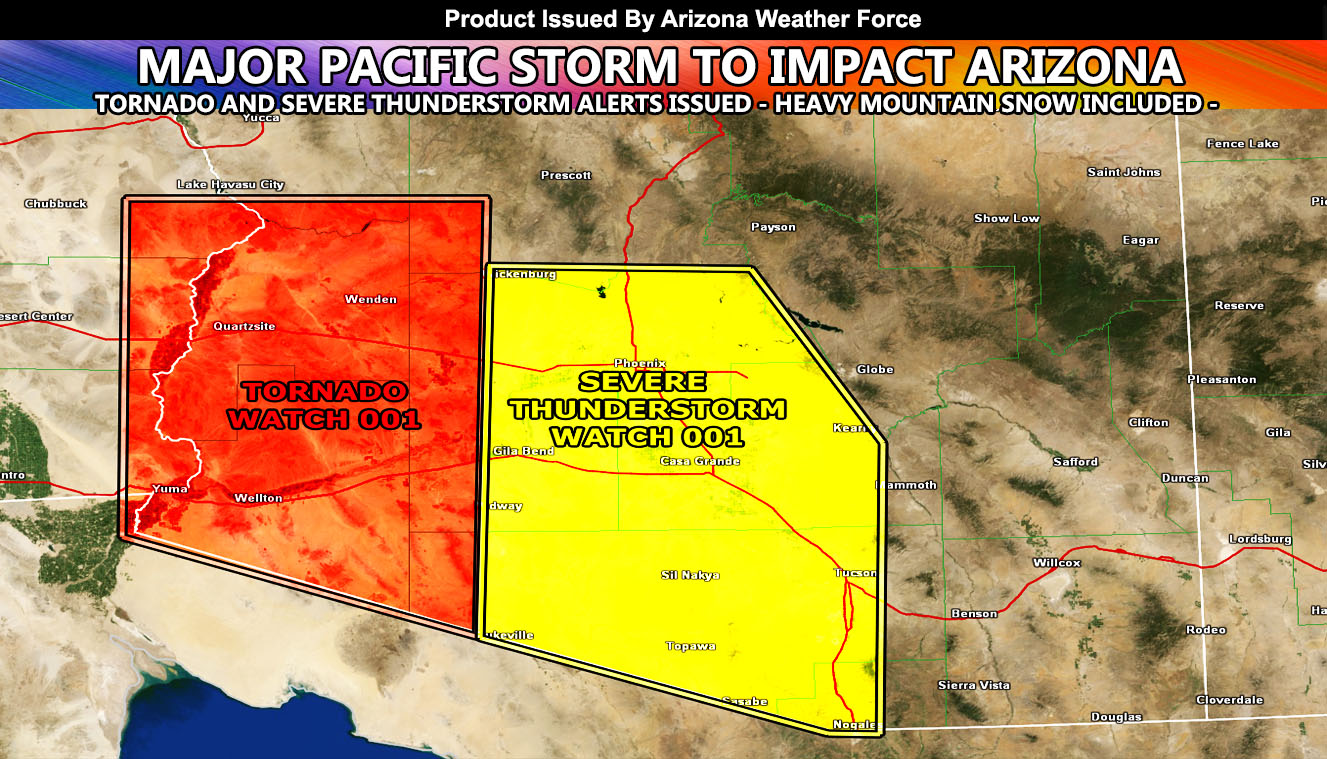 Arizona Weather Force has issued two convective products ahead of a major storm system affecting Southern California.  This system will slowly move to the east through today and as it does so it'll activate the Arizona Weather Force Tornado Watch in West and Southwest Arizona and thunderstorms pushing into the Phoenix/Tucson metro areas later on into the night so read on for details …
What is Southern California Weather Force's Major Pacific Storm ELVIS, a category four out of the one through six scale, moving through there on Thanksgiving 2019, bringing low elevation snowfall, thunderstorms, hail, and gusty winds.  As the storm system moves eastward toward the Colorado River Valley I expect strong deep-layer moisture to work with the upper divergence and stronger instability in West to Southwest Arizona this later afternoon/evening and provide a south to north oriented line of thunderstorms there.  The Arizona Weather Force Tornado Watch means that conditions in the tornado model are favorable for thunderstorm development that will contain the risk of isolated tornadoes in West/Southwest Arizona, including Yuma, Wellton, Quartzsite, and Wendon.
As this line starts to gain eastward motion overnight, a line of healthy thunderstorms will charge through Phoenix and Tucson's forecast zones and these will contain the risk of strong winds, frequent lightning, flooding rains, and hail as they do so.  So, as previously forecast back on the November 25th article (click here to read that), it stated in the medium range that these thunderstorms would happen and that forecast is not going to change.
As for the mountain areas.  This is a cold system.  We are seeing snow-levels down through 2,500 FT in the Desert of Southern California with it, however that will not be the case in Arizona.   Due to the southerly dip of the trough-base itself, the warm-air advection from the south will be more plentiful this evening and even at midnight the snow-level will be over 7,000 FT across the state, hence the warm-air in the low levels for thunderstorms in the metros.  I'm going with a lot less snow for areas like Payson where I think that through Friday with this we will have anywhere from 3-6″ of snow and that goes for the Prescott area as well with 5-7″.  Flagstaff you will win of course with almost 2FT. of snowfall and Show Low I'll mark you down between 6-9″
We remain in a storm window right on through the first week of December so stay tuned for any updates …
NOTE: This is the SCWF Website but it is being used for national updates until a suitable national website can be developed for you. 
Your Facebook Page to join for this update is linked here – https://www.facebook.com/ArizonaWeatherForce
Reading for another state? Find your region I serve here – https://www.facebook.com/nwfweather/photos/a.643550279121473/1544547759021716