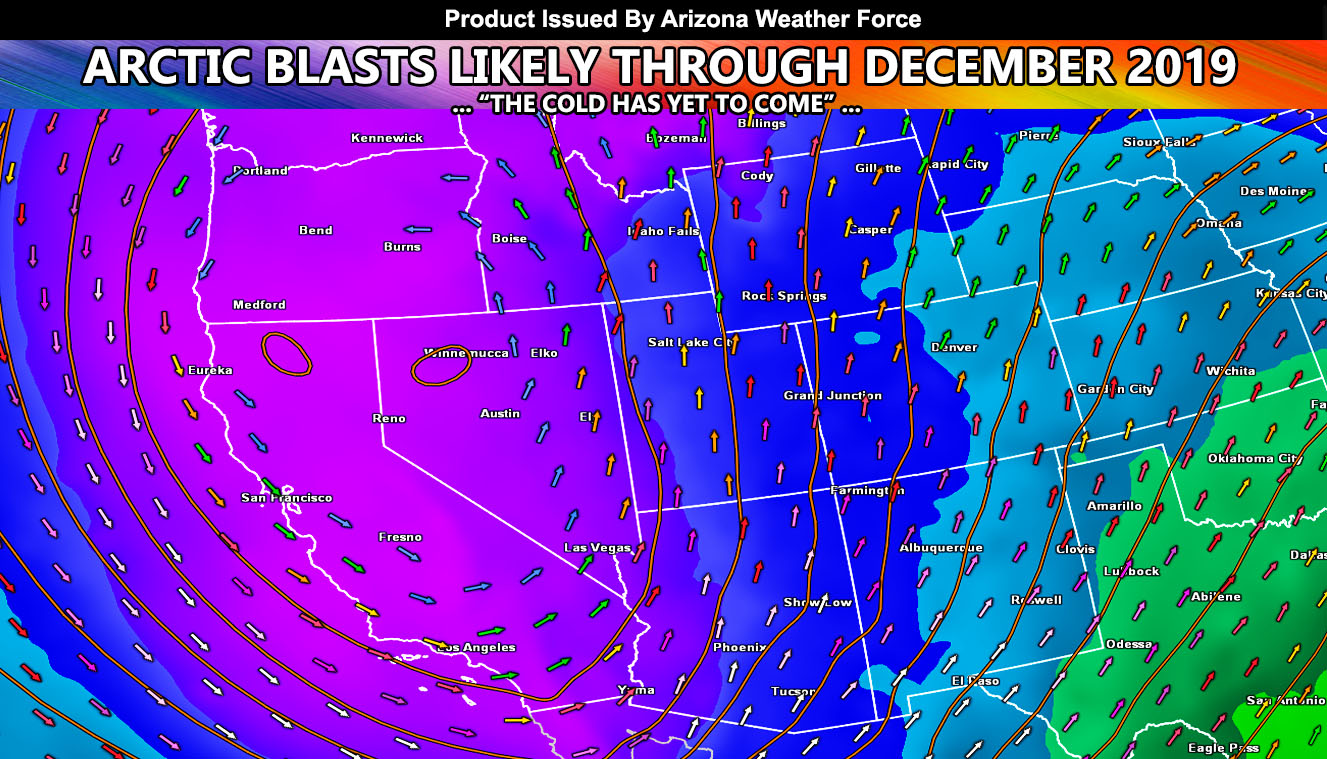 Well as per my 2019-2020 forecast calling for colder than normal temperatures around this time (click to view), I am not fully satisfied with the last system, and December 2019 will be the coldest December in many years across the region that will satisfy those numbers so read on for details.
SCWF's Major Pacific Storm ELVIS is on his way out of the building, ending November in an extremely interesting pattern.  The predicted thunderstorms (click to read article) moved through Southern Arizona overnight last night and we even made out with tornado warnings in addition to numerous severe storm warnings.  Forecast went flawless in that department.  Snowfall department also went well from the prediction.  Reports of 5″ in Payson coming in and the quote forecast was ; " I'm going with a lot less snow for areas like Payson where I think that through Friday with this we will have anywhere from 3-6″ of snow and that goes for the Prescott area as well with 5-7″. Flagstaff you will win of course with almost 2FT. of snowfall and Show Low I'll mark you down between 6-9″"
December 2019 will start out in a storm pattern with a lack of any ridging.  The storms won't be as cold as Major Pacific Storm ELVIS to start, however the month as a whole looks to have periods of storms through it.  The last half is where I am watching right now because before the month is over, the ridge would migrate once again to the west and send an arctic storm pattern into the Western United States.  If Arizona is on the receiving end of this like with Major Pacific Storm Elvis then we will have an even COLDER storm system.  December 2019 will end up being one of the coldest on record and it was directly in my 2019-2020 storm forecast.
So if you like the cold weather on your Christmas season then enjoy the next month.  Arizona Weather Force will continue to provide you with the most accurate forecasts when these systems come.
NOTE: This is the SCWF Website but it is being used for national updates until a suitable national website can be developed for you. 
Your Facebook Page to join for this update is linked here – https://www.facebook.com/ArizonaWeatherForce
Reading for another state? Find your region I serve here – https://www.facebook.com/nwfweather/photos/a.643550279121473/1544547759021716