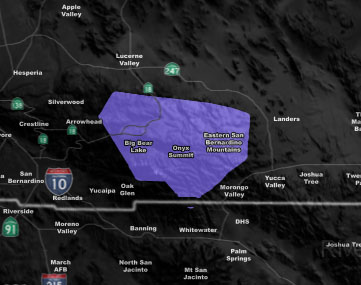 Issued Zones:  San Bernardino Mountains above 6,000 FT …
Site:  Southern California Weather Force has issued a Winter Weather Advisory effective now through tonight …
Date:  12/8/19 at 1:00pm PT
Forecast: Snow levels are around 7,700 FT at the moment but they will drop through 6,500 this later afternoon and evening.  The back-side of an inside slider system will move through, lasting into some of tonight.  This will promote a northerly flow and thus the chance of a dusting to 2″ of snowfall across the Big Bear Lake forecast area.  This is a follow-up to the forecast calling for such last week for today/tonight.

How to get these alerts with a premium subscription? (100 percent delivery time)
Click Here For Options

Join A Micro-Climate Group On Facebook For These Alerts? (50 percent delivery time)
Click Here To Find Your Location Served By SCWF Today!
10 mile rule:  These alerts issued on this site means that within your zone and 10 miles from you will see the event forecast for.  You may or may not see the event but it means you are in the zone or 10 miles from where someone will.
Forecaster: KM