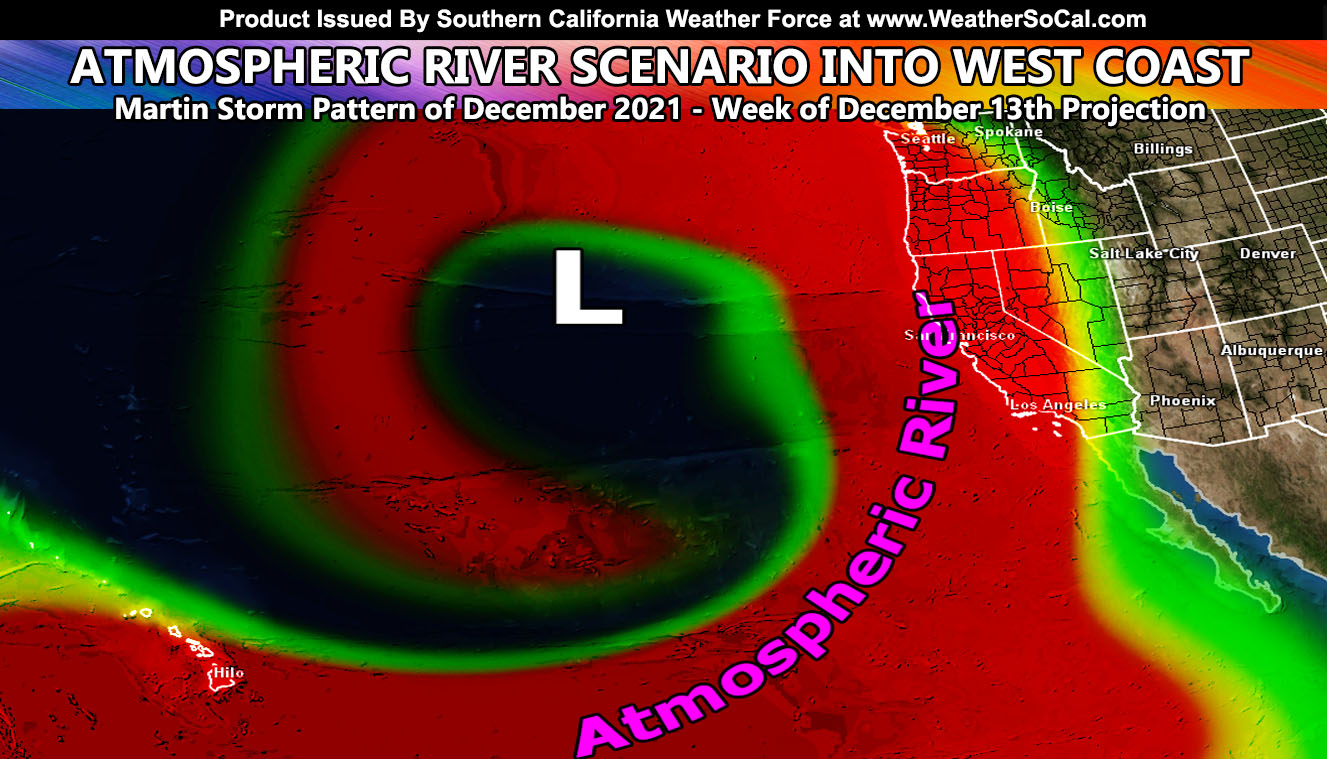 The Martin Storm Pattern of December 2021 will start Tuesday with light rainfall for some.  It only will gain steam as we go toward the end of the week.  Already Southern California Weather Force's alert system has wind products up for many areas for Thursday, including dangerous ocean conditions.  This will only get stronger as we go further into the storm pattern with a projection of an atmospheric river into California during the week of December 13th so read on for details …
A weak upper level system will pass to the west of Southern California overnight tonight and into Tuesday.  This will generate light rain for some.  The projection on who will get it will be posted in two places.  You can take advantage of either.  The SCWF Member Section is for premium members only.  However, this week, until Friday, it will be able to be viewed publicly.  You also get the GPS models in there where the SCWF models overlay your location for rain, snow, wind, flood etc whatever is available.  Click here to enter the SCWF Member Section.
The other place you can get micro-climate alerts is the Southern California Weather Force Facebook GROUP.  Not the page, but the group.  The group is an area where ALL alerts are posted, not just articles.  Both articles and alerts are posted.  You can Click here to join the Facebook group.  If the algorithm works in your favor, you'll see the alerts.  If it does not, you can always become a member for the e-mail alert system (click here) and get them that way for the areas you choose in your own control panel.
Now, the SCWF Wind Watch Hybrid Marine Weather Warning is in full effect.  It was issued yesterday (Sunday) and outlines the wind risk for Thursday.  You can Click Here to view that one.  It also has a GPS model link as it was activated for this event.  Thursday's event will have more precipitation.  Although looking a bit like a slight inside slider, as usually, onshore flow will make it so areas south and west of the mountain slopes will see more than areas along the coast.  That's how those work.  But, it will deliver more precipitation than Tuesday's weaker system.
The attention is paid to the weather dynamics for the week of December 13th, 2021.  The weaker system on Tuesday will drop so far south that it will pick up moisture with it.  As this moisture is flung northward over this next weekend, an upper level low will move into position west of Oregon/Washington.  As this does so, it will draw that moisture into the West Coast, covering most of California in an atmospheric river, or better known as 'Pineapple Express'.  Southern California, as mostly always, sits at the southern end of this flow.  We will see the flow hit, yes, but it will impact areas Los Angeles westward than areas eastward more.  This will be what I will be watching.  The SCWF Member Section will be members only at that time, but you can enjoy the Thursday updates and GPS models via that section.  At times during this season, with a strong storm, I'll open it again for non-members and you can see how it works during a stronger event.
So that is what we have here.  I will take these systems one at a time for specifics.  All you have to do is find a way to keep getting the updates.  If you go to the new FAQ/Troubleshooting Section of the website, you can read how to stay in touch on social media and everything else about this service.  Click Here to read that section.
LONG RANGE:  With the ridge shoved west to north of Hawaii, the door remains open for storm after storm through the end of the month for the California region so stay tuned for updates …
A Martin Storm Pattern means that the pattern was predicted before apps or government/private sources, and since my last name is Martin, like a person who discovered a comet, it is only fair this coming pattern is the Martin Storm Pattern of December 2021.  There will be MANY Martin Storm Patterns due to my ability to go longer range in weather.
This was a follow-up to the following articles – You can read them and see how this forecast is evolving from Day 1.
December 2021 Weather Pattern Forecast Outlook For Southern California; December Arctic Blasts and Storms
Weather Changes Coming; Martin Storm Pattern For December 2021 Begins This Week Across The Southwest United States; First Details
---
NOTE:  You also get e-mailed alerts/articles because if you do not want to miss my social media posts, and/or I issue a product not on my social media accounts, being a supporting website member is the way to go.  You get your own control panel with hundreds of zones to choose from to receive my custom alerts from.  Click here if you are interested in reading more.  
---
FACEBOOK PAGES TO JOIN!
SOUTHERN CALIFORNIA WEATHER FORCE MAIN:  Southern California Weather Force Office Main Page
SOUTHERN CALIFORNIA WEATHER FORCE METEOROLOGIST: – Just my public figure page that isn't as large so maybe you can reach me better at times.
INSTAGRAM, TWITTER, TO JOIN!
Instagram – https://www.instagram.com/socalweatherforce/
Twitter – https://twitter.com/SCweatherforce
---
Southern California Weather Force is a custom weather alert service that began in September 1999 off and is regarded as the most accurate weather service in the region, offering custom alerts, maps, and models to help save life and property.  The work done here is never 100% accurate, but it comes pretty close.  Southern California Weather Force runs on zones, so if an event happens in a zone that is 10 miles from the border of your zone, the forecast is still valid to activate your zone's alert system.  A company quote to the public is that of "The Joker" and tells other agencies in weather this all the time… "This world deserves a better class of meteorologist… and I'm gonna give it to them"… out-forecasting even the National Weather Service with lead-time and precision, which makes this service a focus of ridicule and envy in the weather community due to having such accuracy. Alerts issued here are issued custom from this office and this office alone. You may not even hear it elsewhere, but if one is issued near or in your area, listen up because "if you do not wish to die in weather, follow, it'll save your life one day."
Raiden Storm
Master Meteorologist – is a consulting meteorologist for over 50 different companies, including energy, agriculture, aviation, marine, leisure, and many more areas. He has certs from Mississippi State for broadcast met and Penn State forecasting certs MET 101, 241, 341 and 361 as a meteorologist, but before then was completely self taught, barely learning a thing from the schools that he did not already know.
Both short and long-range is very important to know in those jobs so you can bet on accuracy here. He is versed in fields like Western USA, Tornadoes, Floods, Hurricanes, High Winds, Fire Behavior, Snow and Blizzards, Short Range, Long Range, Seasonal, and Life-Threatening decisions with over 20 years experience, out-forecasting all weather services available today with lead-time and precision, which makes him a focus of ridicule and envy.
NOTE: Alerts are posted on here, be it a tornado watch, etc, and these alerts are issued from this office and nowhere else. At times, which is often, you will see an alert forecast posted on here that you do not see elsewhere. That is fine, the track record of the main office is very high so maintain to follow an event when posted.