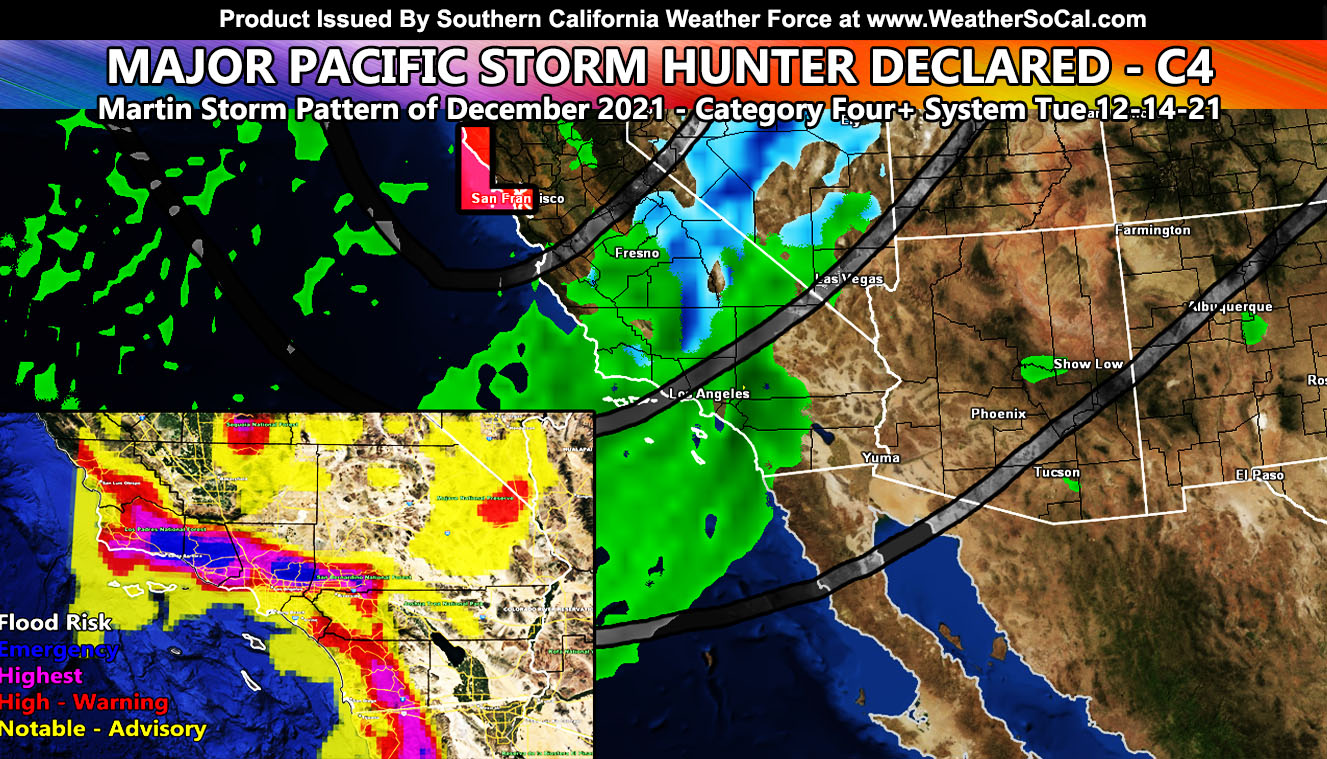 Major Pacific Storm Hunter has been given an official starting category number of four, between the scale of 1-6.  The system will be the first strong system to hit Southern California this season and it hits on Tuesday, December 14, 2021 within the Martin Storm Pattern of December 2021 so read on for details …
Final alerts will go out on it along with all models from flood, rain, snow, wind updated in the SCWF Member Section, which is open publicly until Wednesday to showcase how the system fares during a major storm system.  Major Pacific Storm Hunter will impact the region all day on Tuesday.  There are a number of alerts on the website out right now.  The Flood Watch means that conditions will be favorable for heavy rain in a short period of time, which leads to flooding.  Highway 1 along the Ventura/Santa Barbara County areas will be hit the hardest.  Recent burn scars indicate we will have a major problem there come Tuesday with this storm system.
As I stated last month, this month will have a lot of rainfall and you should have already picked up your sandbags for it.  My job is to predict the long range so it lessens the damage to your lives and I did that.  It is the reason this is called Martin Storm Pattern of December 2021.  A Martin Storm Pattern means that the pattern was predicted before apps or government/private sources, and since my last name is Martin, like a person who discovered a comet, it is only fair this coming pattern is the Martin Storm Pattern of December 2021.  There will be MANY Martin Storm Patterns due to my ability to go longer range in weather.
Furthermore, heavy snowfall will impact the mountain areas, with over 1-2 feet expected in the higher elevations.  Someone did ask me if they needed to stay down the hill and not travel up to Big Bear after landing at Ontario Airport on Tuesday.  I highly advise against it and there is no doubt in my mind if you come down the mountains that morning, you will NOT get back up that evening.  They will close the roads.  If you are working down the mountain, stay home and call off or get a hotel room as I 100% know roads into and out of Big Bear or any other town in our mountains will be closed, thus the reason for the Winter Storm Watch.
The front will have damaging winds along it for the metro areas and even the high deserts.  At current, I have the Flood Watch out, but I will be leaning toward the Squall-line Watch for the final forecast.  A squall-line watch means conditions are favorable for damaging winds along the main front into the metro and high desert areas along with heavy rainfall and isolated tornado activity, which would be stronger waterspouts moving ashore as small tornadoes.  This can even happen without lightning, but since it would lack a light-show I would keep it at a squall-line watch with small tornado wording.  Anyone in the Flood Watch areas, all metros, have the risk of falling trees or power-lines along this front.  The high desert would see the damaging southerly flow winds, the strongest the closer you are to the northern end of the mountain slopes like Lancaster, Lake Los Angeles, Hesperia, Lucerne Valley, and Landers/Morongo Basin.
The snow-level will lower to the pass levels behind the main front.  Snow-levels will be medium with the front, and you'll notice that with the temperatures being higher even in the Big Bear areas that morning.  However, as the front passes, colder air will filter behind it in the afternoon/evening hours and the levels will drop below 4,000 FT.  This is a warmer type system and given my numbers within the Martin Storm Pattern this time show lower snow levels, this may not be the system to bring them below 3,000 FT, but the one that will may still be over a week away, possibly a week or so after Major Pacific Storm Hunter.  One or more of these systems in the storm pattern this month will do it.
FINAL FORECAST NUMBERS for rain, snow, wind, and flood will be given on Monday.  Oh and please remember that if I do not update the site/page it means that my forecast remains the same.  This was well predicted ahead of time even to the DAY it would happen so there is NO REASON for updates nor any reason you should have not prepared for it if in a danger zone.
CATEGORY UPGRADE:  This is a category four system on the 1-6 scale here at Southern California Weather Force.  It is possible it can be upgraded to a five, which would be the Ventura/Santa Barbara County areas, along the Pacific Coast Highway, but having less thunderstorm activity along the front would make me keep this at a four.  Still, the flood hazard being at emergency along with 50+ mph wind gusts and the chance of small tornadoes from waterspouts may bring this to a category five.
---
I control 10 counties in Southern California so there is a lot to say for various areas. The best I can do is let the images below speak for themselves. They are separated into 1 row of six. Four zones that I control. If you are in Southern California, you are in one of these. Each is identical so zone 1 is the same on all the rows and so on. Image 5 is Cajon Pass, and Image 6 is the SCV area. Here is the key to the rows below. They are extremely detailed and clickable.
---
If you do have plans to travel on that day, I would suggest continuing to monitor the latest forecasts here at Southern California Weather Force, however you get them, either by the member email alert system, social media, or checking the main website daily for updates.  The ABOUT section of this site will tell you all you need to know about it for navigation.  Click here to read the about section.
WANT MORE?  The MAIN PAGE of this website has every alert/article issued at current.  CLICK HERE TO GO
LONG RANGE:  With the ridge shoved west to north of Hawaii, the door remains open for storm after storm through the end of the month for the California region so stay tuned for updates …
This was a follow-up to the following articles – You can read them and see how this forecast is evolving from Day 1.
November 29, 2021
December 2021 Weather Pattern Forecast Outlook For Southern California; December Arctic Blasts and Storms
December 4, 2021
Weather Changes Coming; Martin Storm Pattern For December 2021 Begins This Week Across The Southwest United States; First Details
December 6, 2021
Martin Storm Pattern of December 2021 Starts This Week For Southern California; Atmospheric River Aiming California Week of December 13th
---
GPS MODELS ENABLED FOR MEMBERS:  CLICK HERE FOR THE MEMBER SECTION

---
How to get these alerts with a premium subscription via e-mail by micro-climate zone AND/OR Get the GPS models for this event on your device enabled? (100 percent delivery time)
Click Here To Join The Season Tier
Join The Main Southern California Weather Force Facebook Group (50 percent delivery time) – You can join the main SCWF page as well through that group.
Click Here To Join The Page Today
---
FACEBOOK PAGES TO JOIN!
SOUTHERN CALIFORNIA WEATHER FORCE MAIN:  Southern California Weather Force Office Main Page
SOUTHERN CALIFORNIA WEATHER FORCE METEOROLOGIST: – Just my public figure page that isn't as large so maybe you can reach me better at times.
INSTAGRAM, TWITTER, TO JOIN!
Instagram – https://www.instagram.com/socalweatherforce/
Twitter – https://twitter.com/SCweatherforce
---
Southern California Weather Force is a custom weather alert service that began in September 1999 off and is regarded as the most accurate weather service in the region, offering custom alerts, maps, and models to help save life and property.  The work done here is never 100% accurate, but it comes pretty close.  Southern California Weather Force runs on zones, so if an event happens in a zone that is 10 miles from the border of your zone, the forecast is still valid to activate your zone's alert system.  A company quote to the public is that of "The Joker" and tells other agencies in weather this all the time… "This world deserves a better class of meteorologist… and I'm gonna give it to them"… out-forecasting even the National Weather Service with lead-time and precision, which makes this service a focus of ridicule and envy in the weather community due to having such accuracy. Alerts issued here are issued custom from this office and this office alone. You may not even hear it elsewhere, but if one is issued near or in your area, listen up because "if you do not wish to die in weather, follow, it'll save your life one day."
Raiden Storm
Master Meteorologist – is a consulting meteorologist for over 50 different companies, including energy, agriculture, aviation, marine, leisure, and many more areas. He has certs from Mississippi State for broadcast met and Penn State forecasting certs MET 101, 241, 341 and 361 as a meteorologist, but before then was completely self taught, barely learning a thing from the schools that he did not already know.
Both short and long-range is very important to know in those jobs so you can bet on accuracy here. He is versed in fields like Western USA, Tornadoes, Floods, Hurricanes, High Winds, Fire Behavior, Snow and Blizzards, Short Range, Long Range, Seasonal, and Life-Threatening decisions with over 20 years experience, out-forecasting all weather services available today with lead-time and precision, which makes him a focus of ridicule and envy.
NOTE: Alerts are posted on here, be it a tornado watch, etc, and these alerts are issued from this office and nowhere else. At times, which is often, you will see an alert forecast posted on here that you do not see elsewhere. That is fine, the track record of the main office is very high so maintain to follow an event when posted.