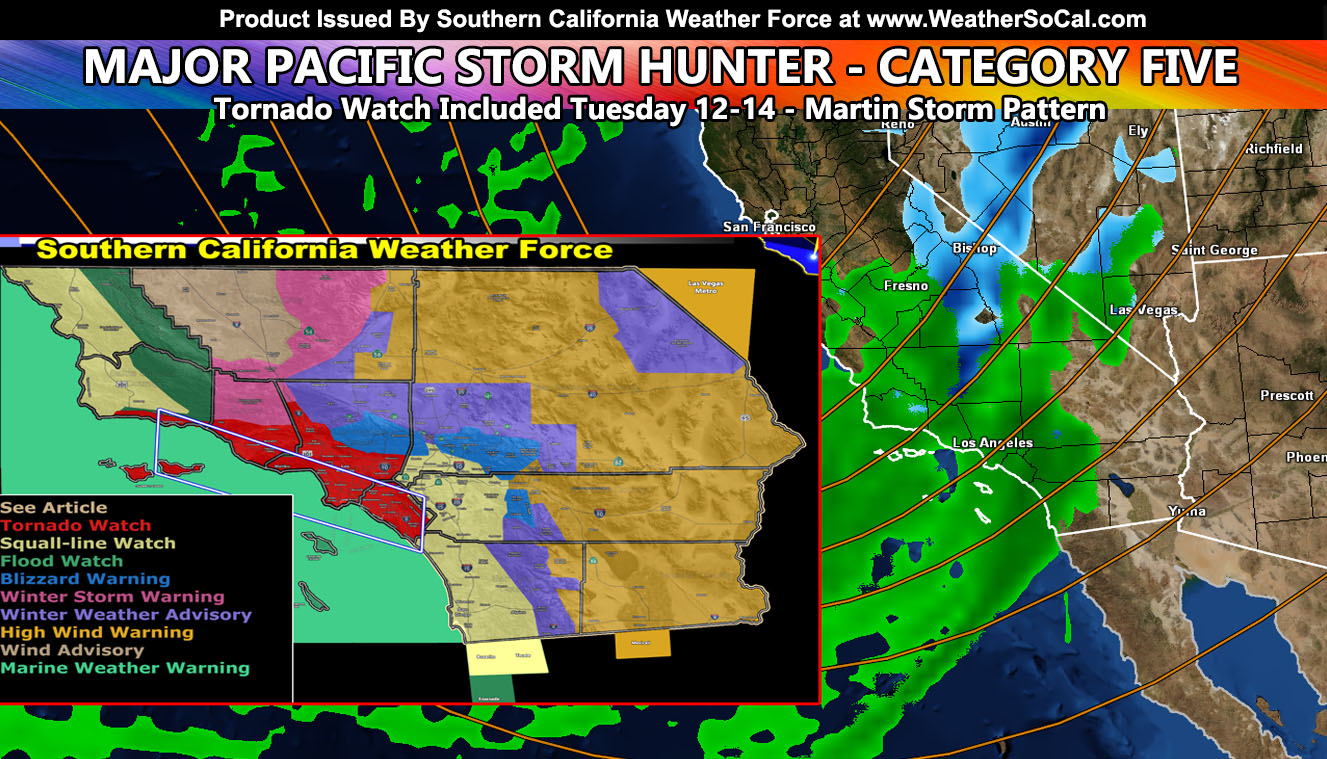 FULL IMAGE and GPS SUITE RELEASED FOR STORM, INSIDE ARTICLE:  Major Pacific Storm Hunter has officially been upgraded to a Category Five on the Southern California Weather Force scale.  He will hit mainly on Tuesday, starting though west of Los Angeles and Ventura by this afternoon and evening.  The brunt on Tuesday will have damaging winds along a squall-line that will be capable of downing trees and power-lines.  There is a risk of tornadoes with the system for the Ventura, Los Angeles, and Orange County zones.  Heavy mountain snow is also going to hit but the SCWF GPS Model Suite for flood, rain, snow, and wind has been updates so for your area, read on and see the images within, including the brought back snow-level / intensity model at level maps.
FACEBOOK PAGES TO JOIN!
SOUTHERN CALIFORNIA WEATHER FORCE MAIN:  Southern California Weather Force Office Main Page For updates
These maps in this article are also on the Member Section GPS that is open to the public until this storm has passed, then it goes to members only.  If you like the GPS feature, consider getting a membership this season.
Click Here for the GPS Member Section
TORNADO WATCH:  Southern California Weather Force has issued a Tornado Watch effective Tuesday for the Santa Barbara, Ventura, Los Angeles, and Orange County Coast and Basin areas.  A powerful storm system will move through the region.  Backing southeasterly surface winds along the curvature of the natural Southern California coastline will work with strong low-level forcing.  This low-level forcing will bring tops to between 15,000 and 18,000 FT on Tuesday.  This, with a powerful 160 mph upper level jet, will make it possible for strong waterspouts to landfall as tornadoes.  Given the surface instability and low-level forcing, the best areas will be from Ventura to Orange County with Los Angeles between.  Expecting this mainly Tuesday morning ahead and along the main frontal zone, but it could extend a bit into the early afternoon as well.  Thunderstorms do not have to accompany tornado dynamics here in Southern California.  While they are possible with such lift, they are not needed due to the rest of the dynamics taking hold.
---
OFFICIAL issued Southern California Weather Force Alerts by location – Valid Tuesday December 14, 2021
Tornado Watch – Santa Barbara, Ventura, Los Angeles, Orange County Coast/Basin – Also includes Flood Watch and Squall-line Watch for damaging winds
Squall-line Watch – Damaging Winds / Heavy Rain for flooding+wind damage – Includes the above and the Inland Empire to San Diego and over to San Luis Obispo and Vandenberg
Blizzard Warning – Los Angeles and San Bernardino Mountains
Winter Storm Warning – Kern County Mountains
Winter Weather Advisory – Riverside/San Diego Mountains, the Metro High Desert and Cajon Pass
High Wind Warning – Everywhere but Kern Valley
Wind Advisory – Kern Valley
Marine Weather Warning – All offshore regions for damaging winds and large waterspouts
---
There are 10 counties in the Southern California Weather Force forecast area and the storm is major so I cannot write about each micro-climate sector in this article.  I however can show you the images in the SCWF model suite and you will need to know where you are on a map to read them.  Everyone should know where they are on a map so this is no excuse.
The maps below are of flood, rain, snow, snow-level, and wind intensity.  Each one is clickable.  Map 1 is NW SoCal, Map 2 is SW SoCal, Map 3 is SE SoCal, Map 4 is NE SoCal, Map 5 is the Cajon Pass, and Map 6 is the SCV region, which includes Gorman at the top.
GET TO KNOW YOUR MAP BECAUSE THESE NEVER CHANGE LOCATIONS
Flood Risk – Valid Tuesday December 14, 2021
---
Rain Risk – Valid Tuesday December 14, 2021
---
Snow Risk – Valid Tuesday December 14, 2021
---
Snow Level Calculations and Intensity at and above Snow Level –
Valid Tuesday December 14, 2021
How to read: Find the city or location on the left either in red or yellow. Each one has a line. The elevation is on the left, the timeline is on the bottom. If you follow the line you can see it either goes through rain, mix, wet snow, or sticking snow. This displays exactly what to expect and what time about.
In Order:  Kern Mountains, LA Deserts, Cajon Pass/Wrightwood/High Desert, San Bernardino Mountain Rim, Big Bear Lake, Riverside Mountains, San Diego Mountains
---
Wind Risk – Valid Tuesday December 14, 2021
Martin Wind Gust Intensity Scale –
8. Extensive widespread damage.
7. Trees are broken or uprooted, building damage is considerable. – High Profile Vehicle Roll-Over CERTAIN.
6. SOME Trees are broken or uprooted, building damage is possible. – High Profile Vehicle Roll-Over Likely, Do NOT recommend Traveling in this zone
5. Slight damage occurs to buildings, shingles are blown off of roofs. HIGH WIND WARNING CRITERIA – High Profile Vehicle Roll-Over Possible if weight is not corrected.
4. Twigs and small branches are broken from trees, walking is difficult.
3. Large trees sway, becoming difficult to walk. POWER SHUTDOWN THRESHOLD DURING FIRE WEATHER / WIND ADVISORY CRITERIA
---
I would suggest continuing to monitor the latest forecasts here at Southern California Weather Force, however you get them, either by the member email alert system, social media, or checking the main website daily for updates.  The ABOUT section of this site will tell you all you need to know about it for navigation.  Click here to read the about section.
WANT MORE?  The MAIN PAGE of this website has every alert/article issued at current along with the main alert map that you can click to zoom in on what is issued for you from this office…   CLICK HERE TO GO
LONG RANGE:  With the ridge shoved west to north of Hawaii, the door remains open for storm after storm through the end of the month for the California region so stay tuned for updates …
This was a follow-up to the following articles – You can read them and see how this forecast is evolving from Day 1.
November 29, 2021
December 2021 Weather Pattern Forecast Outlook For Southern California; December Arctic Blasts and Storms
December 4, 2021
Weather Changes Coming; Martin Storm Pattern For December 2021 Begins This Week Across The Southwest United States; First Details
December 6, 2021
Martin Storm Pattern of December 2021 Starts This Week For Southern California; Atmospheric River Aiming California Week of December 13th
December 12, 2021
Major Pacific Storm Hunter Officially Declared a Category Four System With Room For Upgrade; hits Southern California on Tuesday With Alerts Issued
---
GPS MODELS ENABLED FOR MEMBERS:  CLICK HERE FOR THE MEMBER SECTION

---
How to get these alerts with a premium subscription via e-mail by micro-climate zone AND/OR Get the GPS models for this event on your device enabled? (100 percent delivery time)
Click Here To Join The Season Tier
Join The Main Southern California Weather Force Facebook Group (50 percent delivery time) – You can join the main SCWF page as well through that group.
Click Here To Join The Page Today
---
FACEBOOK PAGES TO JOIN!
SOUTHERN CALIFORNIA WEATHER FORCE MAIN:  Southern California Weather Force Office Main Page
SOUTHERN CALIFORNIA WEATHER FORCE METEOROLOGIST: – Just my public figure page that isn't as large so maybe you can reach me better at times.
INSTAGRAM, TWITTER, TO JOIN!
Instagram – https://www.instagram.com/socalweatherforce/
Twitter – https://twitter.com/SCweatherforce
---
Southern California Weather Force is a custom weather alert service that began in September 1999 off and is regarded as the most accurate weather service in the region, offering custom alerts, maps, and models to help save life and property.  The work done here is never 100% accurate, but it comes pretty close.  Southern California Weather Force runs on zones, so if an event happens in a zone that is 10 miles from the border of your zone, the forecast is still valid to activate your zone's alert system.  A company quote to the public is that of "The Joker" and tells other agencies in weather this all the time… "This world deserves a better class of meteorologist… and I'm gonna give it to them"… out-forecasting even the National Weather Service with lead-time and precision, which makes this service a focus of ridicule and envy in the weather community due to having such accuracy. Alerts issued here are issued custom from this office and this office alone. You may not even hear it elsewhere, but if one is issued near or in your area, listen up because "if you do not wish to die in weather, follow, it'll save your life one day."
Raiden Storm
Master Meteorologist – is a consulting meteorologist for over 50 different companies, including energy, agriculture, aviation, marine, leisure, and many more areas. He has certs from Mississippi State for broadcast met and Penn State forecasting certs MET 101, 241, 341 and 361 as a meteorologist, but before then was completely self taught, barely learning a thing from the schools that he did not already know.
Both short and long-range is very important to know in those jobs so you can bet on accuracy here. He is versed in fields like Western USA, Tornadoes, Floods, Hurricanes, High Winds, Fire Behavior, Snow and Blizzards, Short Range, Long Range, Seasonal, and Life-Threatening decisions with over 20 years experience, out-forecasting all weather services available today with lead-time and precision, which makes him a focus of ridicule and envy.
NOTE: Alerts are posted on here, be it a tornado watch, etc, and these alerts are issued from this office and nowhere else. At times, which is often, you will see an alert forecast posted on here that you do not see elsewhere. That is fine, the track record of the main office is very high so maintain to follow an event when posted.