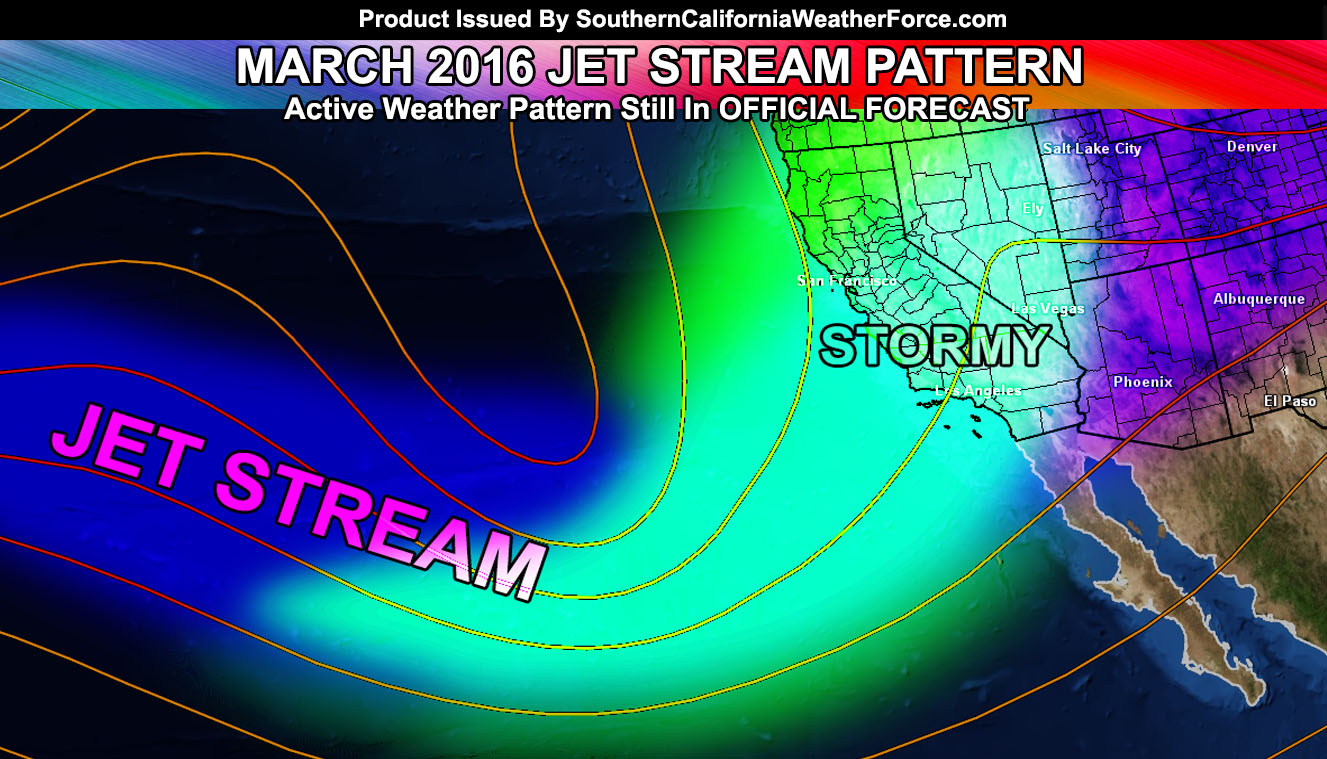 As projected for many days now, the storm door will open after March 5th as El Nino has finally dropped into acceptable levels.  Read on to find out more details.
El Nino is now a 2.1c from a 2.4c last week and a 2.6c two weeks ago.  In a previous article (Click Here) I mentioned that El Nino values were too strong and likely the reason for the ultimately average winter season.  Spring 2016 will make up for it as values have dropped between my theory's acceptable 1.6c to 2.3c.  Given this, the jet stream is going to respond.
Numerous storm systems will begin affecting Southern California after around Sunday, March 6th.  Some of these storm systems will contain the dynamics for severe thunderstorm with damaging winds and the risk of tornadoes … with flooding extremely in the metro areas so as I said in previous articles that I will list below … if you work in the contracting business … be prepared before Sunday.
That is all I have right now … just remember that March 2016 will be above average in terms of precipitation … and maybe we'll push the season overall above average.  We are now just over 52% of normal …
List of articles to view below on the evolution of this forecast for March.
Official 2015-2016 Outlook
https://www.southerncaliforniaweatherforce.com/2015/11/12/final-forecast-southern-california-el-nino-forecast-breakdown-by-month-released/
Is El Nino Too Strong?
https://www.southerncaliforniaweatherforce.com/2015/12/16/in-depth-solution-theory-to-drive-storms-into-southern-california/
March 2016 Article In Early February
https://www.southerncaliforniaweatherforce.com/2016/02/02/february-and-march-2016-forecast-the-start-of-el-nino-effects-for-southern-california/
Final March 2016 Article Before This One
https://www.southerncaliforniaweatherforce.com/2016/02/24/march-2016-long-range-weather-pattern-outlook-update/
Final El Nino Pattern Update For March 2016
https://www.southerncaliforniaweatherforce.com/2016/02/26/what-happened-to-el-nino-for-southern-california-the-answer-is-here-video-included/